"One Second to Get the Pickup out and Two Seconds to Slip a New One in": Canivell's Pickup-Swapping C 20:16 and S 20:20 v Take Versatility to the Cutting Edge
These quick-change axes boast a bundle of standout features that sets them apart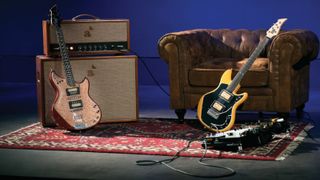 (Image credit: Canivell)
Guitars with quick-change pickup-swapping capabilities are nothing new. Yet rarely has a lineup hit the scene with a system that works as quickly as Canivell's, while boasting a bundle of cutting-edge design details that sets it apart in many other ways.
Will the Canivell S and C Series guitars earn some staying power in a traditionally conservative market?
Let's jump in and assess their chances.
The term Spanish guitar pops up frequently in the history of the six-string we've all come to know and love. Guitars made in the country so often accredited with the instrument's birth are more famously of the classical variety, however, and few players can cite great examples of Spanish-made electrics.
Jordi Canivell clearly hopes to change all that. A musician and avid guitar collector, Canivell founded Aclam Guitars in his home city of Barcelona, Spain, in 2007, initially to manufacture accessories.
Aclam pedals and pedalboards have been featured in GP in the past (read our recent Woman Tone overdrive pedal review here.)
But the brand has expanded over the years to include an audio-visual rental company, a recording studio, a guitar museum and now this range of guitars that carries the founder's surname.
Designed primarily by Canivell, and manufactured in Barcelona, the guitars in no way ape the vintage models that first inspired the entrepreneur's passion. Instead, they marry new looks and features in an effort to be the most versatile electrics on the market, while making an entirely original statement onstage as well.
"After many years of collecting guitars," Canivell tells us, "I envisioned a series of instruments where innovation and tradition meet and become the perfect tool for the sound builder: the restless musician who is in constant search of his own voice."
Most obvious among Canivell's design goals, perhaps, are the guitars' pickup-swapping capabilities. Achieved via the ingenious Aclam Exchangeable Cartridge Pickup System – AECPUS for short – it enables virtually any type of conventional or custom electromagnetic pickup to be swapped out of and into the guitar in a matter of seconds once it's loaded into a bespoke cartridge.
After just a try or two, I found it took me about one second to get the pickup out and two seconds to slip a new one in.
The simple process involves twisting the two finger grips that unlatch the cartridge from behind, and lifting it from the back of the guitar; the reverse latches the new pickup cartridge in place, while all necessary electronic contacts are broken or remade simultaneous with the latching mechanism.
Among the pickups included for review are Gretsch Filter'Trons, Kinman HX Strat-style single-coils, DiMarzio Utopia high-output humbuckers, DeArmond Dynasonics and Lace Sensor Alumitone Deathbuckers, as well as Lollar Firebird-style mini-humbuckers, Wide Range Humbuckers, Staple P-90s, DB Humbuckers and Charlie Christian blades.
What's more, several other types are available for purchase from Aclam, pre-mounted in interchangeable cartridges.
In all, it's a nifty means of eliminating the perpetual frustration of having to decide on just one type of pickup as the sonic heart and soul of your preferred instrument.
Image 1 of 2
But the Canivell guitars' innovations don't end there. The C 20:16 also boasts interchangeable tops (flat or arched, from a selection of available woods and carbon fiber), convertibility between stop-tail bridge and through-body stringing, a MIDI system with 13-pin output, a GraphTech Resomax bridge with Ghost Piezo saddles, and a neck attachment via the single-bolt Aclam Neck Balancing System.
The streamlined S 20:20 V has a more traditional four-screw neck attachment but carries a Fishman VS50P PowerBridge modified with the Aclam Compression Springs System that works behind the inertia block, enabling the pickup-cartridge system to operate in the space that standard trem springs would normally span.
Image 1 of 2
Concentric volume and tone controls govern each pickup on both guitars, each of which also carries switches for pickup selection and magnetic/both/piezo, and a volume control for the piezo output (wired to a stereo jack for splitting, or selectable simultaneously or individually with a mono cable).
The C 20:16 also has volume and a program up/down switch for the MIDI output.
Both guitars have chambered bodies of ayous (a.k.a. obeche) wood, with the exception of the changeable tops on the C model.
They also boast hard-maple necks unbound ebony fingerboards, 22 EVO gold alloy frets, and staggered three-per-side headstocks cut to an original profile that allows a straight string pull across the slots of their black Tusq nuts.
Image 1 of 2
The C is built to a 25-inch scale length, while the S is 25 ½ inches. The S 20:20 is the lighter of the two models, and exudes more of an offset-waist vibe (though both are offsets, technically speaking). It's also arguably a bit more palatable visually.
Both models are "stuck with" the big black rectangles of the cartridges in which the pickups sit, but to my eyes the modernistic vents and plethora of switches on the maple-topped C 20:16 are slightly distracting esthetically and lend it a '70s Swiss army knife look, although no doubt plenty of others will feel differently (and it's certainly a nifty piece of design in its own right, regardless).
Construction, fit and finish are first-rate on both guitars, and even before plugging them in, each proved extremely resonant and lively, promising good things when the electronics kicked in.
Image 1 of 2
Both guitars played very well with a little tweaking for setup after their travels. (They came to me from Nels Cline, another resident of the northeast, who received them from their native Spain to use for a promotional video.)
I personally got along great with the girthy neck profiles on both – comfortable "C" shapes that are a little different but equally appealing – and each presented smooth and faultless fret work.
Marry that to the plethora of pickup options, the piezo systems and the versatile switching, and the sky really is the limit with these things.
Image 1 of 2
I tested them into a tweed Deluxe-style 1x12 combo, a Friedman Dirty Shirley Mini head and 2x12 cab, and a Quad Cortex modeler into studio monitors and enjoyed them immensely throughout my playing.
To call them chameleon-like is perhaps too obvious, and yet it's entirely appropriate, and hard to avoid. Given the variety of pickups available and the ease of swapping, it really is a doddle to dial up a platform that suits virtually any style in the broad rock-pop-blues camp.
And if, for example, the C doesn't sound exactly like a Les Paul or the S exactly like a Stratocaster, they certainly get close enough to do almost anything you might use those classic templates to achieve.
Image 1 of 2
My favorite pickups?
I really enjoyed the combination of thickness, clarity and compression the Lollar Charlie Christians brought to the S 20:20 V (which also sounded mammoth through overdrive), while the Lace Sensor Alumitone Deathbuckers converted the C 20:16 into a monster of a modern rocker.
There was no facility available to easily test that guitar's MIDI function, but that's a standard protocol and there's no reason to expect it not to do the job.
The piezo outputs on both guitars worked great, though, and added exponentially to the sonic versatility.
All in all, the Canivell C 20:16 and S 20:20 V showed themselves to be powerful tone-crafting instruments, while asserting their creator's innovativeness… even if you've never heard of him before now.
Image 1 of 2
Visit Canivell for more information.
All the latest guitar news, interviews, lessons, reviews, deals and more, direct to your inbox!
Dave Hunter is a writer and consulting editor for Guitar Player magazine. His prolific output as author includes Fender 75 Years, The Guitar Amp Handbook, The British Amp Invasion, Ultimate Star Guitars, Guitar Effects Pedals, The Guitar Pickup Handbook, The Fender Telecaster and several other titles. Hunter is a former editor of The Guitar Magazine (UK), and a contributor to Vintage Guitar, Premier Guitar, The Connoisseur and other publications. A contributing essayist to the United States Library of Congress National Recording Preservation Board's Permanent Archive, he lives in Kittery, ME, with his wife and their two children and fronts the bands A Different Engine and The Stereo Field.