Matchless Laurel Canyon and Coldwater Canyon Review
These new 6V6-fueled amps capture classic American tone with West Coast sonic splendor.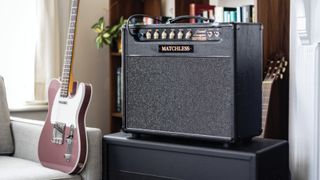 (Image credit: Matchless Amplifiers)
As a highly respected forerunner in the sector, Matchless has enjoyed a lifetime membership in the pantheon of boutique guitar amplifiers. Yet in all its 32 years, this is the first time the company has offered production models based on 6V6 output tubes.
The Laurel Canyon and Coldwater Canyon deliver two variations on an American-toned theme, yet both still scream Matchless through and through.
First delivered in 1989 by Mark Sampson and his production partner Rick Perotta, the Matchless flagship DC30 combo represented the company's take on a more roadworthy AC30, and the California maker's sonic predilections have leaned toward the other side of the pond ever since.
The company went bankrupt in 1998 but sprang back to life with a vengeance in 2000, with Phil Jamison, who'd started with Matchless in 1992, taking the helm as chief operating officer. That's the position he's retained ever since, and while the company itself has continued to craft its reputation on hand-built, American-made renditions of British-flavored tone machines, he's also brought a lot of innovation to the format in the years since.
While they're outwardly a pair of meat-and-potatoes, get-the-job-done tube amps, the dynamic duo we're checking out here arguably represents one of the biggest changeups of the Matchless formula to date.
Both are made using the same entirely hand-wired, point-to-point build techniques and high-end components that we've come to know from three decades of their predecessors, and they follow Matchless's ostensibly Class A ethos, too, striving for maximum dynamics and articulation.
But the Laurel Canyon and Coldwater Canyon both use a pair of 6V6GTs in the output stage for around 20 watts of American-toned sonic splendor, and their circuits have also been voiced from the ground up to capture the West Coast sounds that give them their name.
Let's dig in and take a closer look…
Laurel Canyon 1x12 Reverb Combo
It would be easy to look at the Laurel Canyon's features and say, "Hey, it's just Matchless's updated Deluxe Reverb, minus the tremolo!"
That's especially true when the amp comes supplied as a 1x12 combo with the optional tube-driven spring reverb, as our review sample did. But there is certainly more here than meets the eye.
The amp delivers similar wattage through the same 6V6GTs as Fender's club classic, and certainly there are regions of the aural Venn diagram where the two overlap. But this new midsized amp from Jamison's drawing board is very much a thing unto itself, even if it's designed to recapture the classic American tones that on occasion were produced by its Fullerton-born predecessor.
The control panel offers controls for volume, bass, mid, treble, master and reverb, with a passive FX loop, a jack for the reverb foot switch, and four- and eight-ohm speaker outputs around back.
Of the two new amps, the Laurel Canyon was the first to come off the design table, and it's clear this one really floats Jamison's boat. "Right now it's one of my most favorite amps," he tells us. "I think it's just because it's something different. It's such a departure from that EL84 sound, and it doesn't sound like a Clubman or a Chieftain.
"It's just got its own thing going on. It's kind of a spin on what we're famous for, but it's got a midrange control instead of being fixed [i.e. without a control]. And I've changed quite a bit of the circuit for a specific sound that I was going for, kind of that crash-and-burn '66 thing. It came out amazing.
"You could listen to the Jackson Browne song 'Somebody's Baby,' and it completely captures that kind of vibe. It nails the old Neil Young stuff. Rolling Stones, too. I was really going for the whole essence of the Laurel Canyon sound, the tone of players back in the late '60s and '70s who were in that scene."
Jamison also changed up the cab design for this new offering, rendering it a little closer to square than the wider-bodied cabs of other 20-watt models.
The speaker is a 12-inch Celestion G12H75 Creamback wearing the proprietary Matchless green plastic magnet cover. All of which is to say, it looks entirely Matchless, even if slightly tweaked.
Probe the details and it's even more so: The hefty custom U.S.-made transformers, the base clamps for the two 6V6GTs and 5AR4 rectifier, the two-stage light-up logo plate and control panel, and the confidence-inspiring weight – 46 pounds for a relatively compact 1x12 20-watter – all signal that Matchless still builds 'em like they used to.
Teamed up with a white-guard Fender Telecaster electric guitar, the Laurel Canyon felt immediately at home, with everything from trenchant yet sparkling twang to crunchy Stones-esque rhythm chunk springing effortlessly from the pumping Celestion.
This amp will do the shimmer-and-bloom that Matchless amps are noted for, with that euphonically enhanced high-end shine bouncing sonic sparklers around the room.
But it also has a little more midrange hair and girth than some of its dual-EL84 brethren – which is to say, yes, something identifiably 6V6-fueled and distinctly American.
A Novo Serus J with P-90s traded a tad of that shimmer for more toothsome grit, especially with the volume advanced to around 11 o'clock, while keeping notes clear and articulate.
And with a Gibson 1959 Les Paul Reissue, the amp started to sing and drive a little earlier on the dial, then delivered roaring cranked-vintage-style lead tones when wound up to one o'clock or beyond, revealing a surprisingly fiery beast under the hood when you need it.
Within all this versatility, further aided by the three-knob cathode-follower EQ's wide and powerful range, the amp just exudes class throughout. The crystalline detail can be alarming at first, especially for those who haven't played a Matchless before, but once you get used to it, many other amps sound squelched and dull by comparison.
Along with all that, the thing is superbly dynamic and stunningly quiet at idle.
The reverb sounds lush and rich, and the master control works surprisingly well, enabling the Laurel Canyon to suit the room at smaller club gigs the way some notoriously loud, punchy Matchless amps of old couldn't. Which is to say, if Phil's excited about this one, we can easily see why.
Coldwater Canyon Head
Hot on the heels of the debutante 6V6-er comes the Coldwater Canyon, tested here in the non-reverb head format. It leans considerably hotter than the Laurel Canyon, with a nod toward contemporary high-gain circuits in the front end, while it retains Jamison's new American-inspired back end.
"The Coldwater Canyon's circuit is cascading gain," he explains. "The only similarity is the output section; the preamps are wildly different. On the Coldwater Canyon, the gain and volume are very cool. Gain down with volume up is very Plexi, and gain up is very gainy. It can do the early ZZ Top stuff well, and with reverb in the loop it will nail Van Halen I."
The control complement is similar to that of the Laurel Canyon, with the addition of the gain control, which governs the amount of signal fed into an added 12AX7 gain stage. Otherwise, construction is also very similar, although the test sample includes dual speaker outs with a three-way impedance switch, alongside the FX loop's send and return.
The solid, compact head cab makes this thing an easy carry, and a stealthy monster that your bandmates won't see coming.
As Jamison indicates, the Coldwater Canyon has a lot more roar and grind available when you want it, all of which can be constrained through the effective master control, or given full rein in larger rooms.
Tested using the Les Paul and Telecaster through a closed-back 1x12 with an Eminence CV-75 and an open-back 2x12 with a pair of Scumback J75s, this little amp revealed a big, thick, American-toned voice when set to the edge of breakup, but we also dialed in some of its sibling's sparkling clean tones with the gain knob set down to just enough to let the signal through.
With the volume advanced to elicit its own breakup, a cranked black-panel Fender came immediately to mind, certainly, but there's also a dollop of tweed-meets-Vox in there, for an enticingly tasty breed of old-school overdrive.
Start pushing the gain, however, and it gets throaty and raw real fast, becoming a lead machine with very much its own sound and feel.
Singing, hot, aggressive, and just a hair loose in the lows, it's more hot-rodded-vintage to our ears than some replication of a slick high-gainster of the Boogie, Soldano or Bogner camps – and that's something many players looking for original tones in that direction will no doubt appreciate.
However you define it, the Coldwater Canyon is tasty, dynamic and addictive stuff, and another winner in an appealing new pair from Matchless.
Visit Matchless for more information.
All the latest guitar news, interviews, lessons, reviews, deals and more, direct to your inbox!
Dave Hunter is a writer and consulting editor for Guitar Player magazine. His prolific output as author includes Fender 75 Years, The Guitar Amp Handbook, The British Amp Invasion, Ultimate Star Guitars, Guitar Effects Pedals, The Guitar Pickup Handbook, The Fender Telecaster and several other titles. Hunter is a former editor of The Guitar Magazine (UK), and a contributor to Vintage Guitar, Premier Guitar, The Connoisseur and other publications. A contributing essayist to the United States Library of Congress National Recording Preservation Board's Permanent Archive, he lives in Kittery, ME, with his wife and their two children and fronts the bands A Different Engine and The Stereo Field.