What Did Johnny Cash, the Grateful Dead, and the Jackson 5 Have in Common? They All Embraced the Kustom Look and Sound
These bold, punchy solid-state amps rocked the backlines of many noteworthy stars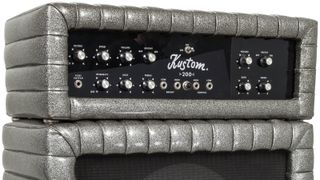 (Image credit: Future)
Solid-state guitar amps were touted as "the way forward" when they debuted in the 1960s, but the fad soon fizzled. Still, a few brands earned praise and lasting respect on the basis of either their sounds, appealing looks or both.
Kustom Electronics is one of the few companies that sat firmly in the "both" category, and its products rocked the backlines of many noteworthy stars in the late '60s and early '70s.
Today, most guitarists know Kustom's early creations as the Tuck 'n' Roll amps, due to the striking upholstery technique borrowed from the automotive industry that was used to apply their padded Naugahyde coverings.
Kustom offered those vinyl wraps in a range of colorful metallic-sparkle options, including the Charcoal Sparkle shown on this 1970 Kustom K200B amp. However, several serious players of the day knew Kustom had something to offer on the inside, too.
The amps didn't deliver the massive crunch and screaming lead tones that led so many other guitarists of the time to Marshall and Hiwatt amps, but they sounded bold and punchy, and packed a haunting tremolo effect.
Back in the day, Conway Twitty, Johnny Cash, Creedence Clearwater Revival's John Fogerty, Leon Russell, the Grateful Dead, most of the Jackson 5 and many others embraced the Kustom look and sound, while Sheryl Crow and Mike Campbell took to these distinctive amps in later years.
This K200B was billed as a 200-watt model, although a 100-watt RMS rating might have been more realistic; many solid-state amps of the day were advertised using their peak power rather than RMS power.
The two-channel head has one Normal channel with controls for volume, bass and treble and a bright switch, and a Bright channel with additional speed and intensity controls for its tremolo, as well as reverb.
It stands on a matching ported 2x15 cab, although some were sold with mammoth 3x15 cabs. Inside the chassis is old-school solid-state construction. It looks less like the innards of your defunct VCR – the way many modern-day solid-state amps do – and more like the circuit layout of a tube amp from the era, minus the tubes.
Construction was relatively robust, and these things tended to do pretty well on the road, although they were certainly manufactured with an eye on the bottom line. With no master-volume controls at all, Kustom amps were intended for loud, clean playing. Crank them up, though, and they'll exude some beefy, blocky crunch, too.
Kustom was a brand name of Ross Inc, a company founded by Charles A. "Bud" Ross in Chanute, Kansas, in 1964. Ross himself was the consummate "ideas man," an entrepreneurial spirit who didn't let a lack of know-how slow him down.
"He had no background in electronics," his grandson Cameron tells us. "He played bass, and he didn't like a lot of the amps that were available at the time, and that's how he started it.
"He worked for a company selling garage doors, and the guy who owned that company said he would help him make an amp, because he had this idea and wanted to move to solid-state."
At the time, the state's Small Business Association was offering loans to encourage people to start businesses in Chanute. Quitting his day job, Bud and his wife moved from Kansas City to Chanute, roughly 120 miles south, to take advantage of the opportunity.
"It could have been any town in southeast Kansas," Cameron says, "but they picked Chanute because of a Mexican restaurant they liked. They rented a small grocery store and started making the amps there, and they lived in the apartment above it."
The distinctive look of Kustom amplifiers came about via another Bud Ross brainstorm.
"He met a guy who had experience with upholstery work on automobiles, and liked that look," Cameron explains. "He thought, This is very eye-catching, I think there's something here. So again, that just goes to his eye as an entrepreneur and an innovator in the industry. He saw things differently from others."
In 1972, Ross sold the Kustom brand to Baldwin Pianos in Cincinnati, Ohio, and formed Ross Musical Products to develop and manufacture a line of effects pedals.
One of these would be the legendary grey Ross Compressor, the rich- and juicy-sounding comp made famous in the late '90s by Phish's Trey Anastasio and later cloned and copied by virtually every boutique pedal maker.
Following that venture, Ross invented a handheld police radar gun that would go into wide distribution. Since then, Kustom amps have been manufactured by many other holders of the brand, including its current owner, Hanser Music Group, in Cincinnati, Ohio.
Bud Ross died in March 2018. Shortly after his passing, Cameron Ross and his business partner Ben Brazil formed Ross Audibles and reissued the Ross Compressor and Ross Distortion pedals. Of his grandfather's work and impact on the music industry, Cameron concludes simply, "He loved what he did."
ESSENTIAL INGREDIENTS
Two-channels, all solid-state circuitry
Volume, bass, treble, tremolo speed and intensity, reverb and bright switch
Charcoal Sparkle Naugahyde "Tuck 'n' Roll" covering
100 watts RMS, 200 watts "peak music power"
Matching ported 2x15 speaker cabinet
All the latest guitar news, interviews, lessons, reviews, deals and more, direct to your inbox!
Dave Hunter is a writer and consulting editor for Guitar Player magazine. His prolific output as author includes Fender 75 Years, The Guitar Amp Handbook, The British Amp Invasion, Ultimate Star Guitars, Guitar Effects Pedals, The Guitar Pickup Handbook, The Fender Telecaster and several other titles. Hunter is a former editor of The Guitar Magazine (UK), and a contributor to Vintage Guitar, Premier Guitar, The Connoisseur and other publications. A contributing essayist to the United States Library of Congress National Recording Preservation Board's Permanent Archive, he lives in Kittery, ME, with his wife and their two children and fronts the bands A Different Engine and The Stereo Field.