"I Was Primarily a Guitarist": Mike Rutherford Talks Early Genesis
Discover how the prog rock pioneer straddled the realms of 4-, 6- and 12-string guitars in this classic archive interview.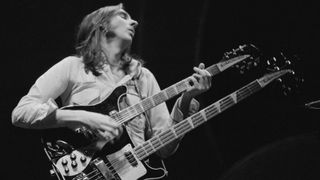 (Image credit: Michael Putland/Getty Images)
Mike Rutherford is best known as the co-founder of prog rock innovators Genesis.
In the band's early days, Rutherford took on the role of bassist. However, as a talented guitarist he also performed alongside successive lead players Anthony Phillips and Steve Hackett.
In the following interview extract from the January 1981 issue of Guitar Player, Rutherford reveals why he became a bass player in the first place, and his key role in developing the group's distinctive sound during the late '60 and early '70s...
When did you first start playing original tunes?
When I went to Charterhouse [school] I started writing some songs with Anthony Phillips. And there we formed a band called Anon.
By then I was using a Hofner Colorama electric, and the whole group went through one small amp – an RSC.
As your group, Anon, evolved into Genesis, did you upgrade your equipment?
Oh, yeah, I started off with pretty shaky gear. And I discovered as time went on that I needed a wider range of equipment.
I started playing bass pedals – they were called Mister Bassman pedals – and 12-string guitar.
Pretty soon I got an amp system that had a two-way crossover so that I could get more clarity.
In 1969, you recorded From Genesis to Revelation. What kind of equipment did you use?
We were mainly an acoustic group for that album. We used Hagstrom and Eko guitars. I forget which models.
I also played a Gibson EB-O bass, although I was primarily a guitarist.
Why did you start playing bass?
Simply because Anthony was a better guitarist than me. It didn't bother me. The challenge of playing the bass was rather enjoyable. It was so different.
I plucked the strings with my fingers at first, but because no one could hear me I started using a pick. I needed a sharper attack. More cut.
How long did you use the Gibson?
Oh, about two years. Then I started using a red Rickenbacker 4001 which was ideal.
I went stereo straight away, sending my treble pickup through an [Electro-Harmonix] Screaming Bird treble booster and into a WEM amp with four 10" speakers.
The bass end went right into a Hiwatt tube amp, and from the time of Selling England By the Pound I used an Allen & Heath mixer and an Echoplex, which really added so much more depth to my overall sound.
On your albums, there are often several tone changes for the bass in any given song. Do you overdub separate sections with different basses?
No, I just make the changes as I'm playing. I alter the volume, back off the treble or play farther away from the bridge.
Quite often, I pick right above the neck, especially in quiet bits.
I use Rotosound round-wound bass strings, and they offer a lot of tonal possibilities.
Did you play all the 12-string guitar on the Nursery Cryme album?
Most of it, Steve Hackett had just replaced Anthony and he was very much an electric guitar player.
I've spent a lot of time developing the sound of two 12-string guitars together. It's very distinctive.
He was a bit suspicious of 12-strings, and so I had to sort of lead him into playing them.
We did some 12 string duets such as "For Absent Friends" on the album. We played Hagstrom acoustic and Rickenbacker electric 12-strings then.
Did you mike your amps when recording or run direct lines to the mixing console?
I've always used a mixture of DI and miked amp. With a couple of signals, I find that I can mix them and create good composite sound.
And back before Harmonizers were developed, I sometimes double-tracked parts to fatten them up.
When you recorded Foxtrot were you using the Rickenbacker bass?
Around that time, I had that and a Rickenbacker 12-string joined as a double neck. I took it to a guitar maker named Dick Knight, told him what I wanted, and got a double neck.
I'd also gotten a custom-made Zemaitis 12-string acoustic guitar. It's one of those weird guitars that sounds beautiful when you play it live, but never seems to record very well.
Were you employing any effects with your bass?
I always used a wah wah pedal – more as a tone changer – and a fuzz box. There were so many different fuzz boxes that I find it hard to remember them all. For a long time I had a Marshall fuzz.
Browse the Genesis catalog here.
All the latest guitar news, interviews, lessons, reviews, deals and more, direct to your inbox!