Steve Hackett Reveals the Beatles' Crucial Influence on Genesis
The guitarist discusses the progression of modern music and his own evolution as a musician.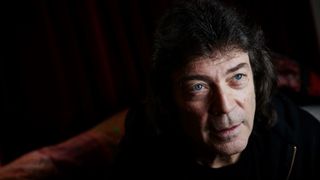 (Image credit: Future/Joby Sessions)
Back in 2019, GP caught up with Steve Hackett to talk about his album At the Edge of Light. Conceptually speaking, the album is as deep as the Mariana Trench, drawing from scholarly lyrical themes, historical touchstones, collaborations with global musicians and instrumentation, and the comfort of friends and family.
But leading the charge is Hackett's exquisitely impassioned electric guitar playing, soaring like a beacon of hope.
There is a heck of a lot of fireworks to your playing on the album.
Thank you. But I really didn't want to play heroically the whole time. When I was a younger player, I wanted to show much more proficiency. But I tend to think that too much of a demonstration of chops becomes wearing for the average visitor to your album. I think people can get really tired of all those salvos by the fastest guitarists on earth.
Primarily, I'm interested in music – in serving the best interest of the song, which serves the best interest of the album. You see, I think of an album as a journey, and I love albums because I think they are, at best, agents for transformation.
We are in a post-Sgt. Pepper's world at the moment, but when the Beatles released that album in 1967, suddenly there was no such thing as the mainstream. Suddenly, India was as relevant to the commercial success of that very broad-based album as anything else.
Most of the ideas on Sgt. Pepper's Lonely Hearts Club Band were in cameo, and I keep coming back to that model. I was a humble guitar player when I heard that album – an aspiring one – but the celebration of details was not lost on me.
So did Sgt. Pepper's change your entire approach to music making then?
Well, sometimes, I would still listen to whatever John Mayall was doing with his latest guitarist – and he had a whole parade of wonderful players – and I would practice those licks. But, of course, the blues boom died at the end of the 1960s, and it was obvious to everyone that music was on the turn.
The Beatles had all the money and manpower to get anybody from anywhere. Who wouldn't work with the Beatles? But, because of them, lesser mortals were incorporating smaller forces and making broad-based music through a pan-genre approach. These people were casting ears on jazz, blues, classical, pop, rock and all the rest, and it was a truly interesting time.
I couldn't help but be greatly influenced by all of that – the fact that musicians had assimilated the Beatles approach and were coming up with their own versions. Genesis, for example, was a spin-off or a footnote to what the Beatles had done. I guess we were all splinters off the big tree.
Purchase Steve Hackett's latest album – Surrender of Silence – directly from his website here.
All the latest guitar news, interviews, lessons, reviews, deals and more, direct to your inbox!