How the Watkins Dominator Pointed the Way Forward to Marshall's Famed 18-Watters
Also known for the Copicat tape delay, the esteemed British amp builder Watkins aka WEM was a guitar gear pioneer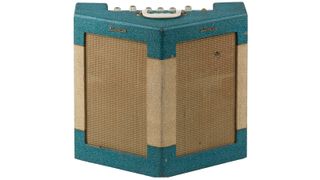 (Image credit: Andrea Nieto)
In a world where the standard shape of the guitar amp had yet to be set in stone, one British innovator thrust a wedge into the future of guitar tone. The result was the Dominator, and while its style didn't prove to be a lasting way forward, it established a cult classic nonetheless.
Charlie Watkins is rarely given sufficient credit among the pioneers of British electric guitar gear, although he certainly deserves it for his work on several fronts.
His Copicat tape-echo machine was the biggest-selling product of his career.
In the physical sense, his biggest creations were the festival-grade sound systems he created for the Windsor and Isle of Wight festivals and others in the mid to late '60s, which hauled PA systems into the modern age.
But his most iconic creation might be the V-front Dominator combo of the late '50s and early '60s, which looked and sounded like nothing else on the market at the time.
Watkins first used the striking V-front cabinet briefly as an upgrade of the existing Westminster model in 1956. It became the permanent home of the new Dominator in 1957.
In addition to being an attention-getter – and all the more so in its two-tone blue-and-cream covering with gold-thread grille cloth – the shape was thought to aid sound dispersion, with the amp's two 10-inch Elac speakers firing away from each other at something close to a 45-degree angle.
The design does enable a fairly broad soundstage from a relatively small package, although it also means there can be something of a hole in the center if you stand too close to the front of the amp.
Unlike the Gibson GA-79RVT of 1960, which had a similarly wedge-like shape and two 10-inch speakers, but with a flat panel at the front where the V's point would be, the Dominator was not a stereo amp but rather a simple two-channel mono amp with tremolo.
Otherwise, the Dominator's circuit was relatively straightforward and included three ECC83 (a.k.a. 12AX7) preamp tubes, two EL84 output tubes and one EZ81 rectifier tube, enabling 17 watts RMS.
These are fronted by individual tone and volume controls for the Microphone and Normal channels, with tremolo speed and depth on the latter. While the effect was largely intended for guitar, Watkins was an accordion player and possibly had it in mind for that instrument as well.
The early Dominators were built with point-to-point wiring, the circuit connected by a jumble of components with just a turret strip or two here and there to help support the capacitors and resistors between tube sockets and controls.
By the turn of the decade, however – as seen in this combo from 1963 – production was more standardized, using a printed circuit board (PCB), albeit one that was loaded with the same types of discrete components used in the previous tube amps, and wired up by hand.
Watkins-brand amps were commonplace among players in the rock and roll and skiffle scenes, particularly in London, given that the company's headquarters were in Balham, a borough in the capital's south.
But the combos themselves rarely seemed to advance to the professional stage, unlike the PA systems and the big Starfinder speaker cabinets that Pink Floyd's David Gilmour and others would later use.
Overall, they were regarded as having decent quality, as the build of our featured combo exhibits, although perhaps not on par with what Vox and Selmer were producing, or what Marshall would soon be known for.
Shortly after this amp's production, Watkins moved the Dominator model into a more conventional rectangular combo cabinet and deleted the tremolo from its feature set.
It remained a good-sounding, lower-wattage tube combo, and proved a bargain for coming generations of players, although it still failed to attain notable pro users.
Around the same time, Watkins changed his brand name to WEM (for Watkins Electronic Music), largely because he had noted the success of rival JMI's brand and admired their bold Vox logo.
An arguably bigger early classic is said to have been inspired by Charlie's flagship combo. When the Marshall company needed a "student"-sized amp to join its big JTM45 and the like, Jim Marshall, Ken Bran and Dudley Craven purportedly based the so-called 18-watter's circuit on that of the Dominator.
Certainly, there were plenty of smaller 15- to 20-watt amps on the market that also carried just a volume and tone control per channel, plus tremolo. But an examination of the Watkins and Marshall circuits reveals that Marshall's 18-watt amps are nearly identical to the Watkins Dominator, including the unusual arrangement of having the tone control before the volume control in the preamp stage, something you don't see in Fender's similarly powered brown and tweed Deluxe and Princeton, Gibson's GA-30 or Vox's AC15.
Charlie Watkins reissued one of several later versions of V-front Dominators in the early 2000s, although these amps were manufactured out of house according to his specifications.
The company British Amplifiers put out another limited release around 2010, and the latest is being produced by Amp-Fix of Cullompton, Devon, England, and is available by direct order.
Other makers have followed with the inspiration too: Aircraft has produced an accurate-looking combo, while Goodsell's Dominatrix is based on the Dominator's circuit, if not the distinctive wedge-like cabinet shape of its early incarnation.
Watkins passed away at his home in Balham, London, in 2014, at the age of 91.
Essential Ingredients:
V-front 2x10 combo cabinet
7 watts from two EL84 output tubes
Normal and Microphone channels
Tremolo on the normal channel
Three ECC83 (12AX7) preamp tubes, EZ81 rectifier tube
Two-tone blue-and-cream covering with gold-thread grille cloth
Guitar Player would like to thank Marcel Cavalle.
All the latest guitar news, interviews, lessons, reviews, deals and more, direct to your inbox!
Dave Hunter is a writer and consulting editor for Guitar Player magazine. His prolific output as author includes Fender 75 Years, The Guitar Amp Handbook, The British Amp Invasion, Ultimate Star Guitars, Guitar Effects Pedals, The Guitar Pickup Handbook, The Fender Telecaster and several other titles. Hunter is a former editor of The Guitar Magazine (UK), and a contributor to Vintage Guitar, Premier Guitar, The Connoisseur and other publications. A contributing essayist to the United States Library of Congress National Recording Preservation Board's Permanent Archive, he lives in Kittery, ME, with his wife and their two children and fronts the bands A Different Engine and The Stereo Field.