Here's How the Watkins Copicat Tape Delay Helped Define the Sound of an Era
Adopted by Hank Marvin and the Shadows this classic echo unit was the first – and some still contend, best – of its kind.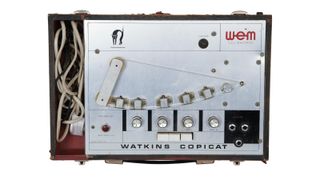 (Image credit: Future)
His name might not be as redolent of the glory days of English electric guitar gear as those of fellow pioneers Dick Denney, Tom Jennings, Jim Marshall and Dave Reeves, but Charlie Watkins was a major innovator of the golden age of British tube amps and effects. For that matter, he was supplying the scene both earlier and longer than any of those iconic designers and manufacturers.
Like JMI/Vox founder Jennings, Watkins was an accordionist and had just returned from his war service in the late 1940s, looking to get back into the London music scene. For a time, he scratched out a living playing in small local outfits, but like so many musicians, he saw the need for a proper day job.
With his brother Reg, Watkins opened a record shop in Tooting Market in 1949 before moving, in 1951, to larger premises nearby in his native Balham. There, they began to sell accordions and other musical instruments and soon became a hangout for local musicians.
Several years before JMI even began thinking much in terms of the electric guitar, Watkins saw the instrument's potential popularity but despaired of his fellow musicians' inability to be heard amid the noise of horns and accordions.
As he told Sound On Sound magazine in an interview published in 2015, after his death, "I thought, 'I've put up with that long enough. I can do something about that. I'll make an amplifier!'"
Watkins soon had a line of jobbed-out AC/DC amplifiers to offer, but he dropped it after a year or two due to the potentially dangerous dual-voltage power supplies. Taking the effort in-house to manufacture standard AC-powered units, Watkins achieved recognition with the iconic, V-fronted Dominator of the late '50s and early '60s.
But another product he released at around the same time actually became his biggest seller.
In 1958, slapback echo had been popular with American rock and rollers for a couple of years and was making inroads as the new sound in Britain and Europe. That's when a pair of customers, returning from a visit to Italy, dropped into the shop to regale Watkins with talk of a performance they'd seen there.
The singer Marino Marini, who was enjoying a worldwide hit with his cover of Dominico Modugno's hit "Volare," had run his microphone through a pair of reel-to-reel recorders with one continuous tape loop rolling between them to recreate his distinctive vocal echo.
The sound had knocked their socks off.
Inspiration hit like "a bell that rang in my head," Watkins told author David Petersen for The Guitar Magazine in 2000.
Determining that the system produced echo from the continuous tape loop, he compacted the engineering – with the help of engineer Bill Purkis – into a 12-by-eight-inch box, using a Gerrard gramophone motor for transport and adding a selector switch to tap three different replay heads.
Before he knew it, Watkins had devised a feedback loop that allowed a variable echo-repeat effect. The result was the first independent tape-loop-based echo unit in the world, and it signaled an impending sonic revolution.
"I had a sample unit in the shop, to see what the demand might be like," Watkins said, "and meantime we got busy and built 100 units. I called them Copicats. The day I planned to put them on sale was a Saturday…
"I went to open up, and the door burst open with the press of customers. I remember selling the very first one to Johnny Kidd." Kidd was the singer for Johnny Kidd & the Pirates, who in 1960 would have a number one hit with "Shakin' All Over," replete with Copicat echo.
"Those first 100 units sold that same day," Watkins continued. "I sold so many of them that they paid for my first factory in Offley Road [in London], which I bought in 1961."
To put a more precise number on the Copicat's success, Watkins told this writer in the early 2000s that he sold "about a thousand Copicats a month" in the first few years of the '60s.
The unit provided many British guitarists with a road to the popular slap-back and short-echo sounds they'd been hearing from American stars like Scotty Moore and Chet Atkins, and soon it was a major part of the British sound, gracing hits by Hank Marvin and the Shadows and many others.
The Copicat remained a good seller for Watkins throughout the '60s, adopting the WEM logo (for Watkins Electric Music) when the namesake changed to that brand in late 1963 or '64 out of admiration for the popular Vox products of the time.
Versions were made for Guild and Hagstrom (the latter under the Kent brand name), and the Copicat evolved into solid-state units later in the decade and into the '70s, as well as branching out into other more complex variations on the original theme.
Versions of the Watkins/WEM Copicat remained in production well into the 2000s, though the current state of its availability or otherwise is unclear at the time of writing.
Charlie Watkins passed away at his home in Balham in 2014 at the age of 91.
Essential Ingredients:
Originally powered by two ECC83 (a.k.a. 12AX7) and one 6BR8 tubes
Continual tape loop
One record head and three playback heads (four playback in later units)
Pushbutton echo-time selectors
Controls for gain, depth and repeats
All the latest guitar news, interviews, lessons, reviews, deals and more, direct to your inbox!
Dave Hunter is a writer and consulting editor for Guitar Player magazine. His prolific output as author includes Fender 75 Years, The Guitar Amp Handbook, The British Amp Invasion, Ultimate Star Guitars, Guitar Effects Pedals, The Guitar Pickup Handbook, The Fender Telecaster and several other titles. Hunter is a former editor of The Guitar Magazine (UK), and a contributor to Vintage Guitar, Premier Guitar, The Connoisseur and other publications. A contributing essayist to the United States Library of Congress National Recording Preservation Board's Permanent Archive, he lives in Kittery, ME, with his wife and their two children and fronts the bands A Different Engine and The Stereo Field.