"Having a Guitar That Really Inspires You Cannot Be Overstated": Joe Satriani Reveals the Most Important Element of Tone
Satch dishes out some tips on what to look out for when purchasing a guitar or amp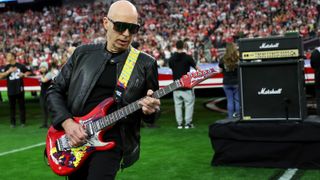 (Image credit: Ethan Miller/Getty Images)
***The following interview extract originally appeared in the November 2018 issue of Guitar Player***
Joe Satriani is happy to discuss nearly any topic related to the electric guitar. But when the subject turns to tone, the voluble master of the six-string becomes downright enthusiastic.
"Tone is such an endlessly fascinating concept," he says. "Right off the bat, what I find interesting about tone is how subjective it is: What's good tone? What's bad? There may not be a right or wrong here, because, as it is with all music and art, context is everything."
Here, Satch dishes out some sound advice when it comes to choosing a new guitar and amp…
When purchasing a guitar, what should somebody be aware of in regard to tone?
Guitarists can always look for ways to achieve a certain sound. But the first thing you need to ask yourself is, What do I want to say with my guitar? And the answer to that question will lead you on your way to finding the right guitar to meet that end result.
When a guitar feels comfortable in your hands, it's impossible to put it down. There's something about a guitar that, when it feels right, just inspires you to play. Before you know it, you're writing songs on it and jamming on it all the time. And that's going to affect the way you play, and it will ultimately affect your tone.
Beyond pickups, vibrato bars, amps and anything else, your hands on the guitar – the way you pick and the way you fret the strings – is the most important element of your tone. So having a guitar that really inspires you cannot be overstated.
In terms of tone, what should somebody think about when choosing an amp?
You have to consider any purchase very carefully and make sure it fits your needs. If you need versatility, as I imagine you will, you should look for an amp that isn't a one-trick pony.
You might get a gig that calls for one type of sound, and you want to be able to dial it up without a lot of hand-wringing. The next day, you might find yourself in a situation that calls for a completely different sound, so you want to be able to get that tone just as quickly.
Years of playing cover songs and teaching guitar really drove home that point for me. You want an amp that's flexible and dependable, one that isn't big and complicated.
Space is an issue for a lot of people, and modern digital amps are a very credible alternative to the traditional amp with a cabinet, tubes, a transformer and some speakers.
For instance, there's the [Fractal Audio] Axe-Fx, which is small and easy to use, and you can just plug it into the P.A. There are plenty of people who are doing that today, and they're very happy with a digital amp because it fits with what they're trying to do.
Visit the Joe Satriani website here.
All the latest guitar news, interviews, lessons, reviews, deals and more, direct to your inbox!
Joe is a freelance journalist who has, over the past few decades, interviewed hundreds of guitarists for Guitar World, Guitar Player, MusicRadar and Classic Rock. He is also a former editor of Guitar World, contributing writer for Guitar Aficionado and VP of A&R for Island Records. He's an enthusiastic guitarist, but he's nowhere near the likes of the people he interviews. Surprisingly, his skills are more suited to the drums. If you need a drummer for your Beatles tribute band, look him up.