Played by Keith Richards and Peter Buck, Fender's Humbucker-Loaded Telecaster Custom is a CBS Classic
Punchy, powerful and versatile, version two of the Telecaster Custom carries a big slab of Seth Lover-certified humbucker mojo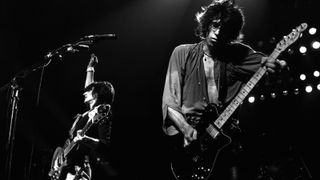 (Image credit: Getty Images)
Fender first conceived a fancied-up version of the stalwart Telecaster in 1958, and released it as the Telecaster Custom at the 1959 NAMM show.
For more than two decades, the new model was offered alongside the original Telecaster, and while it brought body binding and a sunburst finish as standard to Fender's seminal original cutaway, it otherwise wasn't different.
The model also received a rosewood fingerboard, which made it look a little more like traditional electric guitars produced by other makers, but the standard Tele received that too around the same time.
By the early 1970s however, the Telecaster Custom was primed to become something quite different, taking an evolutionary leap forward in Fender terms, while arguably lurching further away from future collectability status relative to the bound-bodied Customs of the pre-CBS and early CBS years.
The genesis of the Custom's redesign occurred in 1967, when Fender hired former Gibson engineer Seth Lover, one of the main men behind the legendary Gibson humbucking pickup released a decade previously.
By 1970, Lover had developed a humbucker for Fender, too, known as the Wide Range Humbucking Pickup. Although the unit looked a little like a Gibson humbucker from the outside, it was a little larger and constructed quite differently inside.
Rather than the single alnico bar magnet mounted beneath and between the two coils, as on the Gibson humbucker, the Wide Range pickup used individual pole pieces made from cunife magnets, a blend of copper, nickel and ferrite.
The Wide Range has the sonic characteristics of humbuckers, but the use of magnets within the coils, something seen in all significant Fender pickup designs, also helps them retain characteristic Fender clarity and twang.
The Telecaster Thinline of 1971 was the first Fender to get the new pickup, a pair of them in fact, and the company followed suit by totally redesigning the Telecaster Custom in 1972.
Debuting in January 1973 for $315, with a sunburst finish standard and choice of rosewood fretboard or fretted maple neck, the new Custom lost the binding of old and received a Wide Range humbucker in the neck position, aping a mod that many players had imposed upon Teles for years with Gibson humbuckers.
It also adopted a four-knob-and-toggle control set that likewise reflected the Gibson standard. In addition, the Custom received early '70s Fender innovations that the standard Tele would avoid but which the Stratocaster got in 1971: the new "bullet" headstock-positioned truss-rod adjustment nut, along with the three-screw Micro-Neck plate, which included the Micro-Tilt neck-angle adjustment mechanism.
Although the three-bolt neck and bullet-head adjustment nut were promoted as beneficial new features at the time, they have long been regarded as the most obvious outward demarcation point between the good early CBS Stratocasters and the less desirable ones.
Their use on these Telecaster models also made them less appealing to some traditional Tele players for many years, although these solid, versatile early humbucker-loaded Fenders earned a certain cachet with rock, blues and roots players.
In later years, they became popular with many indie- and alt-rock guitarists who were looking for a little more beef from their Telecasters – and perhaps found some of these models more affordable than earlier standard Telecasters.
Soul Asylum's Dave Pirner is a long-time devotee of the Telecaster Custom and plays a somewhat modified model, while Peter Buck often played one with R.E.M. in the band's early years, generating tones you likely thought were coming from his Rickenbacker. Even Keith Richards started subbing one in for Micawber, his similarly appointed 1954 Telecaster with an added neck humbucker, when they became available.
For much of the '70s, the Telecaster Custom could be ordered with either a rosewood or maple neck, and in a range of standard finishes including sunburst, black, walnut, Olympic white and natural.
By then, however, Fender was spraying a thick polyester finish on its guitars, an effort under CBS to produce more durable finishes, but one that also eliminated the characterful aging of the thin nitrocellulose lacquer that so many players love on older Fenders.
Those finishes can feel a little thick on the necks, too, and some other aspects of the workmanship on the '70s guitars was occasionally not up to the standards of the guitars of a decade before.
Then again, these factors contribute to the fact that you can often find an all-original early '70s Telecaster Custom for as little as a tenth the price of an all-original early '60s Telecaster Custom.
These are punchy, powerful and versatile vintage Fenders, and they carry a big slab of Seth Lover-certified humbucker mojo in the neck position to ram an amp into throaty overdrive while still retaining impressive clarity and string definition.
Thus equipped, the Telecaster Custom remained in production until 1981. It's been reissued in several forms over the years and remains a viable Tele alternative, while the popularity of the Wide Range Humbucking Pickup itself has continually escalated in recent years.
Essential Ingredients
Solid alder body with single cutaway
Maple neck with rosewood fretboard or fretted maple neck, attached to body with three wood screws
Single-coil Telecaster bridge pickup, Wide Range Humbucking neck pickup
Traditional Telecaster three-saddle bridge (six individually adjustable saddles after 1976)
25.5-inch scale length
Four control knobs and three-way toggle switch
All the latest guitar news, interviews, lessons, reviews, deals and more, direct to your inbox!
Dave Hunter is a writer and consulting editor for Guitar Player magazine. His prolific output as author includes Fender 75 Years, The Guitar Amp Handbook, The British Amp Invasion, Ultimate Star Guitars, Guitar Effects Pedals, The Guitar Pickup Handbook, The Fender Telecaster and several other titles. Hunter is a former editor of The Guitar Magazine (UK), and a contributor to Vintage Guitar, Premier Guitar, The Connoisseur and other publications. A contributing essayist to the United States Library of Congress National Recording Preservation Board's Permanent Archive, he lives in Kittery, ME, with his wife and their two children and fronts the bands A Different Engine and The Stereo Field.