Derek Trucks Shows Us Three Top Axes from His Touring Rig
Get a close-up look at these awesome slide machines.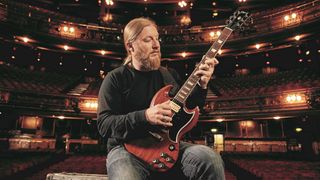 (Image credit: James Sharrock)
Derek Trucks' playing and gear choices are truly judicious. Though he has a signature Gibson SG, live he typically prefers his Gibson Custom Dickey Betts SG, aged by Tom Murphy. That it was a gift from Duane Allman's daughter lends it a sentimental value and a sense of familial connection.
With his SG and a glass Dunlop slide, he goes straight into his Alessandro custom head and cabs and a Fender Super Reverb. Trucks' fingerpicking slide style naturally attenuates some of his amp's gnarly treble, but he'll constantly work his volume and tone pots in search of the sweet spots. It's all about feel.
Here are three of the Tedeschi Trucks man's top axes…
Gibson Custom Dickey Betts SG Artist Proof #4
This guitar is based on a 1961 Gibson SG that belonged to Dickey Betts but was at one point played by Duane Allman. "It was like brother to brother," Trucks says of the original guitar.
"This is Artist Proof number four. Duane's daughter, Galadrielle, gave this to me when they copied the SG. They relic'd the heck out of it. It's an extremely light SG. All of them are. I've noticed more and more that if you pick up four or five Les Pauls, it's usually the light one that's going to sound the best. So if we're ever looking for a guitar, that's one of the things we check out.
"We've been messing with the pickups on this one quite a bit, and maybe the volume pots were changed too. We had a pair of PAFs in there for a while, and a friend of ours, Thomas Nilson, wound these pickups. They're based on a guitar I played called Spot, a '59 Les Paul [once owned by Joe Bonamassa]. They are unwaxed, unpotted pickups.
"This has been my main guitar since I got it. I did those last three or four years in the Allman Brothers with it – all those final shows – so it's kinda been the only guitar I've played since I got it. I've got a Gibson signature model that I've played on and off, and for a long time that was the backup guitar I'd use. I also use this guitar in the studio. There is something about it – I can't put it down. It feels better that this is a gift. I'm into that. And the guitar has a little history to it."
Gibson Custom Dickey Betts SG Artist Series
"We wanted a great backup [for the Artist Proof guitar], so we begged Gibson to make another one, and they came around," Trucks says. "With those guitars, they do a very strict run, and that's that, so we had to ask them a few times. They even relic'd the guitar the same, with the wear on the neck, but it's just a little bit of a different finish, and it's a heavier guitar. I don't play it as much, that's for sure. If I break a string [on his Gibson Custom Dickey Betts SG Artist Proof #4], I'll play this guitar for however long it takes to change a string."
Trucks says the difference between this electric guitar and the Artist Proof model comes down to feel and tone. "It's funny," he notes, "but as similar as they are, they feel and sound entirely different. "I'm always messing with the volume and tone. If it sounds good, the tone will stay put, unless I'm going for an effect, like rolling all of it off and just getting that 'woman tone,' or whatever. But I mess with the volume pot quite a bit, and that's where a lot of the swells and dynamics come from. The top end just never seems to go fully away, which is nice.
It's funny: So many years into playing an SG and I still have to remind myself: Wait. It's better at seven-and-a-half or eight than it is diming it. You just think, It's time to go – floor it! [laughs] Flooring it is eight. Same with the amp. Some nights, the band's getting loud and you keep turning it up and it's like, This isn't helping. It's better to dial it back. Once you lose that definition and point, you're just adding to the mud and not getting anything in return. Sometimes when you're dealing with volume, less is more."
Silvertone Tuxedo
"This is a fun guitar," enthuses Trucks. "I capo it at the fifth fret and use it in the studio occasionally. I play it on that tune 'Down in the Flood' [from the Derek Trucks Band's 2009 album, Already Free]. I couldn't tell you what model it is, but the serial number is X87242. I want to say it's from the mid '60s.
"It's a great-sounding guitar. It's a slide machine. It's kind of short scale, but it's got a great thing going on. I got it maybe 15 years ago – I think I paid about $500 for it. It's got a huge neck. Playing SGs, I usually like necks that are thin and flat, but there's something about this guitar. It just makes me want to play 'porch music.' [laughs] It feels like a good blues-folk guitar, you know? I love the sound of it, especially quiet. When you crank it up, it's a pretty gnarly-sounding guitar. It barks."
Check out the awesome range of Gibson SG Standards – including the SG Standard '61 in Vintage Cherry – available at Guitar Center here.
All the latest guitar news, interviews, lessons, reviews, deals and more, direct to your inbox!