David Bowie, Jack White and Dan Auerbach Have Played the Westwood, but It's Still Obscure Enough to Look Like a Custom Build
This restored and modified '62 National Westwood "Map" puts a world of tone at your fingertips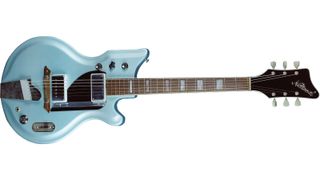 (Image credit: May Yam)
I was always intrigued by the look of the National Westwood, also known as the Map due to its upper bout, which resembles the U.S. Eastern coastline.
I imagined it would be unwieldy to play, and since the National guitar company practically went out of business in the mid '60s, examples aren't easy to find.
Plus, the numerous iterations of the National brand – including Supro, Valpro, Dobro, Airline and Valco – make it difficult to know which brand and model would be best.
I finally bought the Map shown here, which was being restored and modified by my friend Ardy. This electric guitar started out as a single-pickup model 75 but was modified with a second pickup, along with some practical, if not clever rewiring. (Visually, it looks to be a model 77, but that guitar has a third pickup, a piezo, hidden under the bridge.)
Part of the restoration included covering some badly engineered routing and removing bumper stickers, which necessitated the groovy grey pewter refinish.
Weirdo Factor
After the odd body shape, the Westwood's weirdest aspect is an elegant black headstock with fancy script logo that, nevertheless, is shaped like Gumby's head.
The guitar was offered in many finishes and was later made of Res-O-Glass, just like the Montgomery Ward Airline guitar Jack White played with the White Stripes. But the rest of this guitar is purely practical and quite musical.
Playability & Sound
Made in Los Angeles, this beauty has a solid maple body and neck with 20 low-profile frets laid into a nice slab of rosewood.
The C-shape neck feels friendly to my small paws, but it took me a while to get used to the nearly flat fingerboard. It was an easy adjustment, though, especially because it plays so darn fast.
The counterintuitive controls are another story. What looks like a three-way pickup selector on the lower bout is actually a three-way tone selector. The knob next to it is a master tone knob. The upper bout contains the volume controls for each pickup and a chicken-head pickup selector.
Don't have this as a backup to your Les Paul, because the knob layout is more confusing than driving in London.
The hardware includes a screw to adjust the neck angle (why don't all bolt-ons have this?) and Kluson tuners that still work smoothly.
While the neck pickup is warm, as expected, it can sound funky and skanky with the EQ selections. The bridge pickup is brighter than the neck, but never gets scratchy.
Clean tone or with distortion, these old single-coils really rock and have a tone unlike any other I've heard.
Value
In its time, the Westwood sold for $175 to $225, about the same price as a Fender Stratocaster.
Their resale value hasn't kept pace with the Strat, however. These beauties are still relatively affordable at $1,500 to $2,500.
Why It Rules
David Bowie, Jack White and Dan Auerbach have played the Westwood, but it's still obscure enough to look like a custom build.
It's also lighter than it looks (7.2 pounds), plays great and sounds unique.
Thanks to Ardy for saving this beauty from the dumpster. Visit Eastwood Guitars to see the company's great National tributes, and check out the new National Guitar here.
Got a whack job? Feel free to get in touch with me at rtcarleton@gmail.com. Who knows? Maybe I'll write about it.
All the latest guitar news, interviews, lessons, reviews, deals and more, direct to your inbox!