Behringer Guitar Effects Pedals Now Only $18.99 in this Early Black Friday Deal
By Rod Brakes published
Classic fuzz, distortion, delay, tremolo, and amp modelling available at Sweetwater now for a steal.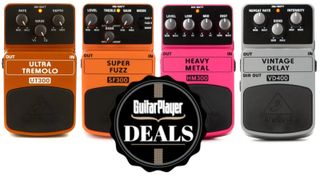 (Image credit: Behringer)
Sweetwater have made the super affordable even more tempting by knocking prices on a selection of Behringer pedals down to just $18.99 in this early Black Friday deal.
Perfect for beginners and pros alike this temporary offer comprises the handy V-Tone Guitar GDI 21 amp modeler/DI unit and four effects pedals. These include the SF300 Super Fuzz, HM300 Heavy Metal, VD400 Vintage Delay, and UT300 Ultra Tremolo.
Even the most experienced of tone hounds can find it tricky to tell the difference between these pedals and similar circuits costing multiple times the price. Consequently, many a seasoned pro has pulled the trigger on a Behringer effects pedal only to discover it becomes an indispensable part of their pedalboard.
And for beginners looking to invest in an affordable pedal that doesn't sound cheap it's hard to find a budget brand with as much kudos as Behringer.
Behringer Effects Pedals: Now $18.99
Sweetwater are offering a range of Behringer pedals priced at an incredible $18.99. Popular among guitarists of all levels these classic stompbox circuits include the SF300 Super Fuzz, HM300 Heavy Metal, VD400 Vintage Delay, and UT300 Ultra Tremolo. Also included in this early Black Friday deal is the V-Tone Guitar GDI 21 – a neat little amp modeler with standard DI and speaker simulation options.
Behringer have long been known in the electric guitar world for their high-quality albeit super inexpensive effects pedals. Often based on familiar designs their extensive range covers the essentials as well as some more niche circuits that would otherwise cost hundreds of dollars to obtain.
Boasting three modes (Fuzz 1, Fuzz 2, and Boost) as well as Level, Gain, and separate Treble and Bass knobs, the Behringer SF300 Super Fuzz has been likened to the long-discontinued Boss FZ-2 Hyper Fuzz – a legend among fuzzes. However, rather than costing hundreds of dollars on the used market, the SF300 Super Fuzz can be picked up in this early Black Friday deal for a very reasonable $18.99.
The Behringer Heavy Metal HM300 distortion pedal (MSRP $43.50) takes inspiration from the mighty Boss HM-2 Heavy Metal. Known for its 'chainsaw' distortion tone this circuit became the sound of Swedish death metal although is also known as a secret studio weapon among producers working in other genres.
Similarly, the VD400 Vintage Delay (MSRP $43.50) and UT300 Ultra Tremolo (MSRP $69.95) have been likened to classic Boss stompboxes, namely the DM-2 Delay and TR-2 Tremolo (respectively).
With an MSRP of $51 the Behringer V-Tone Guitar GDI 21 is also a serious bargain at $18.99. Useful for recording, practice, and traveling light to gigs or rehearsals this flexible amp modeler is endowed with a choice of 3 classic amplifier types (Californian, British, and Tweed). Along with 3 gain modes and 3 virtual mic positions a total of 27 basic sounds are available to further sculpt using the Drive, Treble, Bass, and Level knobs.
If you're looking for more great deals like this check out our Black Friday Guitar Deals page where you can browse hot bargains on all kinds of guitar-related products.
Rod Brakes is a music writer with an expertise in all things guitar-related. Having spent many years at the coalface as a guitar dealer and tech, Rod's more recent work as a journalist covering artists, industry pros, and gear includes writing hundreds of articles and features for the likes of Guitarist magazine, MusicRadar, and Guitar World, as well as contributions for specialist books and blogs. He is also a lifelong musician.
Get the latest news, reviews and product advice straight to your inbox.
Thank you for signing up to The Pick. You will receive a verification email shortly.
There was a problem. Please refresh the page and try again.