"I Needed an Instrument That Could Withstand the Elements": How Climate Extremes Led Gene Baker to Re-Envision the Acoustic-Electric With b3 Guitars' Cielo Deluxe
Enter the Cielo, a thinline hybrid acoustic-electric guitar with a chambered body made of solid woods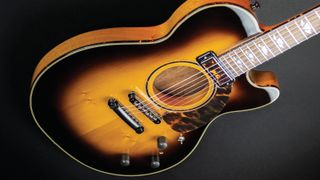 (Image credit: b3 Guitars)
Arguably the best new guitar designs are created to fill a specific need. And when one of the country's elite guitar makers conceives of a model to suit his own particular tonal desires – as Gene Baker did with the new b3 Cielo Deluxe hybrid acoustic-electric – chances are it's going to be something special.
Building under his b3 brand and other banners that his guitars have worn in the past, Baker is far and away best known for alternative takes on classic solid-body electrics, an arena that his pedigree certainly reinforces. After being named a Master Builder at the Fender Custom Shop following a tenure building for Gibson, then moving on to head up the acclaimed Premier Builder's Guild, Baker needs no introduction. But the Cielo Deluxe we're checking out this issue comes from entirely elsewhere, while still – perhaps counterintuitively – screaming "Gene Baker creation" from top to bottom.
When I propose that the Cielo model is a little different from what most people have come to expect from b3, Baker explains its origins. "The design was inspired by a special purpose," he says. "Tehachapi, California, where we now live, is a high mountain desert town where it's very dry and we experience over 24 inches of snow per winter. I had a very nice boutique acoustic that was coming nearly unglued once we relocated to Tehachapi, whereas it survived perfectly for almost a decade in all other places we'd lived. So I needed to get that guitar off the mountain for its survival and find a suitable replacement.
"Put simply, I needed an instrument that could withstand the elements. Tehachapi is also heavy in wineries, where we just don't have as many normal bar-type venues for bands. Acoustic music dominates the region, and those of us in the MGB [Mean Gene Band] find ourselves playing predominately acoustic gigs. After looking around a bit, I began reminiscing about the former Gibson Chet Atkins SST hybrid model, as it was essentially a chambered solid-body with a piezo pickup system. So they had an acoustic-like image, which was something I wanted to retain."
Enter the Cielo, a thinline hybrid acoustic-electric guitar with a chambered body made of solid woods, piezo bridge saddles for authentic acoustic-like tone, and a traditional magnetic pickup in the neck position for electric-guitar tones. Of course, being a b3, there's a lot more to it than that, and the effort required Baker to overcome a few design challenges along the way. But the Cielo is entirely hybrid by nature, and it suits a need that hasn't been addressed often in the world of boutique guitar makers.
A closer look reveals that the Cielo's construction is more complex than this in-a-nutshell assessment might imply. A central core of mahogany that's strategically chambered and hollowed out entirely beneath the sound hole forms the guitar's sides and neck joint. It's covered by a book-matched back of solid walnut and capped with a top of Ancient Kauri, a sustainable wood purported to be the world's oldest, which is grown on New Zealand's North Island. This is finished in nitrocellulose lacquer in a rich two-tone antique sunburst, with a golden hue toward the center that beautifully reveals some characterful knots in the wood.
Image 1 of 2
The neck is solid mahogany, with a sculpted heel that merges seamlessly with the mahogany of the body, and features a rosewood fingerboard. The latter is where the decorative enhancements of the Cielo Deluxe model first shine through. Ringed in multi-ply faux-tortoise/black/white binding, it sports art deco inlays of mixed abalone and mother-of-pearl, with a mother-of-pearl b3 logo in its ebony headstock overlay. The body echoes these details in its tortoise outer binding and multi-ply purfling, double-bound tortoise sound-hole rosette, and tortoise pickguard and neck-pickup cover. The 22 medium-jumbo 6105 frets are stainless steel, and unlike even most cutaway flattop acoustics, the Cielo design allows playable access to all of them on the plain strings.
It's a pretty chunky neck – .890 inches deep at the first fret – but extremely comfortable regardless, with a soft-V profile that leans toward a rounded '59 C shape. The 24.625-inch scale length and 1.687-inch width at the nut also keep things feeling familiar to fans of the Gibson-inspired template.
As elegant as the Cielo Deluxe appears, an in-hand inspection immediately tipped me to several design challenges that were no doubt at the heart of the effort, and Baker is entirely forthcoming about several of the hurdles. "It was somewhat of a tricky sandwich, to say the least," he tells GP. "The goal from the outset was to remove the details I found problematic with acoustics, such as hard-to-adjust intonation and string height, easy access to internal electronics or external placement of controls, and a comfortable design allowing upper-fret access. I also wanted to mitigate unwanted feedback issues and have more than one pickup for more common neck/bridge type tones, while keeping the instrument's top plate reactive to players that may tap drumbeats on their acoustics.
Image 1 of 2
"Also, light strings just never feel right on a traditional acoustic, but the L.R. Baggs piezo-loaded bridge setup not only sounds great, it also enables the use of any gauge of strings and allows for quick-and-easy string changes. We string them up like our electrics, with a 10-to-46 set and a plain G for one main reason: burning leads!"
The black-plated hardware includes a stop-bar tailpiece in addition to the aforementioned L.R. Baggs T bridge, and Revolution Series Kluson tuners. The pickup in the neck position is a Lollar Broiler – that company's take on the single-coil Rickenbacker toaster-top pickup – and it's tied in to the piezo via the L.R. Baggs CTRL-X preamp system, with a three-way mini toggle to switch between either or both. Controls include master volume, tone and blend, and there's a recessed push-button stereo/mono selector to rout the output accordingly, via a TRS cable, to split the piezo and magnetic pickups to separate amps or board inputs.
I played the Cielo Deluxe through several amp configurations: in mono into a tweed Deluxe-style combo and 65amps London head with 2x12 cab; in stereo to either of those, plus a powered PA wedge for the piezo; and in mono and stereo through dual channels of a modeler into headphones. In doing so I discovered a wealth of sound-sculpting options. Either of the guitar's primary voices is superb, with enough brightness from the traditional pickup in the neck position to handle high-gain lead tones without mudding out, and an extremely convincing acoustic tone from the piezo saddles that implied a quality flattop captured by studio microphones through signal paths designed for acoustics.
In addition to the myriad sonic options, it was the ability to apply my unfettered electric-guitar chops to acoustic or blended tones that really helped the Cielo Deluxe stand out, and made it a powerful creative tool in the process. Obviously, it's a massive boon if your live gig requires seamless transitions from electric to acoustic tones, but beyond that realm the potential for crafting atmospherics and diverse sound-scapes is also massive. Lush ambient reverb on the piezo and tight medium-crunch on the magnetic pickup? Or change the latter to a synth tone or retro tremolo? Yes, please!
All in all, the Cielo Deluxe is a thoughtfully designed and beautifully rendered gateway to more alternative tone configurations than even the most creative guitarist is likely to initially imagine. Undoubtedly this type of guitar isn't for everyone, but for those who can make the most of it, it's a hands-down winner.
Image 1 of 2
For more information visit b3guitars.com.
All the latest guitar news, interviews, lessons, reviews, deals and more, direct to your inbox!
Dave Hunter is a writer and consulting editor for Guitar Player magazine. His prolific output as author includes Fender 75 Years, The Guitar Amp Handbook, The British Amp Invasion, Ultimate Star Guitars, Guitar Effects Pedals, The Guitar Pickup Handbook, The Fender Telecaster and several other titles. Hunter is a former editor of The Guitar Magazine (UK), and a contributor to Vintage Guitar, Premier Guitar, The Connoisseur and other publications. A contributing essayist to the United States Library of Congress National Recording Preservation Board's Permanent Archive, he lives in Kittery, ME, with his wife and their two children and fronts the bands A Different Engine and The Stereo Field.