Played by Keith Richards, Joe Perry and Tom Verlaine, the "See-Through" Ampeg Dan Amstrong Guitar Earned Its Own Fan Club of Top-Name Guitarists
The story of the beloved and delightfully bizarre 1969 Ampeg Dan Armstrong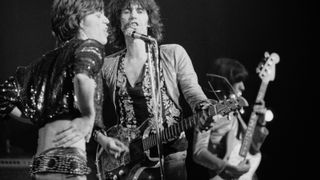 (Image credit: Getty Images)
The Space Age inspired an era of fanciful guitar designs, like Gibson's 1958 entrants, the Flying V and Explorer. Not as well known, but no less revolutionary, was Ampeg's 1969 Dan Armstrong guitar, a comparatively late arrival that was just as eye catching and memorable.
The guitar featured a clear body made of polymethyl methacrylate (PMMA), a substance that had been around since the 1930s and offered commercially as Plexiglas, Lucite and Perspex.
Decidedly modernistic for its day, the Dan Armstrong electric guitar featured an outré design that kept it from being a major hit in the commercial sense, but its uptake by several star players quickly enshrined its status as an odd-duck classic.
The guitar was the product of a collaboration between New York City musician and guitar repairman Dan Armstrong and Ampeg, which then as now was best known for its big bass amps.
The company had been looking to shake up its image and product line, and when Armstrong approached its representatives with his idea for a clear guitar at the 1968 NAMM show, Ampeg signed him up to work on its line of Grammer guitars.
Armstrong allegedly brought in New York City guitar dealer and repairman Matt Umanov to assist with the guitar's design, and Bill Lawrence, who shared space in Armstrong's workshop, made the pickups.
Offered in both guitar and bass versions starting in 1969, the instrument had so little in common with Ampeg's offerings that it has almost always been known simply as the Dan Armstrong "Plexi" or "Lucite" guitar, or the "see-through" guitar.
"We used Perspex because it's hard and consistent, and you don't have to worry about grain," Armstrong told Guitar magazine's Jeffrey Pike in 1973. "It gives good sustain, rather like a steel guitar."
Unfortunately, the material was both heavy – the guitars weighed an average of 10 pounds – and difficult to work with.
"Everybody thinks you mold this stuff," Armstrong said. "You don't. The body is carved out of a solid board of plastic, like carving out of wood, except that instead of sanding it to finish, you polish it off. Boy, it's expensive stuff!"
In addition to its synthetic body, the guitar featured a pickguard and headstock overlay of Formica, which had found popular use in the making of dining tables and kitchen and bathroom counters since the late 1930s.
Its faux wood-grain finish was itself possibly a nod to the emerging use of wood paneling in home decor, which would dominate in the early 1970s.
One of the guitar's more notable features was its removable pickup, which slid into and out of a channel routed in the body at the bridge position. The unit clipped directly into the rest of the electronics and was secured in place with a thumb screw on the guitar's back.
Noting that guitarists' tastes for pickups was fairly fickle by the late '60s, Armstrong and Lawrence produced six different pickups for the guitar in different output strengths and voicings called Rock, Country and Jazz and offered them in both bass and treble versions.
Keen-eyed readers will note that the guitar has a three-way toggle switch in addition to its tone and volume controls, despite being a single-pickup instrument, but this was used for tone changes and muting, rather than for pickup selection.
In one of its few nods to convention, the guitar carried a maple neck with a 24-fret rosewood fretboard and a 24.75-inch scale length. It attached to the body from the rear and was secured at the front with four bolts beneath the pickguard.
The guitar's bridge was likewise standard and arguably under-engineered with respect to the rest of the instrument, being a simple unit with a flat steel plate and single wood saddle piece, much like that used on many Danelectro guitars.
Notably, on the instrument featured here, the bridge has been modified to a Gibson Tune-o-matic.
Launched in 1969, the Ampeg Dan Armstrong guitar's biggest star endorsement came courtesy of the Rolling Stones, then raging through a transatlantic tour. Keith Richards embraced the Lucite guitar wholeheartedly, while Bill Wyman occasionally played the bass through his revolutionary new Ampeg VST and "fridge" cab.
Faces (and future Stones) guitarist Ronnie Wood also took up the guitar, as did Arthur Lee of Love, Steppenwolf's John Kay, Lou Reed (then with the Velvet Underground) and Spirit's Randy California.
Later adoptees included Joe Perry, Greg Ginn, Mike Campbell, Dave Grohl, Josh Homme and Television's Tom Verlaine.
The original production run of Ampeg Dan Armstrong guitars lasted only until 1971, and Armstrong himself moved to London in the early '70s, where he continued repairing guitars and inventing related gear.
He launched a wood-bodied guitar similar to his design for Ampeg, but most notable among his efforts was a line of small, cube-like effects units that plugged straight into the guitar's output jack: the Orange Squeezer compressor, Green Ringer octave-fuzz, Blue Clipper fuzz, Purple Peaker frequency booster, Red Ranger linear booster, and Yellow Humper low and midrange booster (originally designed as a bass booster).
The see-through guitar has been reissued several times over the years, both by Ampeg and as a licensed offshore production. Dan Armstrong passed away in 2004.
All the latest guitar news, interviews, lessons, reviews, deals and more, direct to your inbox!
Dave Hunter is a writer and consulting editor for Guitar Player magazine. His prolific output as author includes Fender 75 Years, The Guitar Amp Handbook, The British Amp Invasion, Ultimate Star Guitars, Guitar Effects Pedals, The Guitar Pickup Handbook, The Fender Telecaster and several other titles. Hunter is a former editor of The Guitar Magazine (UK), and a contributor to Vintage Guitar, Premier Guitar, The Connoisseur and other publications. A contributing essayist to the United States Library of Congress National Recording Preservation Board's Permanent Archive, he lives in Kittery, ME, with his wife and their two children and fronts the bands A Different Engine and The Stereo Field.