The 1963 Gibson Explorer from the '50s
Beginning life in '58, this ultra-rare solidbody finally left the factory some five years later.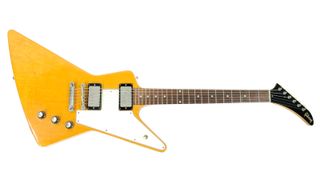 (Image credit: Paige Davidson/Well Strung Guitars)
This is a 1958/1963 Gibson Explorer. I've just come on the heels of delivering Big Ed [a 1958 Gibson Explorer] to Gibson. I delivered it by hand. [Edison] 'Big Ed' Thompson was a well-known blues guitarist. In 1958, he and his brother acquired matching guitars – Ed got an Explorer and his brother got a left-handed Flying V, which is one of a kind.
I have it here at Well Strung Guitars. When Big Ed died [in 1993], Rick Vito from Fleetwood Mac bought both guitars and kept them together. They went from Rick Vito to a guy I know, and I bought them as a pair about four and a half years ago. They've always stayed together, and I had a deal in place to sell them to a client who wound up only being able to take the V.
Meanwhile, Gibson was waiting in the wings, and they bought the Big Ed Explorer. They flew me out last week to deliver the guitar by hand. It was next to me in a seat all the way there.
While I was in Tennessee, I picked up this Explorer of mine, which I bought from Alan Rogan [guitar tech of Pete Townshend] when he was still alive. It left the factory in 1963 with a 1958 serial number – an '8' prefix followed by four digits.
This, too, is a pretty amazing guitar. It's 100 per cent original and has never been compromised in any way.
Gibson's late-50s 'modernistic' electric guitars comprised the Futura, the Flying V and the Moderne. But the Moderne never made its way out to the public; at least I have no reason to believe one exists.
The Futura became the Explorer. It had a narrower waist and they expanded it, while the original split-headstock design was changed to the 'hockey stick' profile we see here.
Gibson released the Explorer and Flying V models in '58, but they had trouble selling them and so they were abandoned by the following year. Later on, they started assembling what they had left just to get rid of them.
They made 19 Explorers in '58 and a few in '59. Then in '63 there were less than a couple dozen more put together, mostly with '58 serial numbers. Gibson don't have concrete records of these early '60s Explorers, but it appears they made 22.
The Flying V was formally reintroduced in the late '60s, but the Explorer didn't reappear until the mid-'70s.
The biggest differences between the original run of late '50s and these early '60s Explorers are that most of the later guitars no longer have gold-plated hardware. And they did away with the six separate tuners in place of specially made six-on-a-strip tuners that don't fit any other guitar.
People might think, 'That's probably a B-25-12 [Gibson 12-string flat-top] set,' but it's not. Unfortunately, it was slightly oversized, so they ended up having to grind the end off so it wouldn't hang over the edge of the headstock.
They also moved the end strap button upwards away from the jack plate, which makes it a little more balanced. Unlike the Flying V, the Explorers aren't very light guitars; they're generally around the 8.5lb area. It's a much more substantial piece of wood.
The neck profile of this guitar is a typical chunky '58 Gibson profile, and it's got the smaller frets [larger frets appeared in 1959]. Like the late '50s guitars, this has a korina body.
So, late '50s guitars have gold-plated hardware, but when Gibson got around to getting rid of the rest of the bodies and necks and shipping these guitars out, they used the cheapest components.
They no longer used the [Kluson] Deluxe tuners; they used the standard strip tuners with white plastic kidney bean buttons like you see on a Les Paul Junior.
Interestingly, the pickguard has one less screw in the pickguard. It's a three-layer white/black/white plastic 'guard. Also, it has a white switch tip, rather than an antiqued switch tip. Like other Gibsons of the era it has the metal cap 'reflector' knobs and nickel-plated hardware with a nylon bridge saddle.
Everything else aside from the body and neck is typically '63. The pots are dated to '63 and there are no broken solder joints anywhere in the guitar.
It's got patent number sticker pickups that have a very biting sound. It's funny because there were PAF pickups in Big Ed, but this Explorer sounds equally as good. The bridge pickup in Big Ed was maybe a little hotter.
This guitar sounds absolutely amazing when it's plugged in. To me, an Explorer doesn't sound like any other guitar. They don't sound like Les Pauls. It's somewhat like a Flying V, but it has more bottom-end. They're thick- and chunky-sounding. I think that's why a lot of metal players love them. Sure, they look funky, but they also sound deep and rich.
Vintage guitar veteran David Davidson owns Well Strung Guitars in Farmingdale, New York

info@wellstrungguitars.com
001 (516) 221-0563
All the latest guitar news, interviews, lessons, reviews, deals and more, direct to your inbox!
Rod Brakes is a music journalist with an expertise in guitars. Having spent many years at the coalface as a guitar dealer and tech, Rod's more recent work as a writer covering artists, industry pros and gear includes contributions for leading publications and websites such as Guitarist, Total Guitar, Guitar World, Guitar Player and MusicRadar in addition to specialist music books, blogs and social media. He is also a lifelong musician.