"We Started to Make Our Act Aggressive": Watch Pete Townshend Attack his Marshall in Footage from 'Lost' 1966 Interview
Here's why the Who's axe wielder was a guitar amp innovator.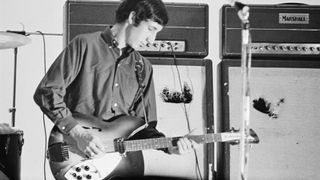 (Image credit: Chris Morphet/Redferns/Getty Images)
The original Lord of Loud, Pete Townshend was on a mission in 1965 to have the most potent sonic weapon he could unleash on the audience and be heard over Keith Moon's drumming.
The guitarist had also realized it was much easier to hear himself and get controllable electric guitar feedback when his speakers were elevated to ear level.
So he went to Jim Marshall and asked the amp maker to build an 8x12 cabinet to use with the new 100-watt amps Marshall had recently developed at Pete's urging.
Since Marshall had already created a 4x12 to use with the JTM-45 head, his solution was to build a straight-front 4x12 and sit the angled-front cab (model 1960A) on top of it.
But Pete wanted one cabinet with all eight 12s in it. Told the cabinet would be despised by the roadies for its weight, Townshend snarled, "Sod 'em, they get paid."
Marshall made him four 8x12 cabinets, each one open-back on the top half and closed-back on the lower.
After a couple of weeks on the road, Townshend returned and admitted Marshall had been right. He accepted the angled cab atop a straight cabinet, and the "stack" was born.
Townshend and Who bassist John Entwhistle were the biggest buyers of the towering Marshall rigs until a misunderstanding caused them to jump ship to Hiwatt.
But that's another story.
In this live clip featured in a 1966 promo interview filmed at Townshend's London flat, the guitarist can be seen pummeling his Marshall during one of the Who's notoriously riotous shows. Note the angled speaker cabinet and black block logo of Townshend's model T1959 100-watt heads, as seen on Marshall amps dating between 1964-1965.
"I used to get feedback on the guitar which is this big whining noise," recalls Townshend, "We used to smash the guitar into the amplifier which made a bang… Ever since then I've always smashed up guitars. It gets bigger and bigger."
All the latest guitar news, interviews, lessons, reviews, deals and more, direct to your inbox!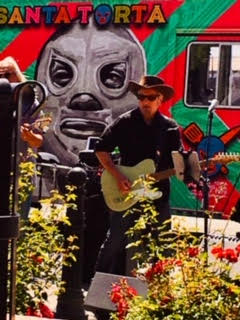 Art Thompson is Senior Editor of Guitar Player magazine. He has authored stories with numerous guitar greats including B.B. King, Prince and Scotty Moore and interviewed gear innovators such as Paul Reed Smith, Randall Smith and Gary Kramer. He also wrote the first book on vintage effects pedals, Stompbox. Art's busy performance schedule with three stylistically diverse groups provides ample opportunity to test-drive new guitars, amps and effects, many of which are featured in the pages of GP.