This six-string lightning rod is a helluva guitar, and it gets an Editors' Pick Award
Pros
+

A well-made guitar that plays great

+

The Narrowfield pickups deliver excellent humbucker and single-coil tones

+

Handy push-pull tone rolloff function for the rear pickup
You can trust Guitar Player. Our expert reviewers spend hours testing and comparing guitar products so you can choose the best for you. Find out more about how we test.
PRS's expanding series of artist guitars now includes an instrument created for Myles Kennedy, guitarist/vocalist/songwriter for Alter Bridge and Slash and the Conspirators. This signature model is a bit different for PRS, as it features a Tele-esque flattop body made of swamp ash, and a bolt-on, scarfed-construction maple neck that's carved to Kennedy's own custom shape. The 25 ½ inch-scale maple fretboard has Birds inlays and carries 22 well-groomed medium frets.
The strings run across a smooth bone nut on their way to a set of nickel-plated vintage-style tuners, and at the opposite end there's a top-loading PRS plate bridge with two large brass saddles that carry three strings apiece. Each round saddle is adjustable for height via a recessed set screw at each end, while intonation adjustments are made by two spring-loaded machine screws per saddle. It's a serious piece of hardware that looks proportionally correct on this guitar, which also has a black single-layer phenolic pickguard and a geometric owl on the truss-rod cover, as seen on Kennedy's solo release The Ides of March.
Ergonomic touches include a comfy back bevel and a sculpted cutaway that provides easy access to the high frets. Kennedy's choice of Narrowfield humbuckers brings an interesting twist to this artist model – as well as the standard-production NF 53 guitar which shares many, but not all, of the same components (more on this to come).
Introduced in 2010, these pickups were designed to take a great-sounding single-coil and combine it with the "positive characteristics" of a humbucker – i.e. no hum and a full sound. The idea for the narrow design is that it captures the vibrations of a smaller section of the strings, creating a more focused single-coil sound. The top of the pickup is also stair-stepped so that the distance between the magnets and the strings remains consistent across the radius of the fretboard.
The Kennedy signature features all-new Narrowfield MK pickups, and the rear unit is angled toward the bridge on the treble side. The controls are volume and tone, and the latter has a push-pull function that activates a preset treble roll-off to slightly darken the sound in all positions except the neck setting.
The five-way blade selector offers the following settings, from bridge to neck:
Position 1: Bridge humbucker
Position 2: Bridge humbucker and neck coil-split
Position 3: Bridge and neck humbuckers
Position 4: Bridge and neck, both coil-split
Position 5: Neck humbucker
It's noteworthy that the aforementioned NF 53 differs from the Kennedy in its use of Narrowfield DD (deep dish) pickups that carry more winds and deliver more output, and they are mounted parallel to each other. The NF 53 also has a three-position blade switch and does not have a push-pull tone control.
My review guitar felt a little on the heavy side due to the thick body and somewhat beefy neck, but its acoustic sound is resonant and lively, and it has excellent sustain. As set up by the factory, the playability is great. The neck sits nicely in the hand, the action is low and buzz free, and the tuneful intonation made it enjoyable to play before I even thought about amplifiying it.
Tested on some gigs with the guitar plugged into either a Fender Deluxe Reverb or a Tonemaster Princeton Reverb, the Kennedy proved to be a great-sounding and versatile electric guitar. It has a ballsy sound, with nice midrange presence on the back pickup. That position got plenty of use with the tone knob pulled up, creating a slightly browner tone (at least compared to the brighter knob-down sound) that was excellent when dirtied-up with a TWA SH9 pedal or run clean through the cranked-up Deluxe. And with its natural sustain and the way notes sing when pushing an overdriven amp, this guitar sounds killer for slide.
The pickups are dead quiet and sound great in the other positions too. The dip in output in positions two and four makes it easy to get a pristine clean tone – the bridge and neck pickups both coil-split, which is great for that– while the bridge humbucker with the neck pickup coil-split is cool when you want to channel Chic for a funky rhythm groove. And by notching the selector a click or two in either direction, the girth comes back for a meaty lead tone on the neck setting or a clear, stringy rhythm sound with both humbuckers on.
The more I played the Myles Kennedy signature and experienced what it can do, the more I liked it. This six-string lightning rod is a helluva guitar, and it gets an Editors' Pick Award.
Specifications
NUT: Bone, 1.64" wide
NECK: Maple, Myles Kennedy custom shape
FRETBOARD: Maple with Birds inlays, 25.5" scale, 10" radius
FRETS: 22 medium-jumbo
TUNERS: Vintage style, non-locking
BODY: Swamp ash
BRIDGE: PRS plate with two brass adjustable saddles
PICKUPS: Two PRS Narrowfield MK humbuckers
CONTROLS: Volume, tone (with push-pull treble rolloff for the bridge pickup), five-way blade switch
EXTRAS: Available in Antique White, Hunters Green, Black, Tri-Color Sunburst and Vintage Natural
FACTORY STRINGS: PRS Classic .010–.046
WEIGHT: 8.66 lbs (as tested)
BUILT: USA
Visit PRS Guitars for more information.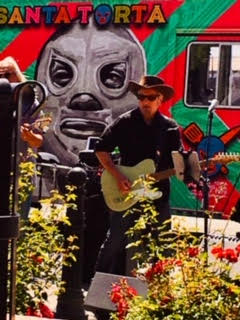 Art Thompson is Senior Editor of Guitar Player magazine. He has authored stories with numerous guitar greats including B.B. King, Prince and Scotty Moore and interviewed gear innovators such as Paul Reed Smith, Randall Smith and Gary Kramer. He also wrote the first book on vintage effects pedals, Stompbox. Art's busy performance schedule with three stylistically diverse groups provides ample opportunity to test-drive new guitars, amps and effects, many of which are featured in the pages of GP.