"It's Like This Six-String Swiss Army Knife": Myles Kennedy Tells 'Guitar Player' How PRS Rose to His Challenges With His Signature Model
"The most important thing was for it to be vocal and have that midrange that would cut in a mix," highlights the Alter Bridge frontman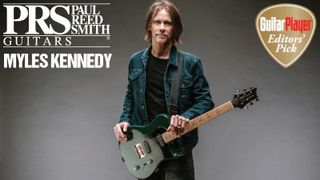 (Image credit: PRS Guitars)
Myles Kennedy has been a PRS player for many years. His induction into the exclusive league of artists who have signature PRS models required him to do some deep thinking about the myriad elements involved in creating an instrument that would suit his tonal and playability needs, as well as incorporate some of the elusive mojo of his favorite vintage guitars.
We spoke recently with Kennedy about the ingredients that went into his unique signature guitar.
What was the concept you had in mind for this guitar?
I used to play in cover bands in the '90s and I always thought it would be so great to have a guitar that was simple and easy to navigate in a live setting. It would have that nice throaty lead or rhythm sound, but if I wanted to play like Nile Rodgers, I could get there at the flick of a switch. I feel like that's what we've managed to do with this guitar. It's like this six-string Swiss Army knife in terms of what it can do tonally. For me, the most important thing was for it to be vocal and have that midrange that would cut in a mix.
This marks the first time PRS has used the Narrowfield MK humbuckers in an artist instrument. How did they come into play with your guitar?
Bringing that pickup into the equation was PRS's idea. They said, "We have these pickups that can mimic single-coil sounds, but without the hum." I was like, "If you can pull it off, that would be fantastic." The first batch [of pickups] they sent sounded great, but they were a little darker than what we ended up with. Even so, I was really impressed with how quiet they were, and I remember reaching out to them after that first prototype guitar came along and asking if we can change this or that.
So after a few weeks, Paul called and he was jumping through the phone, he was so excited, saying "Wait 'till you hear what we've done!" So when they sent the next round, I was doing cartwheels in the living room because, to me, it was like a great-sounding vintage single-coil, but it also had elements of a P-90, and this midrange and cut that I didn't expect them to achieve initially. They just hit it out of the park.
How are you using the pickup selections that are available on this guitar?
It depends on the song, but I would say 80 percent of the time with Alter Bridge I'm hanging on the bridge pickup, with the tone knob pulled up, because with that more high-gain environment you need to shave off a little bit of high end. It took a while for us to get there, because in the first setup it was basically taking the tone knob and rolling it off maybe 30 percent. And then we found it was not quite enough, so now it rolls off about 40 to 50 percent. But in my solo realm, I'm sure I'll be engaging that top end a little more, because I like that single-coil vibe. So when you plug it in, it's like a nice marriage of a number of things that makes it work really well, at least for me.
Since this guitar came into existence, it's really ignited my passion for playing again. I was in Germany a few weeks ago on tour with Alter Bridge, and Peter Diezel stopped by one of our shows to check out the [Diezel] amps and make sure everything was working fine. He has some of the best ears I've ever encountered – he can hear these nuances like no other human I know!
So I asked him to check out the guitar, and it was really great to see him in my dressing room playing it acoustically. He commented, like you did, about how resonant it is. So getting the thumbs-up from him was like the best compliment, because he's totally honest. There's something about that maple neck and the swamp-ash body, and it does resonate really nicely.
Image 1 of 2
How did you come up with the neck shape?
I wanted something with a vintage vibe, and a lot of T-style guitars from the '50s have that certain profile. And maybe from years of being played they have a certain mojo and comfort level. So that was as paramount as what we were trying to achieve with the pickups. Because to me, if a guitar doesn't feel good in my left hand, then it won't inspire me.
We talked a lot about that and how to achieve it, and a few people have mentioned that they like the profile. They feel like it's got enough girth to it but it doesn't feel like a baseball bat, which makes me happy, because I didn't want it to be something that would fatigue your hand. I just wanted it to feel right and ultimately inspire you.
Did you also need to think about the scale length or the fretboard radius?
I think one of the really difficult things for me, coming from my love of vintage instruments, was knowing that the radius would be seven-and-one-quarter inches. So the whole thing for me throughout the process was whether to go for that or a 10-inch radius.
I ultimately went for the 10-inch because my other PRS guitars were in that realm, and I thought it might be kind of strange to go from playing my McCarty to playing the signature guitar and have that extra-rounded fretboard. So I'm glad we settled with the 10-inch radius because it feels really good now.
Image 1 of 4
Whose idea was it to use a top-loading, flat steel bridge with round brass saddles?
The prototype that we started with had a version of that bridge, and it was top loaded, which I thought was interesting. I didn't know what to make of it at first, but as time went on I really grew to like it. One of the things we talked about as we continued to develop it was to give the bridge a little more mass and make it a little wider to have more steel touching the body, just to help it resonate more. It's aesthetically more pleasing too.
What's interesting about the saddles is that there's just two of them, and so you'd think, How will it be to navigate when intonating it? But it works fine. It took me a while getting used to it, but now it's easy as pie.
How does your guitar stand up when mixing it onstage with other guitars?
Really well, with Alter Bridge in particular. For years I was using a PRS SC245 or McCarty, and I had different pickups in those guitars from what Mark Tremonti had. He had his signature pickups, but because my guitar was also a mahogany body with a maple top, there were similarities. Our front-of-house guy would say, "At times your frequencies run into each other a little bit." But since incorporating this guitar into the mix, the separation is there.
He has no problem getting it to cut, and it has a certain midrange to it that really sits nicely in a mix. So that's been really nice, because it's got a sweet spot that works well with a mahogany-body, maple-top guitar. So if somebody is playing that type of guitar with humbuckers, I feel like my guitar complements it really well.
Read our recent review here.
Visit PRS Guitars for more information.
All the latest guitar news, interviews, lessons, reviews, deals and more, direct to your inbox!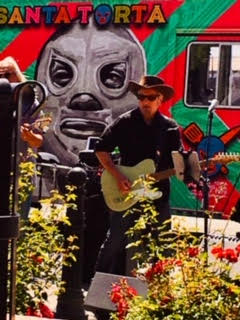 Art Thompson is Senior Editor of Guitar Player magazine. He has authored stories with numerous guitar greats including B.B. King, Prince and Scotty Moore and interviewed gear innovators such as Paul Reed Smith, Randall Smith and Gary Kramer. He also wrote the first book on vintage effects pedals, Stompbox. Art's busy performance schedule with three stylistically diverse groups provides ample opportunity to test-drive new guitars, amps and effects, many of which are featured in the pages of GP.