Alter Bridge's Mark Tremonti and Myles Kennedy Choose Their Favorite Solos
The Alter Bridge two-some on some overlooked guitar solos...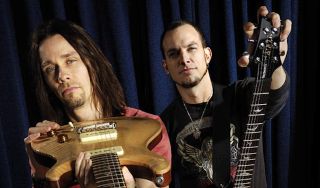 (Image credit: Future/Joby Sessions)
In our last issue we asked some of the world's top guitar players to choose their favorite solos. With one catch: They had to refrain from the obvious. No Hendrix. No Clapton. No Gilmour, et cetera.
Here's what Alter Bridge's electric guitar heroes Myles Kennedy and Mark Tremonti had to say…
THIRD WIND
Pat Metheny Group, Still Life (Talking)
GUITARIST: PAT METHENY
Myles Kennedy: "This is the track I would listen to every night before playing a gig to get inspired. The guitar break at 1:35 still blows my mind every time I hear it."
OVER THE RAINBOW
Jeff Beck, Emotion & Commotion
GUITARIST: JEFF BECK
Mark Tremonti: "It's more of an instrumental than a solo, but it's solo guitar, so it counts in my book. It's probably one of the most beautiful pieces of music played on the guitar I've heard."
JUST WHAT I NEEDED
The Cars, The Cars
GUITARIST: ELLIOT EASTON
MK: "What I love about Elliot's playing is that he always plays for the song. Just perfect sonic ear candy that sticks in your head, with brilliant hooks and melodies."
FOR THE LOVE OF GOD
Steve Vai, Passion and Warfare
GUITARIST: STEVE VAI
MK: "Steve recorded this in an altered mental state during a fasting period. Perhaps that explains how this track has the ability to pull you into another realm. It's truly transcendent."
MIDNIGHT IN HARLEM
Tedeschi Trucks Band, Revelator
GUITARIST: DEREK TRUCKS
MT: "It's emotive, heartfelt, pure, classy — just the perfect solo. It makes me wish I could play like him."
(EVERYTHING I DO) I DO IT FOR YOU
Bryan Adams, Waking Up the Neighbours
GUITARIST: KEITH SCOTT
MK: "This solo hits me right in the heart. He leaves so much space, almost akin to a Miles Davis solo. A beautifully haunting sequence of notes."
LENNY
Stevie Ray Vaughan, Texas Flood
GUITARIST: STEVIE RAY VAUGHAN
MT: "Lenny is such a heartfelt and emotive piece and one of my all-time favorite guitar songs. It should be required study for any player."
LITTLE WING
Sting, ...Nothing Like the Sun
GUITARIST: HIRAM BULLOCK
MK: "After hearing this when I was 17, this solo would provide the blueprint for how I would approach my own playing in the future. A master class on how to hit the changes as well as phrasing and feel. Grateful I had the opportunity to meet him at NAMM before he passed away so I could thank him for the inspiration."
All the latest guitar news, interviews, lessons, reviews, deals and more, direct to your inbox!
Guitar Player is the world's most comprehensive, trusted and insightful guitar publication for passionate guitarists and active musicians of all ages. Guitar Player magazine is published 13 times a year in print and digital formats. The magazine was established in 1967 and is the world's oldest guitar magazine.
When "Guitar Player Staff" is credited as the author, it's usually because more than one author on the team has created the story.