Simply a great amp that's as raw and straightforward as the style it helped to define
Pros
+

A tough-sounding metal-oriented amp with a huge gain range and gobs of power

+

Its stripped-down feature set and easy-to-navigate control layout are perfect for those who like things simple and raw
You can trust Guitar Player. Our expert reviewers spend hours testing and comparing guitar products so you can choose the best for you. Find out more about how we test.
How time flies! It's been 30 years since the introduction of the Peavey 6505, a high-gain tube head that was a fixture of the 1990s modern metal scene and beyond. Now it's back in the guise of the 6505 1992 Original, on review here.
The 120-watt head is a two-channel (dual-mode) affair with Rhythm and Lead channels, and it carries five 12AX7s in the preamp section and four 6L6GCs in the output stage. Its Tolex-covered birch-ply cabinet has perforated steel grilles front and back, and metal corner protectors. The steel chassis contains most of the components on a large PCB, which is connected to smaller boards that hold the preamp and power tube sockets and the rear-panel jacks and switches.
It's easy to navigate the control layout, which starts from the left with high- and low-gain inputs, a Rhythm pre-gain control, and accompanying Bright and Crunch switches, a Lead pre-gain control and three knobs for the passive low, mid and high EQ, which are shared by both channels. Next in line are the Rhythm post-gain and Lead post-gain controls, and a set of global resonance and presence knobs.
On the rear panel is a voltage selector (100, 115, 220 and 240 volts) and a complement of ¼-inch jacks for effects loop send and return, preamp out, and the included two-button foot switch for channel-select and FX loop on/off. There are two speaker jacks along with an impedance selector for 16-, eight- and four-ohm loads.
I tested the 6505 with a Gibson ES-335, a PRS Myles Kennedy signature and a Knaggs Severn Trem SSS with three single-coils, running the amp into a 2x12 closed-back loaded with Celestion Vintage 30s, as well as a Universal Audio OX Amp Top Box to tamp it down through speakers and be able to hear it though studio monitors and headphones.
The amp's gain range is huge. I started by plugging into the normal gain input with the Crunch switch off and adjusted the Rhythm pre-gain for a glassy clean tone that sounded awesome with delay and reverb. The different electric guitars were easily accommodated with a little tweaking of the tone controls and setting the presence and resonance knobs about halfway up.
Image 1 of 2
However, even in this pristine configuration, the distortion starts coming on as soon as the Rhythm pre-gain is raised past noon, and from this point on you can dirty-up your clean sound to the nth degree, setting the overall level to whatever it needs to be with the Rhythm post-gain control (effectively the master volume).
Getting into serious grind territory is just a matter of plugging into the high gain input and winding up the Rhythm pre-gain for a crunching rock sound that's happening even before you hit the actual Crunch button, which produces a gain kick that allows for any level of crushing distortion as you turn up the Rhythm knob – all while staying very touch-sensitive and responsive to changes in guitar volume, allowing for quick sweeps between dirty rhythm and lead, and providing the ability to beef up the tones to any degree with the resonance control. Having the Rhythm channel alone would easily cover a rock gig, but as they say, "Wait, there's more!"
And more is what you get when entering into the 6505's hyperdrive mode by activating the Lead pre-gain control, which can unleash a huge amount of gain to take things into the realm of stratospheric sustain. With the knob at 11 o' clock or so, the distortion is furious but still detailed and responsive to EQ settings and playing touch. As you keep turning up, the tones become ridiculously saturated, with a firmness and ballsy presence at the core, and a cool graininess that doesn't exhibit mushiness until pressed to the limits with the power stage fully cranked (a feat that required some power attention from the OX, since the 6505 doesn't have a low-wattage option).
One of the key elements at play here, especially at high volume, is the output transformer, and the short story is that Periphery guitarist Misha Mansoor was working with Peavey on his signature invective 120 amplifier when he told the design team that his original 1990s 6505 sounded different than the new ones. They analyzed his amp and discovered that the tolerances of the output transformer had drifted over the years, requiring a reworking of the transformer for the invective, 6505 II and 1992 Original. The latter two were also updated with a switching-input power supply to operate on global voltages.
All of this emphasizes the benefits of working closely with top-tier players on amp designs, along with everything else, so kudos to Peavey for doing what was needed to make the 6505 series as good sounding as possible.
In summation, the 6505 1992 Original is about as stripped down as it gets for an amp that's still a contender in the metal scene, providing all the essentials needed for maximum heaviness at high volume. It might be somewhat primitive by today's standards, but if you don't need three channels, multiple FX loops, MIDI, noise gates, extensive foot switching and the like – all of which the invective 120 has to offer – the 6505 1992 Original is simply a great amp that's as raw and straightforward as the style it helped to define.
Image 1 of 2
Specifications:
CHANNELS: 2
CONTROLS: Rhythm pre-gain, bright and crunch switches. Lead pre-gain, low, mid high. Rhythm post-gain, Lead post-gain, resonance, presence
REAR PANEL: Mains voltage selector (100, 115, 220, 240 volts). FX loop send and return, preamp out and remote switch 1/4" jacks. Dual speaker jacks with impedance selector (4Ω, 8Ω, 16Ω)
POWER: 120 watts
TUBES: Five 12AX7A preamp tubes, four 6L6GC power tubes
EXTRAS: High- and normal-gain inputs, channel-select switch, standby and power switches with LED indicators. Effects loop, preamp out. Two-button foot switch included
WEIGHT: 43.5 lbs (as tested)
BUILT: China
Visit Peavey for more information.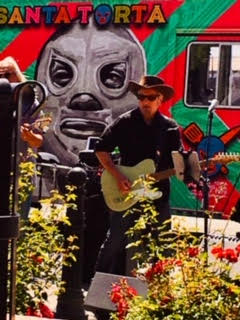 Art Thompson is Senior Editor of Guitar Player magazine. He has authored stories with numerous guitar greats including B.B. King, Prince and Scotty Moore and interviewed gear innovators such as Paul Reed Smith, Randall Smith and Gary Kramer. He also wrote the first book on vintage effects pedals, Stompbox. Art's busy performance schedule with three stylistically diverse groups provides ample opportunity to test-drive new guitars, amps and effects, many of which are featured in the pages of GP.