The Asken Intercooler Droptop is a supremely well put together instrument, with a wide range of voices for playing all kinds of styles.
Pros
+

Superb tones.

+

Excellent playability.

+

Top-notch quality.
Cons
-

Vintage-style truss rod requires removing the neck to adjust.
You can trust Guitar Player. Our expert reviewers spend hours testing and comparing guitar products so you can choose the best for you. Find out more about how we test.
Founded by Fren Asken and located in Los Angeles, Asken Guitars is a full-service shop that performs repairs, modifications, restorations and custom builds of its own Intercooler and Sapphire models.
The Intercooler Droptop on loan to GP for this review is a single-cutaway guitar that is finished in high-gloss nitrocellulose lacquer and features a striking quilted-maple top over a chambered, one-piece body of Honduran mahogany.
There's a deep bevel on the back that allows the guitar to ride snugly against your ribs, and the wood removal helps keep its weight down to a svelte 7.68 pounds.
The quartersawn African mahogany neck has beautiful graining, and the filler in the wood gives it a speckled finish that's pretty neat. It attaches to the body via a four-screw joint that's contoured for easy access to the high frets. The neck is Tele-like, with a straight line out to the headstock.
I found the fat asymmetrical shape, with its soft V profile, extremely comfortable in how it filled my hand and always kept it at an ideal angle. The 25.5-inch-scale compound-radius fingerboard that sits atop it gradually flattens from 7.25 to 12 inches for a superb feel when chording and soloing.
Note that a "slim" version of the neck is available, and Asken will also customize neck shapes to suit a player's preference. Kudos for the hip-looking and super-visible side markers, which make it easy to navigate the otherwise bare fretboard while maintaining a clean look.
There's no string retainer either to clutter up the headstock. My only issue concerns the truss rod, which, in classic old-Fender fashion, is accessible only by removing the neck.
The Intercooler's finely finished frets provide a smooth, hitch-free ride, and the guitar arrived with an excellent setup that made for low action, with no fret buzz and pleasing intonation in all positions.
The strings load through the inertia block of the Wudtone CP Holy Grail vibrato, which came adjusted to float with three springs fanning out from the claw.
This nicely-made bridge has bent-steel saddles, and it feels smooth as glass and returned to pitch reliably under spirited workouts with the threaded stainless-steel bar. Despite the staggered-height Gotoh tuners being non-locking, it didn't affect the tuning stability to any significant degree.
Playing the Intercooler acoustically was a good way to groove on its sonic vibe and appreciate how well the woods and hardware work together in this design.
This is a resonant and sustaining guitar, and you can readily feel how string vibrations are transferred throughout the entire instrument, all of which portends good things to come when it's amped up.
Tested with a reissue Fender Deluxe Reverb with hand-wired circuitry by George Alessandro, and a Mesa/Boogie Mark 5:25 head through a Bogner 1x12 cab with a Celestion Vintage 30 - along with a selection of distortion pedals from MXR, Tech 21 and Way Huge - the Intercooler delivered a broad range of tones that made it cool for a bunch of different styles, even though the Covid-19 situation prevented me from using this flexible guitar on any live gigs.
That said, it sounds great for blues, country, rock and jazz, and you can sure pull a lot of tones from it courtesy of the excellent T-Top–style humbuckers made by San Diego guitar builder Ian Anderson .
They feed volume and tone controls and a precise-feeling "super switch" that provides the following five selections: 1. Neck pickup; 2. Both pickups, outside-coils in parallel; 3. Both pickups; 4. Both pickups, inside-coils in parallel; 5. Bridge pickup.
Image 1 of 2
The neck humbucker is rich sounding and cool for jazzy stuff when playing cleanly, or for blues and rock lead work when fired up with grind from the amps or pedals.
There's a volume drop and a brightening of the tone in both of the Parallel modes, but they sound cool for clean and dirty rhythm playing whether using the slightly fuller-sounding outer-coils tone of position two or the slimmer and snarkier inner-coils tone of position four, which surprised me with how Stratty it could sound.
The middle setting with both humbuckers running is full and meaty and delivers a soaring tone when pushing distortion at higher volumes, while the bridge 'bucker is fat and juicy, with a bright top end and a potent midrange presence.
I like how it can deliver Tele-like twang or ballsy overdrive with the distortion dialed up, and the guitar sustains beautifully for singing lead tones when driven hard and can easily be coaxed into feedback by working your proximity to the speakers.
All considered, the Intercooler Droptop is a superb guitar that could be deployed on pretty much anything with the confidence that it's going to rule. It feels great to play, it sounds terrific and it looks badass. If you're checking out single-cut guitars and want the beefiness humbuckers provide, this one should be on your list.
Specifications
PRICE: $2,899 direct, Planet Waves gig bag included
NUT WIDTH: 1.69", bone
NECK: Bolt-on quartersawn African mahogany. Fat asymmetrical soft V profile with contoured heel
FRETBOARD: Indian rosewood with custom side markers, 25.5" scale, 7.25"–12" compound radius
FRETS: 22 jumbo
TUNERS: Gotoh Vintage Staggered
BODY: One-piece chambered Honduran mahogany with quilted-maple top
BRIDGE: Wudtone CP Holy Grail vibrato
PICKUPS: Ian Anderson T-Top–style humbuckers
CONTROLS: Volume, tone, 5-way selector. CTS 500kΩ pots, .022mfd Vitamin Q cap, Switchcraft jack
FACTORY STRINGS: D'Addario EXL .010–.046
WEIGHT: 7.68 lbs (as tested)
BUILT: USA
CONTACT: Asken Guitars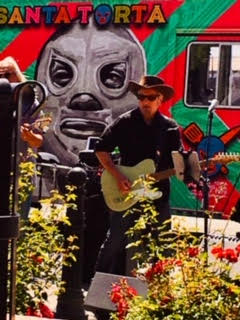 Art Thompson is Senior Editor of Guitar Player magazine. He has authored stories with numerous guitar greats including B.B. King, Prince and Scotty Moore and interviewed gear innovators such as Paul Reed Smith, Randall Smith and Gary Kramer. He also wrote the first book on vintage effects pedals, Stompbox. Art's busy performance schedule with three stylistically diverse groups provides ample opportunity to test-drive new guitars, amps and effects, many of which are featured in the pages of GP.