With Captivating Stories of Loneliness, Desire, Regret and Freedom, Red Simpson's 'Roll Truck Roll' Epitomizes the Electrified Bakersfield Sound
Featuring "Doctor of Guitars" Gene Moles, you don't have to drive a truck to appreciate this 1960s country classic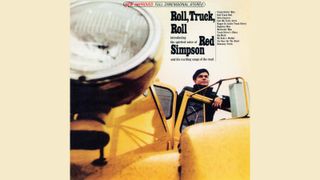 (Image credit: Capitol Records)
After country music singer Dave Dudley had a hit in 1963 with the truck-driving tune "Six Days on the Road," California country music producer Ken Nelson was on the lookout for songs about trucking.
He struck gold with the prolific songwriting and baritone voice of Red Simpson.
Though Simpson's experience with road vehicles was limited to driving an ice-cream truck, he got the engine running on a long career of hard-driving trucker country music with his debut, Roll Truck Roll, released in 1966 on Capitol Records.
Roll Truck Roll epitomizes the electrified Bakersfield sound, and it features the guitar work of Gene Moles, whose résumé included the Ventures, Buck Owens and Merle Haggard.
Moles played a '63 Mosrite guitar, customized with low-output pickups and an out-of-phase switch, through a '59 Fender Bassman.
According to his son, Eugene, Marty Stuart called this setup the best Telecaster sound he'd ever heard.
Simpson's topflight group also included the great pedal-steel guitarist Leo LeBlanc, pianist George French, bassist Bob Morris, acoustic rhythm guitarist Bobby Durham, and drummers Tommy Ash and Jimmy Phillip, who shared percussion duties.
This band is a study in ensemble playing, and its members feed off each other's energy, pushing one another into high gear with integrated parts that answer and complement the other.
Roll Truck Roll's title track was a Top 40 country hit, and it's a beautiful, haunting song about the lonely drive back to a long-missed loved one.
Another standout is Simpson's version of the classic "Truck Drivin' Man," which features a fantastic Gene Moles guitar solo that must be heard to be believed.
I've slowed this blistering passage down to a crawl, and it still sounds like a composition in and of itself.
When Moles plays it at full-throttle g-force tempo, it passes so quickly that his brilliance is felt more than heard.
In "Nitro Express," Moles grabs the listener by playing a sassy line via tuning peg, and he, LeBlanc and French all take turns behind the wheel alternating fills during the vocals.
"Truck Driver's Blues" exemplifies how extraordinarily "blue" this group is, particularly in LeBlanc's steel playing.
To my ears, he captures the spirit of the three Kings – Freddie, B.B. and Albert. He's one of the most bluesiest pedal-steel players I've ever heard, and his chiming tone fits Simpson's voice perfectly.
Simpson followed up Roll Truck Roll with The Man Behind the Badge and Truck Drivin' Fool. There are masterpieces on all three, including "Highway Patrol" (later covered wonderfully by Junior Brown), "Diesel Smoke, Dangerous Curves" (which I was lucky enough to cover with the Little Willies) and "Born to Be a Trucker," one of the prettiest country songs ever to hit vinyl.
You don't have to drive a truck or even have a driver's license to appreciate Red Simpson's music. His songs are captivating stories of loneliness, desire, regret and freedom, accompanied by one of the best bands in country music history.
Order Red Simpson's Roll Truck Roll here.
All the latest guitar news, interviews, lessons, reviews, deals and more, direct to your inbox!
Jim Campilongo has 14 critically acclaimed instrumental records available on vinyl, CD and digital download here.