"We Got One Play on MTV at 1:55 a.m. Then Everything Just Lit up": Reb Beach Reveals How "Seventeen" Rescued Winger From Obscurity
The band's 1989 hit saved them... and became a mark of hair-metal infamy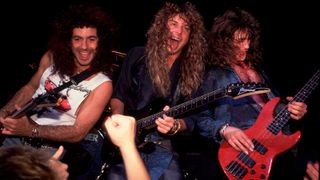 (Image credit: Getty Images)
"I think it is definitely of its era," Reb Beach says of "Seventeen," the top-40 single that helped launch his band Winger into the mainstream in early 1989. "It has a huge production, a big chorus, a couple of shred solos…" In other words, everything required for a hair-metal hit. "I'll take the hair-metal tag," Beach concedes, "but I think a lot of our riffs were a little more progressive, you know?"
Indeed, "Seventeen" borrows from both the Beatles' "I Saw Her Standing There" – via its reference to a 17-year-old beauty – and Led Zeppelin's "The Crunge," with its funky syncopated beat. Apparently, it was just what the doctor ordered for the young group's success.
Atlantic had released Winger's self-titled debut in August 1988, but the album languished in the charts. "It just kind of got put on the shelf with the other hundreds of albums that Atlantic was releasing," Beach recalls. "If a record didn't stick within a few weeks, it was over as far as they were concerned."
It was the video for "Seventeen" that turned everything around. "We got one play on MTV at 1:55 a.m. On a Sunday morning, no less" he says. "And then, from there, everything just lit up."
Sparring Partners
"Seventeen" was one of the first songs Beach co-wrote with singer Kip Winger, but their union was not a friendly one at the time. "We were both session players, and actually we didn't really like each other," the guitarist explains. "We'd both had got the wrong impression of each other, and that had kind of stuck."
It was their producer, Beau Hill, who suggested Beach bring his bag of riffs to Winger. "He said Kip was the man to turn them into songs," the guitarist recalls. That included the "Seventeen" riff, which he wrote when was himself just 15. But Winger's ideas for "Seventeen" took him by surprise. "I played the riff for 'Seventeen' to Kip and he said, 'That's a chorus.' I thought he must be kidding me. I couldn't see how you could sing a chorus over it. But he fired up a drum machine, played a bass line under it, suggested we go to A in the verse, and it all came together really quickly on the spot. We actually wrote three songs together that first day."
Riff Rap
When it came time to record the track, Beach turned to the Pensa Suhr he purchased at Rudy's Music Stop in New York for $1,800. "It's the exact same guitar as the one that became my signature model," he says. He plugged it straight into a Marshall, although he doesn't recall the model.
Beach is proud of the killer riff that opens "Seventeen" and notes that "there's a lot more to it than meets the ear. People think delay was an important part of the feel for the riff, but I recorded that dry and added the delay in the production. It sounds confusing because I hear everything on the upbeats, which goes against the grain. And our drummer, Rod Morgenstein, flips the beat around in the middle, which is a cool idea. I also love the funky feel in the verses. There's definitely a lot more going on than there is for a typical band of the genre."
And while Beach preferred to play his solos "on the spur of the moment and carry on until I screwed up," he copied the solo for "Seventeen" from the song's demo. "At first, I got compared to Van Halen, but by our second record, I think people realized that I had my own thing going on.
Beau's Jest
The success of "Seventeen" couldn't have come at a better time for Winger, who had been struggling onstage up to then. Their early live performances were, as Beach admits, "horrible." "We put all the songs for the first album together in the studio," he reveals. "In fact we never actually played together as a band until we started rehearsing for our first tour, where we were opening for Scorpions." But by the time "Seventeen" broke through, they were a well-oiled machine.
Things went south, though, as grunge made Winger's brand of music obsolete and changing attitudes made "Seventeen" a target for criticism. "It's really just the one line: 'Daddy says she's too young, but she's old enough for me,'" Beach says. "We didn't even write that – it was something Beau Hill, our producer, came up with.
"But think of the Beatles with 'I Saw Her Standing There,'" he says, pointing to the song's initial lyrical inspiration. "We're not pedophiles," he adds with a laugh. "It's just an '80s rock song, for god's sake."
All the latest guitar news, interviews, lessons, reviews, deals and more, direct to your inbox!
Mark is a freelance writer with particular expertise in the fields of '70s glam, punk, rockabilly and classic '50s rock and roll. He sings and plays guitar in his own musical project, Star Studded Sham, which has been described as sounding like the hits of T. Rex and Slade as played by Johnny Thunders. He had several indie hits with his band, Private Sector and has worked with a host of UK punk luminaries. Mark also presents themed radio shows for Generating Steam Heat. He has just completed his first novel, The Bulletproof Truth, and is currently working on the sequel.