"We've Never Done Anything That Hasn't Been Totally Authentic": Billy Duffy Talks Recording the Cult's New Studio Album, 'Under the Midnight Sun'
After a six-year absence, the Cult are back with an LP that finds them returning to their mid-'80s roots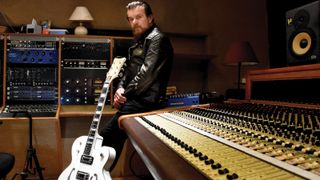 (Image credit: Mick Peek)
It was 1984 when Billy Duffy defined his own idea of the indie guitar hero on the Cult's debut album, Dreamtime. Playing a Gretsch White Falcon through a Roland JC-120, with a judicious use of delay and chorus, Duffy created epic soundscapes.
It was but a prelude to the group's next album, their 1985 commercial breakthrough, Love, where Duffy eschewed traditional blues-rock stylings for an approach that combined open drone strings and densely layered guitars.
His sweeping aural pictures were the perfect backdrop for singer Ian Astbury's thoughtful lyrical approach.
The intervening years have seen the Cult adopt more of a hard rock approach, but for those who love the sound of those first two albums, there is good news. The Cult's latest record, Under the Midnight Sun, finds them returning to the approach that was their signature in those early years.
"We definitely wanted to recapture some of that older stuff that had been left behind, and explore it to see if we could get back into that space," Duffy tells Guitar Player.
"Way back then, when we were making our first records, all we wanted to do was sound like a rock band."
Admittedly, the Cult threw fans a left curve with 1987's Electric, on which they adopted a reductive, riff-based approach. Rick Rubin's bone-dry production only served to enhance the grinding, direct attack that the band adopted, with Duffy's classic Gretsch tone traded for the traditional Les Paul/Marshall combo on many tracks.
The new sound was a hit with fans on both sides of the Atlantic, and the band's 1989 follow-up, Sonic Temple, nailed its colors firmly to the old-school rock and roll mast with its cover shot of Duffy about to crash out a power chord.
Unfortunately, by 1991, relations between Duffy and Astbury were strained, and the band's music was out of step with the emerging grunge movement. The Cult continued to tour and release records, but at ever-greater intervals. Duffy puts this down to a determination to record only when they feel that they have enough strong songs to warrant releasing an album.
"We could churn out records more frequently, but I think it's hard enough to keep the standards up," he says. "We just wait until we feel we've got enough common ground to make a record."
If Under the Midnight Sun is any indication, Duffy and Astbury are in sync with one another once again.
"There are probably certain areas between us that are minefields," the guitarist concedes, "but we avoid them on an unconscious level."
Recorded with new bassist Charlie Jones (Plant and Page, the Captain Francisco, Goldfrapp), Under the Midnight Sun is in many respects a reverie for the band's early days. The title is itself a reference to the group's performance at Finland's June 1986 Provinssirock festival, where Astbury witnessed the midnight sun, a phenomenon that takes place around the summer solstice, when the sun remains visible throughout the night in countries north of the Arctic Circle.
"It's three in the morning, the sun's up, and there's all these beautiful people in this halcyon moment," Astbury recalled. "People are laying on the grass, making out, drinking, smoking. There were rows of flowers at the front of the stage from the performances earlier that evening. It was an incredible moment."
The singer's remembrances came flooding back as lockdown lifted and the band teamed up with producer Tom Dalgety, to begin work on the new album.
"When the world stopped, I had this moment to write in real time, to calculate," Astbury says. "I was compelled by this vision, this anomaly, this memory, of being under the midnight sun."
As the band prepared to hit the road, Duffy sat down with Guitar Player to discuss the Cult's attempt to recapture the magic of its past.
Under the Midnight Sun sounds very much like a throwback to the band's early sound. Do you agree?
We did create a lot of the old sounds but without trying to make a pastiche of our early songs. That's the irony, because that textured guitar thing was what we actually sounded like back then. It was a product of who we were and where we were at as musicians.
We were embarking on a journey where we wanted to become an arena-rock band. We probably left fans behind who loved that early stuff with later albums that we made. I think Dreamtime was a very underrated record for us. It didn't get released in America, so many American fans might not have been aware of it.
You've said in the past that it can sometimes feel like a bit of a struggle to make a Cult album. How was it this time?
It was a bit tortuous to make, but then none of our albums have felt easy, for one reason or another. We made it in a difficult period in the world's history. And I think it is a challenge when you have two writers like me and Ian to find that common ground between us musically, and then to find a producer who can make us both feel like we got what we wanted from the record.
In that sense, I think we did well to get Tom Dalgety, who had a great CV and had the right kind of tenacity to see things through. [Dalgety's credits include records for the Pixies, Opeth and the Damned.]
I don't have a lot of objectivity about an album until it's been out for a while. At this point it's all about bits and pieces that I remember from various tracks, rather than the overall piece of work.
There are a lot of layered and textured songs on the record, which is a move away from a lot of the riffier things you've done in the past, back toward the kind of approach that you featured a lot on your earlier albums. Was that a conscious choice?
Yes it was. There was an understanding that Ian and Dalgety wanted to make a different-sounding kind of record. I mean that in more of an emotional sense. If you're playing a kind of riffy rock, your singer has to be of a certain mindset. I think when you're older and trying to play "emotionally honest" rock music, then it's difficult when you're not really a young pirate anymore. [laughs]
How authentic does it seem to be fronting that brash, riff-driven music? That isn't any kind of a knock on metal music. There's plenty of metal that I like. It's just a question of whether it works for us. The album captures a mood, which is the primary thing that we always try to achieve on Cult records.
I think a lot of the texturing comes from Ian. The three musicians laid down the music in the U.K., and there was an organic footing there, but after that had been completed, there was a lot of chopping and changing to add the vocals in, and then there were a lot of keyboard textures that were added as well.
That isn't really my domain, although I was fine with what got added to the songs at that later stage.
Did recording during the global shutdown have an impact on the process?
Definitely. I think our last two albums, Hidden City and Choice of Weapon, were very much more North American records, both as a result of where they were recorded and the producers that we worked with. I'd been pushing for us to record in the U.K. for years, and then, as a consequence of the pandemic, that was what happened.
I just wanted to change the oxygen and see what that brought in, and for me that was really helpful to achieve the goal that I had in mind, which was to focus more on the indie side of my guitar playing.
I think recording in the U.K. adds a different flavor to the finished product.
There are only eight tracks on the album, which keeps the running length in line with a lot of classic rock albums. That seems to be something that has become a lot more common again. There was certainly a period when albums were much longer, especially with the drive to fill CDs up with music.
Yes. We recorded 13 songs for the album, but Ian was very insistent that we keep it at the eight tracks.
I believe that extra tracks and bonus tracks can be useful, but recording tracks for an album just to make it long? I don't think that audiences necessarily have the attention span to listen to a long album these days anyway.
The CD definitely has a lot to answer for on that front. Quality over quantity is always the most important factor.
In terms of gear choices for the album, was there anything different from recent records? Any unusual choices of guitar or amp?
This is the bit where I have to disappoint guitar magazine readers. [laughs] There was no magical, mythical stuff. It was just the same canon of equipment that I always go to. A decision was clearly made to make this record a blues-rock-free zone though. It was a decision made at a creative level.
When I'd come up with an idea or a riff, I'd get together with Dalgety and I'd start to realize what he was looking for. Basically, at that point, I just took the stuff that wasn't fitting and did a side project with Mike Peters from the Alarm under the banner of Coloursound. We recorded it over a weekend in a cottage in Wales.
That was where I used a lot of my riff-based ideas in a traditional blues-rock vein. For this record I used the Gretsch a lot, plus a Les Paul and a Les Paul Junior. Effects were just the basic overdrive, chorus and delays.
On the new song, "Give Me Mercy," you play a few things outside your normal style.
The parts on that were written really quickly, yet ironically it was the last one that Ian sang on. I always knew that the music was strong, but everything depended on what Ian came up with. It turned out so well that it became the first single from the album.
I wanted to avoid the guitar parts sounding too '80s – that smooth, air-brushed lead sound. It needed something different that was still in a rock vein, and I actually came up with the idea of trying to approach the music in the way that Mike Campbell would do. He had a great way of working tasteful fills and parts around Tom Petty's vocals. He's a fantastically underrated player.
"Mirror" was interesting with the amount of delay on the guitars and the amount of space in the track. At times there was almost an element of classic Bond music about it.
That's a track where Ian really responded quickly to the idea that I presented to him. There was a lot of tweaking and revision in the end though. Once I'd laid down the backing track and Ian had started to chip away with his vocals, things started to change.
Dalgety, who can play guitar, bass and functional keyboards, would put things on the track when he was trying to inspire a great vocal performance, and then we'd have to reassess the track and what we should perhaps change at that point. I didn't slavishly stick to my original parts; I was always open to adapting to the ongoing development of the song.
On this one, originally, there was a danger of sounding too clichéd in that Ennio Morricone style. There was way too much whammy at first, but then I thought, No, it's not the Shadows. [laughs]
We'll be playing "Mirror" live and I'm really struggling with how I'm going to cover all the parts.
"A Cut Inside" has an epic feel with the huge solo on there.
I always used to joke with Dalgety about how there was so little space for extended solos on this record, that there was too much "movie theme" guitar playing. [laughs]
It's hard to find the right emotive space for a solo sometimes, to express something that serves the song.
Unless you just want to do "faux rock" all over a song, it can take some thinking and head-scratching to come up with an approach. I think we definitely achieved it on this one.
The acoustic track, "Knife Through Butterfly Heart," is quite a departure from the rest of the album.
I was a big supporter of that song from the start. It was very much an Ian song that's been kicking around for about a decade. He's had that basic idea for ages. We tried to do it for several albums in the past, but we just really dug in this time to get a version that he was happy with. I've always pushed for us to do this one.
There are some familiar sounds on "Vendetta X."
I guess it's clearly a Billy Duffy guitar riff, if I dare speak of myself in the third person! [laughs]
This one features the White Falcon through a Roland JC-120 with a bit of delay, and I'm also running through a Marshall. I suppose it is the classic sound that people associate with me.
The actual body of the song is actually Ian's. This is one of my personal favorites on the record, but then I'm just an old-fashioned bloke, so whenever I hear A minor to F, I'm already half sold on a song. [laughs]
The Cult have been successful for so long. Do you ever think about the band's longevity?
I think it's interesting that we've always been on indie labels, so we've not had that global label support that the likes of Sony or Geffen could offer. We spent many years on Beggars Banquet and probably kept that label afloat for a few years as well.
I think that lots of my friends have all kinds of awards and trinkets for their work, and the Cult have never had anything. I'm sure that's got a lot to do with the clout that a major corporation has when it comes down to influence and leaning on the right people. Not that it really matters, but I think a lot of things like that come down to who your manager has lunch with.
In the end though, it's always about the work. The funny thing is that I know a lot of our earliest fans will really respond to the new album, yet back at the start all we wanted to be was a rock band and hopefully to be big enough to play arenas. Now we are a big rock band and we've had that kind of success that we always dreamed of having.
So we're looking backward, and it feels good. As long as what you do feels authentic, that's all that matters. You have to go with your gut. We've never done anything that hasn't been totally authentic, and that's a pretty good thing to be able to say 40 years down the line.
Order Under the Midnight Sun here.
All the latest guitar news, interviews, lessons, reviews, deals and more, direct to your inbox!
Mark is a freelance writer with particular expertise in the fields of '70s glam, punk, rockabilly and classic '50s rock and roll. He sings and plays guitar in his own musical project, Star Studded Sham, which has been described as sounding like the hits of T. Rex and Slade as played by Johnny Thunders. He had several indie hits with his band, Private Sector and has worked with a host of UK punk luminaries. Mark also presents themed radio shows for Generating Steam Heat. He has just completed his first novel, The Bulletproof Truth, and is currently working on the sequel.