Watch the Stone Roses' Momentous "I Wanna Be Adored" Comeback Performance
Reunited, the band are greeted on stage with rapturous applause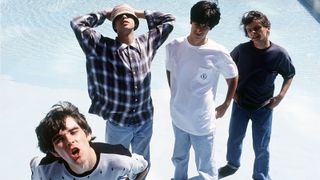 (Image credit: Brian Rasic/Getty Images)
When the Stone Roses' self-titled debut album (opens in new tab) appeared in 1989, guitarist John Squire became the biggest indie guitar hero since Johnny Marr.
Both hailing from Manchester, England, they exhibited more than a few similarities in their styles, but Squire's playing channeled a much deeper '60s groove.
He made no secret of his love for Jimi Hendrix, favoring a Strat for iconic songs such as "I Am the Resurrection" and "She Bangs the Drums."
The trademark sound of the early Stone Roses records (opens in new tab), however, was the clean, chiming arpeggios that Squire utilized, played on a Gretsch Country Gentleman (opens in new tab) or a Hofner T4S.
The Roses' influence on the U.K. scene was instant and immense, spawning numerous similar bands in their wake and igniting the indie/retro/dance phenomenon that became known as Madchester.
Squire managed the neat trick of creating constantly evolving, interesting guitar parts that could stand up in their own right, eschewing the obvious for intricate, rippling waterfalls of arpeggios, riding on waves of delay and reverb that transported the listener back to the late-'60s summertime vibe of the Byrds.
The band's follow-up album, Second Coming (opens in new tab), saw them morph into a Zep-like riff-based behemoth.
Soon after it was released in late 1994, the Stone Roses imploded.
In 1996, Squire formed the Seahorses who released their sole album, Do It Yourself (opens in new tab), the following year.
The guitarist then went on to release two solo albums – 2002's Time Changes Everything (opens in new tab) and 2004's Marshall's House (opens in new tab) – before deciding to focus on his talents as a painter (opens in new tab) (Squire created the Jackson Pollock-style painting featured on the cover of the Stone Roses' debut album.)
In 2011, rumors of a Stone Roses reunion (opens in new tab) began to circulate and the following spring the band played their first public concert since their mid-'90s breakup at Parr Hall (opens in new tab) in Warrington, U.K.
This fantastic clip captures the palpable excitement in the room as the Stone Roses return to the stage and kick off their set with "I Wanna Be Adored."
Order Shane Meadows' Stone Roses film, Made Of Stone, here (opens in new tab).
All the latest guitar news, interviews, lessons, reviews, deals and more, direct to your inbox!
Mark is a freelance writer with particular expertise in the fields of '70s glam, punk, rockabilly and classic '50s rock and roll. He sings and plays guitar in his own musical project, Star Studded Sham, which has been described as sounding like the hits of T. Rex and Slade as played by Johnny Thunders. He had several indie hits with his band, Private Sector and has worked with a host of UK punk luminaries. Mark also presents themed radio shows for Generating Steam Heat. He has just completed his first novel, The Bulletproof Truth, and is currently working on the sequel.