Watch Stone Temple Pilots Slay the Crowd With Their Alt-Rock Classic, "Interstate Love Song"
This clip from 2001 captures the magic of an era-defining band during one of their best performances on film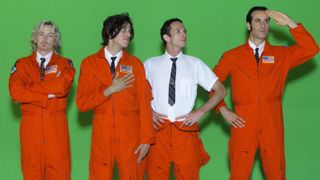 (Image credit: Kevin Winter/Getty Images)
Emerging from the early '90s grunge movement, Stone Temple Pilots changed direction with the release of their third album, 1996's Tiny Music… Songs From the Vatican Gift Shop.
Several new influences seemed to permeate the record, with harder, retro-glam riffing fighting for space with elements of trippy psychedelia and more than a hint of late-era Beatles.
"Lady Picture Show" in particular, homes in on the classic pop-psych vibe that characterizes much of the Fab Four's own explorations into the beyond.
Guitarist Dean DeLeo made a conscious choice to avoid using any humbucker-loaded guitars for the album, generating all the key tones with single-coils or P-90s.
The band's previous album, Purple, released in 1994, had hinted at their aspirations to broaden their horizons.
"Lounge Fly," played in an open Dm tuning, employed a hypnotically repetitious groove that combined a trance-like Eastern vibe with the band's core riffery.
DeLeo's guitar runs conjured up pseudo-sitar sounds, and the acoustic interlude heads straight for the heart of Floyd.
Key elements of DeLeo's sound for Purple included his use of small tube amps, particularly a 1950s Supro, and a 1958 Gibson Les Paul Special.
Perhaps unfairly, he hasn't had the same level of recognition that many of his peers from the grunge era have enjoyed.
His self-confessed modus operandum – to make every solo different from anything else he's done – has largely been achieved, aided by STP's enterprising intention to continually upend listener's expectations.
When asked to name his personal favorite under-the-radar guitar solo of all time, he recommended listening to fellow Trip the Witch bandmate Tom Bukovac's masterful work on "Planet TD1" from the group's eponymous debut album.
"Any type of guitar or anything Tom Bukovac plays is so pure and tasteful, with incredible feel," he told Guitar Player. "Absolutely beautiful.
"Check out his solo on 'Planet TD1' and buckle up."
And in this clip from Stone Temple Pilots' 2001 Rolling Rock Town Fair concert, DeLeo displays some tasteful chops of his own as the band performs their number one hit "Interstate Love Song" from Purple.
Here, you can see DeLeo putting his beloved Gibson Les Paul Special to good use with some awesome slide work before launching into the song's signature descending riff.
Aside from being one of the band's best performances on film it is also a great example of quintessential hard rock P-90 tone.
Browse the Stone Temple Pilots catalog here.
All the latest guitar news, interviews, lessons, reviews, deals and more, direct to your inbox!
Mark is a freelance writer with particular expertise in the fields of '70s glam, punk, rockabilly and classic '50s rock and roll. He sings and plays guitar in his own musical project, Star Studded Sham, which has been described as sounding like the hits of T. Rex and Slade as played by Johnny Thunders. He had several indie hits with his band, Private Sector and has worked with a host of UK punk luminaries. Mark also presents themed radio shows for Generating Steam Heat. He has just completed his first novel, The Bulletproof Truth, and is currently working on the sequel.