Tom Bukovac: "The Firebird is a Great Nashville Guitar, Because it's Got the Midrange That Can Cut Through a Big Band. It's Like a Big Giant Tele"
One of Nashville's top session guitarists discusses his new LP with Dean DeLeo, the vintage guitars he brings to every session, and what sets him apart from his Tele-slinging peers.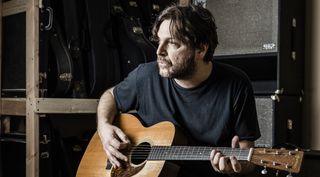 (Image credit: Eleanor Jane)
Since arriving in Nashville in the early '90s, guitarist Tom Bukovac has performed on more than 700 albums by a veritable who's who of the music industry's upper elite.
Just a cursory glance at his credits reveals names like Taylor Swift, Stevie Nicks, Vince Gill, Sheryl Crow, Don Henley, Carrie Underwood, Keith Urban, Faith Hill, Reba McEntire, and Blake Shelton. And that doesn't even take into account the numerous jingles, TV and film vehicles, and various other projects he's performed on.
"It kind of boggles my mind," Bukovac admits. "The sessions I get called for are so wide-ranging. In a two-day period, I could go from playing heavy rock to '70s L.A. studio jazz. I love the variety of music that's coming out of this town. One minute I'm playing some nasty gut-bucket blues, and then I'm doing something crazy and spacey. For a guy like me who loves to play lots of different genres of music, it's a never-ending source of inspiration."
For five years straight, from 2005 to 2009, Bukovac won MusicRow magazine's Session Guitarist of the Year Award, and he's been the recipient of multiple Top Guitarist nominations from the Academy of Country Music, winning three times. Asked if he can point to one reason for his success, he lets out a laugh. "I wish I knew," he offers. "Maybe it's because I don't have just one card to play." Which is another way of saying he's no one-trick pony.
Rather, he's a complete guitarist, able to suss out in minutes just what a track needs to shine. Ask him to burn a free-form rock solo, and he'll turn in a stone-cold, melodic gem bursting with hooks, heart, and individuality. But he's just as comfortable laying back and luxuriating in a rhythm pocket, like he's just another member of the band.
"I'm the first to admit that I'm no expert on anything," Bukovac says. "But I can fake it. Most of the session players around here are like that. You have to be that versatile to get lots of gigs. I'm not a hardcore jazzer, but I can make you think that I am. I'm not a legit country-and-western swing guy, but I can give you feeling and evoke the right emotion.
"If you're a schooled player, you can connect spiritually to what's in front of you and get the message across." He pauses, then adds, "As long as you have your muse."
For Bukovac, that last line is no cast-off stray thought. Recalling his "hot period" between 2009 and 2015, he says, "I think I played on every record that came out of Nashville during those years. I was working six, seven days a week, 13 hours a day. It was just insane. And I couldn't connect to the super-computerized pop country. It all became too much. I got totally burned out, and I damaged my muse.
"The desire to play music and the love of music are very precious things, and I totally lost both. I needed a break."
For the next three years, Bukovac took himself out of the game, refusing all session work while concentrating on 2nd Gear Used Music, a consignment shop he opened in the Berry Hill suburb of Nashville. He considered himself "basically retired," but it didn't stick. Little by little, he re-entered the recording fold – but on his terms.
"I didn't work the crazy hours anymore. I had a family, so that kind of schedule wouldn't work anymore," he says. "I'm not smart enough to think that all I needed was some time away, but it did me a world of good. And when I came back, I came back strong. The muse is in great condition, and I love music again. I feel like I'm playing better than ever now because I'm not burned out."
He notes that the studios in town are humming along at basically the same clip as they were pre-pandemic, but there was a brief shutdown in March 2020.
On the first day of quarantine, a friend suggested Bukovac film some videos – essentially, "play some guitar and cheer people up." Which he did, starting with "The Coolest Guitar Chord of All Time" (an "E-flat 6-9 scenario" in an open G), he began churning out videos one by one, breaking down his favorite licks and sounds, and discussing gear and guitars while playing everything from reggae and what he calls "fake jazz" to "controlled hillbilly music" and deep blues.
The videos presented on Bukovac's Homeskoolin' YouTube channel now number in the hundreds, and they've amassed millions of views.
"It's the craziest thing," he says. "As a session player, you're kind of anonymous. People have always said, 'You should brand yourself.' I never knew how, but through doing these videos I've sort of put myself on the map. Now I have people say to me, 'Dude, come to this session. Can you do what you did in video so and so?' It's brought me a lot of new fans."
One such admirer turned out to be Stone Temple Pilots guitarist Dean DeLeo, who reached out to Bukovac by email and expressed his enthusiasm for the series. The two began corresponding, and before long they decided to collaborate on a project called Trip the Witch.
Their self-titled album is a stunning collection of 10 vibey, mostly instrumental tracks that blend rock, blues, country, and blissed-out psychedelia, on which the two players engage in a seamless musical conversation made all the more astonishing given the fact that they've never even met – the entire record was done remotely. (The album's sole vocal tune, a cosmic wonder titled "Saturn We Miss You," features Yes legend Jon Anderson, who beamed in his performance from his home studio.)
"Dean and I consider ourselves long-lost brothers," Bukovac says. "Making this record was one of the most satisfying experiences I've ever had. We would send ideas back and forth – we complemented each other beautifully." He adds with a laugh, "I'd love to meet Dean someday, but I don't know if I even need to."
Releasing a solo album was never high on Bukovac's bucket list, but last year, encouraged by the success of Homeskoolin', he gathered a bunch of session pals – namely producer Chris McHugh, bassist Steve Mackey, rhythm guitarist Jerry McPherson, and drummer/engineer Shannon Forrest – to record Plexi Soul.
To be sure, there are moments of bravura guitar playing throughout, but much in the same spirit of Trip the Witch, it's an entertaining mood record that touches on Pink Floydian spaceiness, Steely Dan–esque lounge pop, sleek R&B grooves, and even some nods to British blues and midwestern hard rock.
"I made the record as sort of a documentation of some of my personal favorite loop jams from the video show," Bukovac says. "It was a blast to make. The whole thing was cut totally analog on 24-track two-inch tape. We were pretty rehearsed as a band, so everything came together quickly, with hardly any overdubs or fixes. The response has been more positive than I ever could have imagined. I'll do another one down the road."
Let's go back to when you started playing. You picked up the guitar at age eight.
"That's right. My older brother played a bit, and he showed me some things to get me going. I wasn't good at sports, but the guitar came very easily to me. I took lessons for a minute, but I didn't even bring my guitar to the lessons, because it was all theory."
Which bands or guitarists were you listening to as a young player?
"It was all Beatles for me. After them I discovered early Bowie, and then I got into Genesis, Floyd, Yes, the Police, Steely Dan, the Cars… I liked the Stones and Zeppelin, but I wouldn't call them huge influences. Of all the guitarists, though, I have to single out David Gilmour. He's my favorite."
I understand that you started playing in your mother's nightclub in Cleveland when you were just 13.
"Absolutely. The place was the Surfside Lounge, which is a title of one of the songs on the Trip the Witch album. It was a little shot-and-beer joint that my father originally owned. He died when I was really young, and then my mom took over the place.
"I was playing there every weekend by the time I was 13. I sat in with older guys and we'd do Skynyrd, the Allman Brothers. They called me 'the boy wonder' because I could play the shit out of anything we did. I had no adult supervision – played 'till all hours of the morning. It was crazy."
How did you decide to pick up and head for Nashville?
"As much as I loved Cleveland, I realized pretty quickly that my options were limited if I stayed there. I had to go to a real music city. I should have left when I was 19 or 20, but I wasted several years and didn't move to Nashville 'till I was 24, in 1992. In Cleveland, if you tell people you play guitar, they go, 'So what do you really do?' But in Nashville, musicians are taken seriously. The difference was night and day."
Were your playing abilities fully developed when you got to town?
"Pretty much, but I had a good ear. Even when I was a little kid, I could tell when something wasn't right. I would hear people playing songs, and I'd say, 'That's not the right chord.' I could figure out the right chord faster than anybody. I think that proved valuable when I made the move. All you had to do was play me a piece of music and I could tell what it needed."
Did you go to Nashville with the intention of being in a band, or did you want to be a session guy?
"I just wanted to do something professional. I didn't care what it was, as long as it wasn't playing in cover bands for 50 bucks a night. I went around and networked. I saw bands and talked to everybody. That's what you have to do – get yourself around. I found out fast that the only way to get gigs was through word of mouth. It took me a few months to get on the road with a real touring act – Wynonna Judd. Before then, I was doing low-budget gigs."
Very quickly, though, you transitioned to studio session work.
"Yeah. I noticed that the real players weren't doing road gigs; they were in the studio cutting records. I was like, Man, I wonder if I could be one of those guys. I'd be at rehearsal places and I would see all the crazy rigs that people like Brent Mason owned. I thought, He must be good if he's got all that equipment."
Was breaking in akin to crashing an exclusive club?
"That's a good way of putting it. It was like a club, and it still is. The scene changes every few years as new guys come in and older guys retire, but for the most part it's a club with about 100 guys on various instruments. There's, like, 15 guitar players, 15 bass players, and so on. We all know one another, and we all speak the same language. Every session you do, it's a mix of those same 100 guys."
It sounds like a bigger, newer version of the Wrecking Crew.
"Kind of. The thing is, these players all know how to work fast. You have to be quick to work here. It's very pro."
Can you point to a session that felt like your big break?
"It was kind of cumulative. I did a lot of crap sessions in the early days – demos and low-budget sessions. That's how you cut your teeth and get your name around, but it's also how you learn the way things work. You can't just jump in on a big session with a big artist – you'll choke. I did my time on the horrible demos and terrible sessions, but as I got better and better, my time came.
"I think it was around 2003 when Dann Huff started hiring me. He was already a huge guitarist in his own right before he started producing. All the other producers in town were looking at him and copying what he did. That's what really got me noticed. Once I was working with Dann, people called me. I became 'the guy.' I had so many gigs coming at me, I couldn't possibly do them all – lots of country but also rock. It was just overwhelming."
Dann's seal of approval really meant something to artists and other producers.
"Oh, definitely. In those days, he was doing things like Rascal Flatts, who were huge at the time. We did a lot of those early records – Faith Hill and a ton of artists. I continue to work with Dann. In fact, I worked with him the other day. He's still a dear friend. He uses a lot of the younger guys now, but that's just a logical progression."
What kinds of guitars were you using in the early days?
"I've always been a big vintage freak. I bought my first vintage guitar when I was about 18, and since then I've always scrambled to find cooler guitars. I played a lot of old 335s in the early days. I was known as a 335 guy, which is funny because I don't own a 335 anymore. Now everybody plays one, and that started with me. I stood out because I used that guitar."
Earlier, you said that you couldn't pinpoint exactly why people hired you.
"Well, there's probably a few things. I guess one thing that made me stand out was because I came from somewhere else musically. I was into trippy rock atmosphere stuff – Radiohead and Pink Floyd. In the country world, that music didn't exist. People were still chicken-picking on Teles. That's all anybody wanted. I mean, I can chicken-pick, but it's not my stock and trade. When people heard what I did, they started to shift toward cool atmospheric stuff with more of a rock edge."
You were just doing what you heard in your head.
"Yeah, and people dug it: 'He's the guy! He can do all the trippy, crazy echo stuff.' It was good timing for me. I wasn't smart enough to preconceive that's what I needed to do. I was just lucky because that's what I liked to do. Then it got to the point where I did so much of that, I got tired of it.
"I've made several reinventions – you have to do it if you want to keep growing. Like just recently, I changed my gear around and switched to small combo amps. I try to keep it fresh and original. I don't want to be known for doing just one sound."
Has there been an artist or producer who really challenged you and pushed you out of your comfort zone?
"Matt Serletic. He's made a bunch of big records, and I played with him a lot in the old days. A lot of stuff I did on other sessions that people loved, he was like, 'Dude, we've got to get better than that. We've got to do something original.' What I was playing would've worked for most people, but not him. He was looking for something fresher.
"That's when you dig. You try things – new ways of playing, different pedals. Personally, as long as I know the person's a genius, I like to be challenged. If I did a session and everybody loves each note I play, it's like I don't have to try. That's when you know the record isn't going to be good, because nobody's really trying. I think great records come from a little bit of tension."
I imagine personalities come into play with getting hired. It's one thing to be a great player, but if you're a jerk…
"Nobody's going to want to work with you. You've got to be a cool guy and be able to hang and work with people. Studios are like any workplace: If you're a jerk, you're not going to last. And you can't take anything personally. If somebody doesn't like your idea, accept it and move on. Think of a new idea."
At the same time, it must not be easy if you're dealing with a temperamental artist who is wasting time, and not always for a good reason.
"Some artists are really great to deal with, and there's some who aren't cool. I mean, I'll follow anybody down a weird rabbit hole, but they have to have one of two qualifications: A, they have to be nice, or B, they have to be a genius."
Are you generally a one-take guy?
"I can be, but I prefer to work on things for a long time. Left to my own devices, I could spend a whole day working on one song so I can make it sound amazing. Sure, I can do one take and it'll be fine. But it takes a little time to find those magic moments. Sometimes you're against the clock, but a lot of times you can find some wiggle room and perfect things a bit more."
Do you have any favorite studios in Nashville?
"Blackbird Studios. John McBride, who runs the place, he's one of my best friends. That studio is amazing. It's like one big playground for me – all the rooms and the microphones. He's got millions of dollars in mics alone. But I can basically work anywhere. As long as I've got a good engineer, I can get a nice sound.
"The first thing I do when I walk through the door of any studio, I ask, 'Who's engineering?' A bad engineer can ruin any session. Conversely, a great engineer can make an average session sound amazing."
How many guitars do you usually bring to a session?
"I have a cartage rig that gets delivered to every session, and inside is a coffin full of a dozen guitars. Every once in a while, you'll do a session where they don't want you to bring your cartage. That can be a bit rough; it limits your options. But you make do.
"If they just want you to bring a few things, I'll bring a humbucker guitar, a Strat, maybe a Tele or a hollowbody. My signature Duesenberg does it for me. It's like a Swiss Army knife. It's got a whammy bar, humbuckers, and different tone options. If I'm going to bring just one guitar, it's super versatile."
You have a pretty sweet '58 burst.
"I bought that a while ago, and I bring that everywhere. People are like, 'I can't believe you bring that thing out of the house!' But I use it on everything."
Which Tele do you bring with you: the 1960 Custom?
"Absolutely. Killer guitar. Whenever you need a Tele, there it is. I just recently bought back a '62 Strat that I owned years ago. I should have never sold it. I've been using that a lot. There's a few things I'm missing that I don't have anymore. I don't have a Gretsch and a 335, but I can get those sounds with other things."
When does your Firebird come out?
"Oh, man, I play it all the time. The Firebird is a great Nashville guitar, because it's got the midrange that can cut through a big band. It's like a big giant Tele. It really works great for the kind of music that we're doing here.
"Actually, I would prefer that over the Tele. I was playing my Firebird today on a session. I've got one with P-90s, and I've got one with the regular mini-humbuckers. I use them both equally."
You said you've been using combo amps lately…
"Exactly. I've mostly been using an old Deluxe Reverb on pretty much everything. I've got a bunch of old Marshalls that I love, Plexis and things. I've got an AC30. I try to have all the classic stuff. I've got a tweed Bassman and some small amps.
"I try to have a little bit of everything, but I also like to go direct a lot. I'll go right off my pedalboard into the console. I was doing that yesterday, and it sounded amazing. If you have a great engineer, you're good to go."
All the latest guitar news, interviews, lessons, reviews, deals and more, direct to your inbox!
Joe is a freelance journalist who has, over the past few decades, interviewed hundreds of guitarists for Guitar World, Guitar Player, MusicRadar and Classic Rock. He is also a former editor of Guitar World, contributing writer for Guitar Aficionado and VP of A&R for Island Records. He's an enthusiastic guitarist, but he's nowhere near the likes of the people he interviews. Surprisingly, his skills are more suited to the drums. If you need a drummer for your Beatles tribute band, look him up.