Watch Peter Frampton's Era-Defining 'Midnight Special' Performance of "Do You Feel Like We Do"
The guitarist explains how his "ultimate capper to a concert" became the monster hit of 1976.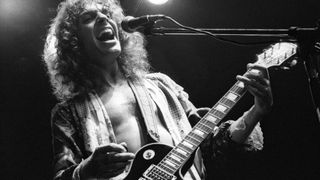 (Image credit: Ian Dickson/Redferns)
"Out of the hits that I've had, I can't underestimate its importance," Peter Frampton says of "Do You Feel Like We Do." Originally released as a six-minute studio cut on the guitarist's second solo album, 1973's Frampton's Camel, the song became an instant classic thanks to the epic 14-minute version on his epochal 1976 live album, Frampton Comes Alive!
"That's the version that helped break things wide open," he says. "It sort of worked as the trailer for both the album and my concerts. 'You want to know what Peter Frampton sounds like live? Listen to this!'"
"Woke up this morning..."
In preparation for Frampton's Camel, Frampton assembled a band consisting of keyboardist Mick Gallagher, bassist Rick Wills and drummer John Siomos. "We did a lot of jamming back then," he recalls. "We were a new band, and jamming was our way of figuring out our sound."
One day, the guitarist came to rehearsal with his reel-to-reel tape machine, on which he'd recorded chord ideas and a melody for a new song. "I didn't have much else to it," he says. "We jammed a bit, and at one point somebody said, 'Wind the tape back to three or four minutes in. You played a line that's really cool.' "That line turned out to be what I then used for the main hook riff. Then Mick started to play harmonies of the line on the keyboard."
Stuck for a chorus, Frampton improvised what he considered to be a dummy lyric: "Do you feel like I do?" "It didn't sound right, so I told the guys, 'Don't worry. I'll come up with something better,'" he says. "Of course, I never did."
After coming up with an A-to-E chord pattern for the verse, he wrote lyrics that summed up how he felt after a night of overindulgence: "Woke up this morning with a wine glass in my hand." "They came right out," he explains, "and they're probably the most iconic lyrics I've ever written."
Something's happening...
The band previewed the song at a few shows before recording it at New York City's Electric Lady Studios. Frampton used his now famous 1954 Les Paul Custom electric guitar that he paired with a late-'50s Ampeg Echo Twin ampifier.
"That amp wasn't designed for distortion, but it broke up beautifully and gave me a great sound," he says. Getting the song on tape was relatively straightforward, but the band recorded two versions: one slower, one faster. "We thought the slower one was best, so that wound up on the album."
Nobody in the guitarist's camp or at his label thought the song was a hit. "It was a good FM deep track, and it got some play in various spots of the U.S.," Frampton remembers. But over the next two years, during which time he released two more studio albums – 1974's Somethin's Happening and 1975's Frampton – "Do You Feel Like We Do" began to stand out as an audience favorite.
"We closed the show with it, and we really started to draw it out and play with its dynamics," he says. "The crowds seemed to love it more and more." Adding to the excitement was his introduction of a talk box during one of the extended solo sections.
He first used the effects unit for the studio recording of "Show Me the Way," but during his 1975 concerts he fully embraced the device. "People went nuts when I went to use the talk box," Frampton says. "Hey, everybody needs a gimmick, and this was mine."
Frampton is everywhere...
The release of Frampton Comes Alive! was a seismic cultural moment, and within months of the record's appearance, Frampton went from playing theaters to selling out arenas. The double album sold in the millions, his posters adorned millions of teenagers' bedrooms, and his presence on both AM and FM stations was a lock.
"I was everywhere," he recalls. "It got to the point where I was sick of myself. I'd turn on the radio and hear myself. I'd change the station and land on myself again."
Over the course of his career, Frampton never played a gig that didn't include "Do You Feel Like We Do."
"It's my show closer, the ultimate capper to a concert," he says. "What was really remarkable was when I would play with Lynyrd Skynyrd, I'd play 'Do You Feel' and they'd play 'Free Bird,' so you'd get the two longest FM songs in one night."
Check out the awesome Gibson Custom Shop Peter Frampton "Phenix" Les Paul Custom at Guitar Center here.
All the latest guitar news, interviews, lessons, reviews, deals and more, direct to your inbox!
Joe is a freelance journalist who has, over the past few decades, interviewed hundreds of guitarists for Guitar World, Guitar Player, MusicRadar and Classic Rock. He is also a former editor of Guitar World, contributing writer for Guitar Aficionado and VP of A&R for Island Records. He's an enthusiastic guitarist, but he's nowhere near the likes of the people he interviews. Surprisingly, his skills are more suited to the drums. If you need a drummer for your Beatles tribute band, look him up.