This Musician Was Too Shy to Perform Publicly. Instead, He Found His True Destiny: Composition
Federico Mompou's music is as uncorrupted as the sound of nature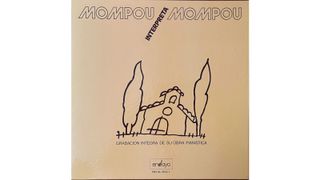 (Image credit: ENSAYO)
Pianist Federico Mompou was born in Barcelona, Spain, in 1893. Because of his basic shyness and reserved nature, he didn't perform publicly. Instead, he found his true destiny: composition.
His music, though totally unique, is somewhat reminiscent of Erik Satie and has some shades of Debussy, but his own indescribable and unique voice always shines through brightly.
I initially discovered Mompou's music on the Decca album Andrés Segovia Guitar, where the virtuoso classical guitarist performs "Cuna," from Mompou's Suite Compostelana.
This is part of the Mompou story for me. Since I was diving into the wealth of Spanish guitar composers – Enrique Granados, Francisco Tárrega, Fernando Sor, Isaac Albéniz and more – I came to realize Spanish composers created a music that called my name.
Their music was easy for me to embrace, and the Spanish composers gave me a new lease on my guitar life.
I immediately started a Federico Mompou dig, and when I discovered Mompou composed mostly for piano on piano, I was a bit surprised.
His 1962 Suite Compostelana composition is the only work he wrote for guitar. In fact, he composed it for Segovia.
Meanwhile, Segovia's performance of "Cuna" became kind of an obsession for me. I'd share this piece with everyone I knew. I'd ask them, "What is this piece saying?"
Most folks didn't get very specific.
I contacted a knowledgable classical guitarist I knew, thinking he'd unravel the song's beckoning mystery. He told me, "It always rained where Mompou composed. This piece represents his wet environment."
I found that unsatisfying. I still felt hungry for clarity. Me? I thought Mompou's "Cuna" would be the music I'd hear when my spirit left my body and shot into the universe shortly after my death, my spirit traveling through the high-voltage cosmos faster then light, toward a vast glowing serenity.
Or maybe "Cuna" is just a piece that articulates wetness?
Kind readers, I don't know and who can say? Mompou? He passed away in 1987. In 1974, at the age of 81, Federico Mompou recorded his compositions, playing solo piano for the Spanish label Ensayo.
This five-record set Mompou Interpreta Mompou (also released on CD on Brilliant Classics) could be the music I've listened to the most in my entire life. It's indescribably sustaining.
Many of Mompou's works are short and sometimes sound like nursery rhymes, or even lullabies, but with an amazing depth. As I stated earlier, Mompou's music captures, almost wrangles, my imagination, and I would fall short of describing his music successfully.
His music is nourishing, inspiring, and yet has an unobtrusive character that allows the listener to disengage. As when hearing the drone of wind chimes or the sound of birds chirping in the distance, one doesn't sit at the edge of the seat anticipating the upcoming sound.
Federico Mompou's music is as uncorrupted as the sound of nature.
In addition to all this, this recording sounds wonderful.
When playing Mompou Interpreta Mompou through my Dynakit pre-amplifier via my McIntosh power amp through my Klipsch speakers, I'm transported to 1974, with the (left-handed) Mompou playing a grand piano in my New York City apartment. It's my personal recital.
The five-LP box is hard to find, but the two-CD set is affordable and easily attainable.
I highly recommend the music of Federico Mompou, where one can discover the abyss of their own imagination, or simply have the perfect music for a rainy day.
All the latest guitar news, interviews, lessons, reviews, deals and more, direct to your inbox!
Jim Campilongo has 14 critically acclaimed instrumental records available on vinyl, CD and digital download here.