"I Don't Care What You Play, Study Django. It Can Only Be Good for You": Stephane Wrembel Reflects on the Guitarist Whose Musical Essence Inspires His Own
"Django is to the guitar what Bach is to the keyboard," says the jazz guitar scholar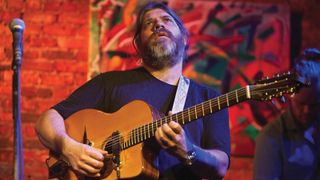 (Image credit: Getty Images)
A potent alchemy is at play in the artistry of Parisian guitar wizard Stephane Wrembel. Juxtaposed ingredients – including classical, flamenco, jazz, swing, bebop, blues and rock – combine in the mixture. However, the coalescing element is a facet of northern Gypsy culture, a sensuous music that has throbbed through his veins and cascaded through his strings for more than 30 years – namely, the Sinti guitar style, with its unique tone, vibrato and melodic improvisation. In the process, Wrembel's cluster of sounds acquires a dreamlike, even mesmerizing quality, echoing the aura of a surrealist mosaic, akin to the films of his favorite director, Luis Buñuel.
The exemplar of this tradition is Belgium-born Sinti Jean "Django" Reinhardt, the jazz icon who imbued the style with a sweep-picking intensity. Wrembel found his muse In Reinhardt's red-hot repertoire and devoted himself to the propagation of his legacy. In 2003, he created the Django A GoGo Festival, which this year culminated in conjunction with the May release of Wrembel's new album, Django New Orleans. It's a merger of Reinhardt's string-driven jazz with the Big Easy tradition of wind instrumentation.
Wrembel started studying classical piano at the age of four in the Parisian commune of Fontainebleau, which he describes as "the home of the French Kings and birthplace of Impressionism." It is also the wellspring where Reinhardt spent his final years. Although Wrembel showed great promise, there was a rival. "I never had a natural feeling for the piano," he explains, "while with the guitar I had a fusion.
"We all have an instrument corresponding to our personality, that spiritually fits with our body and feelings," he continues. "When I was five, Pink Floyd released The Wall. It was radical, an explosion that started my musical journey. I learned David Gilmour's style. The Police's guitar creativity amazed me too, as did Ralph Towner's and Frank Zappa's. When I was 15, I bought a little acoustic Epiphone. I took lessons and practiced daily for hours."
His development as a guitarist would soon reach a turning point, just as Reinhardt's did. At 18 and at the brink of his career, Reinhardt was in his caravan when it caught fire, and in the resulting inferno he burned his left hand, causing him to lose use of the third and fourth fingers. Remarkably, his recovery invigorated his playing. Wrembel was that same age when an event occurred that led to his vocation as the keeper of the phoenix who defied the flame.
"While taking lessons with my teacher in Fontainebleau, I said, 'I'd really like to study jazz,'" Wrembel relates. "He said, 'Let's do Django's "Minor Swing." I'll show you some chords. We can play, and you can comp.' I left obsessed, with that music in my head. I visited the record store, drawn to my first Django record, Djangology 49, featuring 'Minor Swing.' I'd never heard such notes. I thought they weren't on the guitar. It was transcendent! Immediately, I tried to transcribe.
"Soon, Fontainebleau's Django Festival took place. I had visited before, but now I attended as a guitarist. I heard the Django-inspired band Latcho Drom. A giant voice out of nowhere said, 'That's what you're going to do. Learn to play like that, spread it, making it available to everyone!'"
Although Wrembel is not Sinti, he absorbed its heritage. "There's a strong Dionysian element to Gypsy playing," he says. "There aren't many rules; you play and exchange solos. I started learning Django's music with the Fontainebleau Gypsies around 1992. I spent seven years in their campsites constantly playing with them at weddings and parties. I learned Sinti-style guitar, otherwise known as La Pompe, or jazz manouche. My first master was Serge Krief. I studied later with Angelo Debarre and Moreno.
"La Pompe is Gypsy guitar accompaniment that's a bit like pop music. There's a simple and direct rhythm, like rock or swing, on the guitar that moves you. Josh Kaye plays La Pompe in our band. He also leads Baklava Express, where he plays the oud. There's a direct connection between the fretless Gypsy oud and Django's picking style. They both entail the right-hand technique."
Although Wrembel's talents are considered the epitome of Gypsy jazz, he avoids the classification. "I don't like to be caught in one cage," he explains. "I concentrate on Django, a northern Gypsy, playing New Orleans jazz." There is, nevertheless, a metaphysical factor with which Wrembel identifies. "I found that my Gypsy friends are more connected to reality, nature and the real world, and are unconcerned with collecting objects, an obsession from our society. They're free from that desire and fear."
Wrembel's reputation grew as he assimilated Reinhardt's techniques and style into an idiosyncratic approach. "We're different people, different souls," he notes. "But I'm from the old school – I like the pupil-to-master relationship. Django's still my main source of learning and studying guitar, transcribing harmony and playing jazz. I have other masters and have studied traditional and Renaissance harmony and counterpoint for years. I often play classical guitar and love Andrés Segovia, Julian Bream, Mario Parodi and Alberto Ponce. I also play Bach. For me, Django is to the guitar what Bach is to the keyboard. The more you study Django, the better you progress. It's mathematical. I don't care what you play, study Django. It can only be good for you."
Among Wrembel's Reinhardt tributes, one project stands apart: Django L'Impressioniste, a 2019 double-album spotlighting his transcriptions of the master's solo repertoire. Wrembel, who also released the transcriptions in a book, calls this "my most personal testament."
"Since 2017 I've been transcribing and playing Django's repertoire of 17 solos to bring them to the concert level," he explains. "This had never been done before. There's a classical side to Django – the most essential part. Django integrated these preludes with the mood and atmosphere of Impressionist composers such as Faure, Debussy and Ravel. I recorded the album and wrote the book of transcriptions for anyone to learn them as a whole. I perform a few to start a Django show to achieve a certain feeling. I also perform a full recital. To this day I'm the only one to do that."
Naturally, Wrembel embraces Reinhardt's chosen guitar: a beautiful cedar-top Nouveau Selmer model from Bob Holo Guitars. "It's super-well-built and well-balanced, one of my main instruments," he relates. "Selmer was the brand of Django's guitar, but now it's no longer a brand – it's the name for a model of guitar. I also play a Busato, built around 1943, which once belonged to Joseph Reinhardt, Django's younger brother."
In the past Wrembel used a French Stimer magnetic pickup that Django favored, through an AER amplifier. "Now I use a better magnetic pickup, a Kleio 47 that goes to a Fender Blues Junior with a Jensen cabinet. I always use two sources. The other is an Ischell, handmade in France, an acoustic pickup which goes to my AER. Then I blend the two pickups. I blend the piezo-like sound on the AER and the electric sound on the Fender. They're complementary, giving a great sound: the crispness and attack from the acoustic and the roundness and the sustain from the electric, which also gives extra crunch."
After noticing there was no Django festival in New York City, Wrembel decided to create his own and brought his crusade there in 2003. It began as a weekend event at Barbes, a bar and performance space in Brooklyn, before moving to Joe's Pub, a popular performance spot in Greenwich Village. Once an East Coast tour was added, the event gained momentum.
In 2017, Wrembel fulfilled what he calls "my ultimate vision" – Django A GoGo, a weeklong guitar camp/concert series at the Woodlands in his hometown, Maplewood, New Jersey, followed by a finale concert jam at Barbes. "This year we've introduced a violin camp," Wrembel says. "Now Americans can play with and get advice from masters such as Django's great-grandson Simba Baumgartner, Sam Farthing, Paulus Schäfer and Samy Daussat."
Wrembel's primary band is his New York–based quartet, which includes Kaye, drummer Nick Anderson and bassist Ari Folman-Cohen. "Ari, with whom I've been playing for 20 years, is exceptional at the upright and electric bass, the only one who can make the electric bass feel like an upright," Wrembel notes. There is also the Django Experiment, a specialty group comprising his band plus Nick Driscoll on clarinet and tenor sax, with which he released The Django Experiment Volumes I-VI.
In 2021, Wrembel introduced a specialty group at Dizzy's Club, a jazz venue at New York City's Lincoln Center, with which he recorded Django New Orleans, a collection of jazz standards that honors Reinhardt's fundamental contribution to jazz. "The album is a fusion between the grooves and flavors of New Orleans and the frantic and chaotic guitar sounds in Django's jazz," he explains.
"When Django was born, New Orleans jazz was mainly played on horns, clarinet and percussion. In 1934 Django, with violinist Stephane Grappelli, started the Quintette du Hot Club de France, with two extra guitars and a bass. They demonstrated how to play jazz and swing with just a string section, giving birth to a new sound derived from Django's Gypsy origins.
"I wanted to blend, for the first time, both sounds: old-time jazz, or swing, with the second line of Django guitars and violin. What really made the change is replacing the bass with the sousaphone. It grooves in a special way. This combination creates a unique vibe, part New Orleans, part Django. I'm not trying to sound like a '20s band. You'll recognize a flavor from nowadays." Along with Kaye and Driscoll, the personnel includes Joe Correia on sousaphone, trumpeter Joe Boga, violinist Adrien Chevalier, percussionist David Langlois, drummer Scott Kettner and vocalist Sarah King.
In addition, Wrembel is a renowned composer. Gypsy Rumble, his 2008 album with his trio, contains a host of compositions, several with accompaniment from mandolinist David Grisman. Although it is currently out of print, Wrembel hopes to re-release the record in 2024. Grisman recently issued the digital collection We Love Django, featuring several of these tracks, one of which, "Big Brother," Woody Allen chose for the soundtrack of his 2008 film, Vicky Cristina Barcelona.
Wrembel's waltz "Bistro Fada" was a highlight of the Grammy-winning soundtrack to Allen's 2011 film, Midnight in Paris, and in 2020, Wrembel contributed to the score for Allen's Rifkin's Festival. He has also collaborated with colleagues such as Raul Midon for a song on his latest album, Eclectic Adventurist, and pianist Jean-Michel Pilc on a soon-to-be-released album.
Nonetheless, Reinhardt will always be Wrembel's life's blood. "Jazz guitar is Django," he says. "He's a different breed of musician. He created a new archetype. Django was a genius, one who knows without having to learn. We haven't caught up yet with Django."
Visit the Stephane Wrembel website for more information.
All the latest guitar news, interviews, lessons, reviews, deals and more, direct to your inbox!