Now THIS is How to Play the Blues
By Rod Brakes
R.L. Burnside's backyard performance proves tone really is all in the fingers.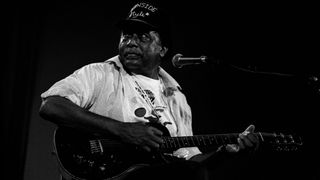 (Image credit: Paul Bergen/Redferns/Getty)
It is often said that "tone is in the fingers". And in this clip from the late '70s, blues legend R.L. Burnside proves just that as he cradles an inexpensive Japanese-import Guyatone electric guitar that looks in less-than-perfect shape. 
No fancy gear. No stage. And no audience to speak of, aside from a small camera crew headed by famed ethnomusicologist Alan Lomax.
Credited with helping kickstart the American and British folk revivals of the mid-20th century, Lomax brought significantly wider attention to the likes of Robert Johnson and Lead Belly while making thousands of crucial recordings such as this for the sake of posterity.
R.L. Burnside was born and raised in Mississippi and after learning his chops from Mississippi Fred McDowell he moved to Chicago in the 1940s, much like his contemporary and his cousin-in-law Muddy Waters (whom Burnside has cited as a major influence).
Aside from Burnside's impeccable phrasing and fluid rhythmic fingerstyle, for many a guitarist this backyard performance of his self-penned "See My Jumper Hanging On the Line" is a masterclass in feel.
Discover more of R.L. Burnside's music here.
Get the latest news, reviews and product advice straight to your inbox.
Thank you for signing up to GuitarPlayer. You will receive a verification email shortly.
There was a problem. Please refresh the page and try again.