"I Don't Always Select Things Based on My Comfort Zone": Wilco's Jeff Tweedy and Nels Cline Talk Guitar Tone and Songwriting
The alt-rock luminaries discuss the impact of guitar tone and alternate tunings on the creative process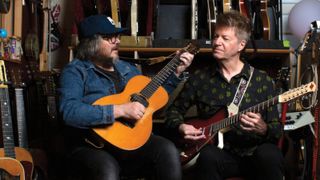 (Image credit: Future/ZORAN ORLIC)
To say that Wilco have their own thing going is a big understatement for a band that has been a defining force on the alternative-rock scene for the past 30-odd years.
The brain trust of the lineup – drummer Glenn Kotche, bassist John Stirratt, keyboardist Mikael Jorgensen, multi-instrumentalist Pat Sansone and guitarist/sonic sculptor Nels Cline – has remained unchanged since 2004.
That durability is a testament to the creative bond they have with vocalist/guitarist/songwriter Jeff Tweedy, who has been the mastermind behind Wilco's sound since its inception in 1994.
Typically working alone at his Loft studio in Chicago, Tweedy has unfettered freedom to steer the band wherever his muse leads.
The following interview extract appeared in the December 2019 issue of Guitar Player
Do you find that the instrument itself influences what you play?
Nels Cline Sometimes, yes. In my case, it's less about the feel of the instrument than the sound, so I'll generally choose something based on its tonal qualities. For example, if I'm hearing something super thin and needle-y in my head, I'll use my old green Hofner 12-string or an EKO, or pull out my Silvertone or Jerry Jones Danelectro-type guitars.
On [Ode to Joy], Jeff was wanting me to mostly play my Jazzmaster that I've been playing since '95 – the one I bought from [ex-Minuteman bassist] Mike Watt – but that didn't necessarily fly with me on every track.
There's really no limit to how many ideas I'm allowed to try. But I prefer to work very quickly, so I'm not going to sit there and pull out a million different amplifiers and weird guitars thinking I'll come up with something.
There was a time when I was first in Wilco where I thought this was a possibility and an exciting idea, but it's just too laborious and indulgent, so I don't do that. I just use a couple of amplifiers and don't even set up my whole pedalboard that I use live.
I just find some things that I have or Jeff has – and there are tons of pedals and amps at the Loft to choose from – and I kind of take it from there. And if I hear something I don't have, I go find it and add it to my setup and work from there.
Do you intentionally use tones that suit that song but aren't necessarily what you might think of as ideal lead guitar tones?
Cline Yes, and a good example of that is the song "Impossible Germany" [from Wilco's Sky Blue Sky album], which has become this weirdly iconic guitar-solo song at a time when such things really don't exist in the lexicon.
It's very much of my era, meaning the '60s and '70s, and the tone on that solo I chose for the song, not because I thought it was an attractive tone. It's my Jazzmaster with the bridge pickup and my Klon Centaur overdrive, and I wouldn't normally choose the bridge pickup because I'm a total neck-pickup kind of guy.
I feel the most relaxed when I get a tone that I like, and it's almost always going to be dark. But I chose that tone because I thought the song benefitted from it, and it just spoke in a way that seemed commensurate with the mood or something.
I've played that song virtually every night for almost 15 years now, and it's still hard for me to relax with that tone and play a decent solo, because I'm wanting to switch to the neck pickup. So I don't always select things based on my comfort zone. I'd rather do what the song wants.
It's one of the joys and challenges of playing with Wilco or collaborating with anybody that has different tastes or a different vibration level than me. It's something I like doing, though, because I like flexing.
Jeff, how do instruments inspire your songwriting?
Jeff Tweedy I write almost all my songs on acoustic guitar. I have a lot of different instruments and a lot of acoustic guitars, and the ones I end up writing on are generally the ones that have almost no sustain and have really dead strings.
There are some old beater guitars that I leave laying around the house that I always end up writing on, and recently I've been getting these guitars built that have a rubber bridge. I used them on the record, and they sound sort of like a ukulele and classical guitar. They're terrible old '40s stencil cowboy guitars or cheapo beginner guitars, but you put a rubberized bridge on them and they have this crazy quality that just leaves so much more room for my voice. I don't have a real sustaining voice so I tend to like guitars that aren't showing me up.
How do alternate tunings impact your songwriting?
Tweedy I use weird tunings as a catalyst for songwriting a lot. A lot of times just disorienting yourself by not being able to grab rote chords, or not knowing what's going to happen when you move your fingers, can be very inspiring. If I get stuck on a song I've written in standard tuning, sometimes I'll do an overdub in a weird tuning that I've put together so that it would be in the same key.
Can you explain how disorienting yourself helps the process?
Tweedy I've been writing songs since I was 14 years old, and I really like feeling in control of it. I like feeling that I've worked hard at the craft of songwriting and have an understanding of what chords are going to fit when you're looking for something and you can get from A to B quickly without too many missteps.
But I also have a lot of mistrust for my ego, and when you disorient yourself, you really have subverted your ego quite a bit, because you've let go of all of that expertise or whatever you've accumulated as knowledge. You're reacting the way I think you react when you listen to other peoples' music and you hear something that grabs your ear and it's beautiful. It's just a way to trick yourself.
My main job is to trick myself into not having my ego trying to be clever and smart and show off something that doesn't matter to anybody.
All the latest guitar news, interviews, lessons, reviews, deals and more, direct to your inbox!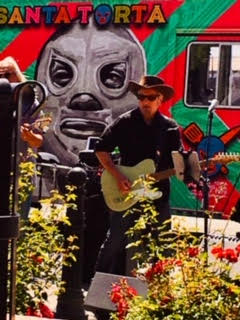 Art Thompson is Senior Editor of Guitar Player magazine. He has authored stories with numerous guitar greats including B.B. King, Prince and Scotty Moore and interviewed gear innovators such as Paul Reed Smith, Randall Smith and Gary Kramer. He also wrote the first book on vintage effects pedals, Stompbox. Art's busy performance schedule with three stylistically diverse groups provides ample opportunity to test-drive new guitars, amps and effects, many of which are featured in the pages of GP.