"I Feel That I'm Kind of Underrated": In 2008, Harvey Goldsmith Got a Phone Call That Changed His Life… And Revived Jeff Beck's Career
The U.K.'s best-known concert promoter raised Beck's profile considerably in both music and pop culture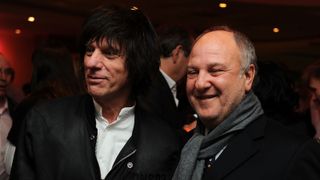 (Image credit: Ferdaus Shamim/WireImage)
Harvey Goldsmith received a surprising phone call during late 2008. "I had just literally arrived in New York," Goldsmith, the U.K.'s best-known concert promoter, recalls via Zoom from a holiday in Portugal, the day after Beck's death was announced. "She said, 'I'm sitting here with Jeff Beck.' I said, 'Oh, that's nice, send him my best,' and she said, 'He wants to talk to you.'"
Beck got on the phone. "'When are you coming back?' I said, 'I've only just got here. Why?'" Goldsmith continues. 'And he said, 'I feel that I'm kind of underrated and not really being recognized the way I feel I should be. Can you help?'"
That question would kick off a relationship lasting more than five years, during which Goldsmith helped to raise Beck's profile considerably in both music and pop culture. And while they did not necessarily end as lovers, as the song says, Goldsmith was, like many others, devastated by the death of someone he considered an amazing musician and an equally "amazingly good-natured soul."
Goldsmith and Beck knew each other. In addition to promoting shows and tours, Goldsmith helmed landmark events such as the Concerts for Kampuchea, Live Aid, benefit shows for the Prince's Trust and the Freddie Mercury Tribute Concerts and had worked with Beck on the ARMS Charity Concerts for Multiple Sclerosis during 1983. The two had also crossed paths when Goldsmith was helping Mick Jagger put together solo tours during the mid- and late-80s and Beck was slated to be part of the band.
"It was good 'til Mick suddenly one evening phoned up Jeff and started to go through the set," Goldsmith says. "Jeff said, 'I'm not gonna play Keith Richards parts on Stones numbers. I don't care what we play but I'm not doing that.' Mick was a bit taken aback by that and I had to deal with it, but that was the nature of the beast. Beck wanted to do things his way."
When Beck called, however, Goldsmith had a firm idea what it would take to help the guitarist achieve his goal. "Basically he spent more time with his cars than he did working [on the road]," Goldsmith says. "I said, 'Look, if you really want recognition, you've got to go out there and not only play but in this day and age do some promotion as well.' He said, 'Yeah, I'm ready for it,' and that's how it started."
It was an auspicious time for Beck. He'd just released Live at Ronnie Scott's, which many consider one of his best recorded performances. His rendition of the Beatles' "A Day in the Life" would win a Grammy Award for Best Instrumental rock Performance. Beck had also been selected for his second induction into the Rock and Roll Hall of Fame, this time as a solo artist, in 2009. So there was good momentum as Goldsmith took the helm of his career.
The promoter turned manager quickly came to learn that Beck was "always difficult" but understood that was part of what made Beck so special. "He was different from the rest," Goldsmith says. "He wanted to do things differently. He was never quite satisfied with what he was doing. So he was always reaching out, trying to do something better, always striving for something more – right until the end, really."
Despite that, Goldsmith learned Beck also possessed tremendous warmth and empathy that was seldom revealed. "He was an amazingly good-natured soul who was a kind of magnet for people in trouble," Goldsmith says. "He was a good listener and was always helping people. For some reason, when people didn't know what to do with their music or their career or things in their lives, they would go see Jeff and he'd chat with them. They would come away like they'd just been to see the guru."
One of Goldsmith's first tasks with Beck was the Live at Ronnie Scott's album and DVD, which had been recorded during November 2007 at the famed London club. He and Beck were both dissatisfied with the sound, so Goldsmith put a hold on its release until Beck could remix it to his satisfaction.
"I said, 'Look, here's the deal: Jeff's gonna remix the whole album and the sound for the DVD. We are then gonna go out on the road and he'll talk about it,'" Goldsmith says. "When it was done, the label was completely blown away he was gonna do promotion, 'cause he just didn't talk to anybody. But that was Jeff. He was a lone wolf in what he wanted, and often they didn't listen to him and he got very upset about it. So we started this pathway of him working, doing shows, doing promotions, doing radio, starting to build him up again, and I think that really helped."
Goldsmith also helped execute an all-star tribute concert for Les Paul during June 2010 at the Iridium Jazz Club in New York City, which was preserved as the album Rock 'n' Roll Party the following year. "David Bowie and I were friends, and he came to the show," Goldsmith reveals. "He said, 'I've always wanted to write with Jeff.' I said, 'Well, now's the time!' They corresponded a bit, but then Bowie went on to something else and got sick, so it never happened."
During 2010, Goldsmith also proposed that Beck play some tour dates with Eric Clapton, his predecessor in the Yardbirds and a friendly rival among the guitar-playing elite. "I said, 'You'd have to open, 'cause Eric's got a much bigger stature, but you've got the room to deliver what you want to deliver," Goldsmith says. "We didn't do many shows, but they really were fantastic. Every night Eric would stand on the side of the stage and just say, 'I can't beat this. I can't beat this. I can't beat this.' It was really funny. That's who Beck was. He was the guitarist's guitarist. Every guitarist on the planet loved him."
Goldsmith also stepped into the long-running friendship and feud between Beck and Rod Stewart toward the end of his managing tenure and broached the idea of putting the two together on record again for the first time since Beck's 1985 album Flash, which featured Stewart singing the Impressions' "People Get Ready."
"Rod's people were closing a deal with Universal to do a series of solo albums," Goldsmith remembers, "We spent a good six months planning to do an album together in 2013, and Rod was really up for it – his voice was really strong. The next thing I know, I got a call from Universal: 'We'd rather not do this album.' I was personally gutted by that, and Jeff was extremely pissed off, as you can imagine."
Goldsmith and Beck had their own falling out not long after that over a variety of business, creative and philosophical differences. Goldsmith nevertheless says his time managing the guitarist was "an amazing experience," and when the two last saw each other during early 2020 "we chatted, hugged, so on and so forth."
"He was a lovely, lovely guy – just a special character who had the most unbelievable talent," Goldsmith says. "He really will be... well, he is sorely missed by everybody, already."
All the latest guitar news, interviews, lessons, reviews, deals and more, direct to your inbox!