"When I Heard Pavarotti Sing It, I Thought, All This Is Is Sophisticated Blues": How Jeff Beck's Unlikely "Nessun Dorma" Cover Earned Him a Grammy
Along with an interpretation of the Beatles' "A Day in the Life," the guitarist's oddball tribute tunes have earned high praise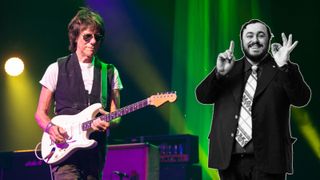 (Image credit: Lionel FLUSIN/Gamma-Rapho via Getty Images (Jeff Beck); Jack Mitchell/Getty Images (Luciano Pavarotti))
Jeff Beck was an avid interpreter throughout his 60-year recording career, from T-Bone Walker's "Stormy Monday" with the Nightshift in 1963 through the great blues songs the Yardbirds covered.
On his own recordings, he was apt to draw from the catalogs of Willie Dixon, Muddy Waters, B.B. King, the Shadows, Gene Vincent, Don Nix and Charles Mingus, as well as the Beatles, Stevie Wonder and Curtis Mayfield.
Among all those covers, however, two stand out in Beck's canon. In 1998, producer George Martin, who'd worked with Beck on 1975's seminal Blow by Blow and its 1976 follow-up, Wired, reached out to Beck to be part of his Beatles covers album In My Life.
Beck's choice, "A Day in the Life," the celebrated album-closing opus from Sergeant Pepper's Lonely Hearts Club Band, was nothing less than ballsy. The song quickly became a showpiece of Beck's live shows as well, amazing audiences through to his final tour during the fall of 2022.
"Jennifer Batten, when she was in my band, she said, 'Why don't we try that?'" Beck recalled. "She had an interface with a string sound, so we played it, and I thought, Oh God, they're gonna roast me alive, but they loved it, so we kept it in the set."
Beck's performance on In My Life was nominated for a Grammy Award for Best Pop Instrumental Performance at the following year's ceremony, while the rendition from his Live at Ronnie Scott's album won the Grammy for Best Rock Instrumental Performance in 2009.
Topping that in the cajones category, however, was Beck's decision to include "Nessun dorma," the famous tenor aria from Giacomo Puccini's Turandot – kind of the "Louie Louie" of the opera world – on 2010's Emotion & Commotion.
"It's quite a ludicrous choice," Beck admitted, explaining that he was inspired to take a crack after hearing it performed by one of manager Harvey Goldsmith's other clients: Luciano Pavarotti. "When I heard Pavarotti sing it, I thought, All this is is sophisticated blues," Beck recalled. "He bellows out those notes the way a blues singer would."
Playing the melody on guitar, Beck said, "enables me to do another form of emotional expression, really. No one's done it on guitar, as far as I know. It just somehow has a majestic feel, playing simple one-note melodies."
Beck added that keyboardist and orchestral arranger Pete Murray was "extremely helpful" as well. After the guitarist cut his part live – "there's one edit where the last note was fading out too fast, so we just extended that," Beck revealed – Murray built orchestrations around the performance. "Which is a painstaking operation," Beck said. "So it was true to what I did live."
Beck's ambition was rewarded with his seventh Grammy, also in Best Pop Instrumental Performance. It was one of two trophies he won in 2011; he also shared Best Pop Collaboration With Vocals honors for an all-star rendition of John Lennon's "Imagine" from Herbie Hancock's The Imagine Project.
All the latest guitar news, interviews, lessons, reviews, deals and more, direct to your inbox!