"I've Got a Hole in My Finger": Stevie Ray Vaughan on the Trials and Tribulations of Heavy Strings
Read this revealing GP interview and watch guitar tech ninja René Martinez in action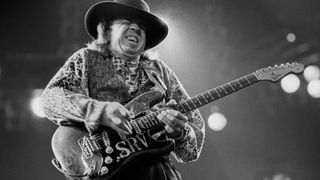 (Image credit: Clayton Call/Redferns)
René Martinez is a legend among guitar techs. With decades of experience under his belt he has worked with the likes of Prince, Carlos Santana and John Mayer.
However, Martinez is best known for his work with fellow Texan Stevie Ray Vaughan, whose skin he regularly saved – both literally and figuratively.
Check out this video clip of Martinez seamlessly swapping Stratocasters after SRV breaks a string during his performance of "Look At Little Sister" for an Austin City Limits special in 1989.
Like a true pro he stealthily swoops in, cleans up the situation and is gone in a flash.
SRV played hard – wrangling his Strat for all the tone it was worth. And part of his signature sound came from his use of hefty string gauges.
Tuning down a half-step and stringing his axe up with a set measuring .013, .015, .019 (plain), .028, .038 and .058 simply gave more tone. But it sure took a toll on his fingers.
"We played so many shows, he started tearing the skin off his fingers and they would bleed," recalled Martinez in an interview with Hittin'.
While SRV reluctantly agreed with Martinez that he should consider using lighter gauges, the ever-practical guitar tech had a solution that would patch things up in the interim: super-glue.
Watch this interview clip where the Texas Guitar Whiz details his use of DIY skin grafts…
While he was on the road with Jeff Beck in late 1989 during their co-headlining Fire Meets the Fury Tour, GP chatted with SRV about the blood, sweat and tears of using heavy strings.
The following interview extract originally appeared in the February 1990 issue of Guitar Player…
You're using pretty tough strings.
I'm using a lighter setup now because I've got a hole in my finger.
Because of the schedule we've had, Rene [Martinez] hasn't had the chance to dress the very edges of my frets, and I just found yesterday that at the points where I play a lot, my calluses were getting ripped off to where it stuck a hole in the finger.
Right now, I'm using a little bit lighter strings, just until I get my calluses back.
Then you're going back to an .013 E?
Yeah. I like the sound of them, I really do, even though it's painful to use them. I used to use a lot heavier. I used to use an .018.
On the E string?!
Yeah. In a way, it was insane, but I played a lot more simply, and what I chose to play was very to the point.
I got out of that, and into using smaller strings just looking for recognition, I guess, looking for flash. But using bigger strings and playing slower was my way of being able to be reserved.
Of course, I couldn't see playing as many gigs as we're doing now like that; I don't think my hands would hold up. They're not holding up right now.
What did you have on the bottom?
The biggest one I found so far was a .074. It's been years and years since I found them, and I just used them for a little bit, because they ate tuning heads, but it was great.
You'd hit an open E and it sounded like "Crosstown Traffic", that piano part. Those things are fun, and I like that sound, but then again I don't think there are many amps that can take that for very long.
Browse the Stevie Ray Vaughan catalog here.
All the latest guitar news, interviews, lessons, reviews, deals and more, direct to your inbox!