"I Wanted to Say It Loud and Clear": Alan Merrill on Writing "I Love Rock 'N' Roll"
The amazing story of Joan Jett's runaway hit.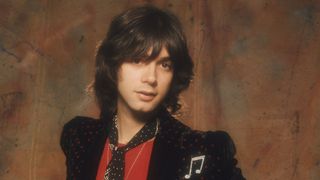 (Image credit: Michael Putland/Getty Images)
Joan Jett has so fully inhabited her 1981 signature hit, "I Love Rock 'N' Roll," that most people assume she wrote it. In fact, it was penned by Alan Merrill, a New Yorker who in 1974 moved to the U.K. where he found success with the glam act Arrows. Although the group scored a handful of hits, ironically "I Love Rock 'N' Roll" didn't even scrape the lower reaches of the U.K. charts and might have been forgotten forever had Jett not chosen to cut it.
Merrill told us the story behind the song's creation in 2016. Sadly, he passed away from Covid-19 in March 2020, making him one of the pandemic's earliest victims.
"Arrows needed a fourth single, and Mickie Most, our producer and owner of our label [Rak], suggested I try to come up with something, as our first three singles had been written for us," he explained. "He said, 'Think of a simple three-chord rocker with an anthemic sing-along chorus and a great riff.'"
From Jet Fare…
Merrill responded to Most's request with "Shake Me," a three-chord rocker in a vein similar to "I Love Rock 'N' Roll," but the producer rejected it (although it later became a hit for Rick Derringer, with whom Merrill performed in the 1980s).
"Mickie said that I was on the right lines, so I went away and came up with the chorus for 'I Love Rock 'N' Roll,'" Merrill explained. "The Stones had just released 'It's Only Rock 'n Roll,' which sounded a bit apologetic to me. I wanted to say it loud and clear. I wrote the riff, the guitar break and the verses that night. I played it for Mickie on an acoustic guitar and he told me that was exactly what he meant."
Although Merrill was the sole writer, Jake Hooker was given a co-writing credit in return for having paid Merrill's air fare from Tokyo to London in 1974. "I gave him half of the B-side royalties from Arrows' records, but I was the sole writer on all of the songs," Merrill said. "Given our level of indebtedness for recording expenses and retainers and whatever, I thought we'd never see any money, as it all went to paying off our debt."
Seat Upgrade
Initially, Most wanted "I Love Rock 'N' Roll" as the B-side to the Arrows cut "Broken Down Heart." Fate intervened when the producer's wife heard the single and said "I Love Rock 'N' Roll" was far too good to be a flipside. Most agreed, and he rushed the band back into the studio to record a more powerful version worthy of the A-side. In the studio, Merrill and Hooker handled the song's electric guitar work.
"Jake was a great rhythm player, but I came up with the riffs and ideas for lead breaks on Arrows' records," Merrill said. "I doubled his parts on 'I Love Rock 'N' Roll' and showed him what to play for the brief solo."
…To Jett Fare
Remarkably, the newly cut track sank without a trace upon its release. But one person who felt strongly about the song's potential was Jett, who saw the Arrows perform the song on their weekly self-titled U.K. TV series while she was touring England with the Runaways in 1976.
She first covered the song in 1979 with former Sex Pistols Steve Jones and Paul Cook, releasing it as the B-side to her single "You Don't Own Me." But it was her 1981 remake, cut with her band the Blackhearts, featuring Ricky Byrd on lead guitar, that became a number-one hit single.
"Jake used to say that it took him 15 minutes to write 'I Love Rock 'N' Roll,' which used to really annoy me," Merrill said. "The 15 minutes was how long it took me to teach him how to play it. But as I've gotten older I've taken a more philosophical approach to the whole thing. Life has its own way of working things out, and I guess if things hadn't panned out the way they did, Joan might never have heard the song, not had the hit, and I wouldn't have the life that I've got now. I think the song has earned about 50 million dollars to date in worldwide royalties. Considering that the plane ticket cost Jake a thousand bucks, he got a pretty good return."
Browse Alan Merrill's catalog here.
All the latest guitar news, interviews, lessons, reviews, deals and more, direct to your inbox!
Mark is a freelance writer with particular expertise in the fields of '70s glam, punk, rockabilly and classic '50s rock and roll. He sings and plays guitar in his own musical project, Star Studded Sham, which has been described as sounding like the hits of T. Rex and Slade as played by Johnny Thunders. He had several indie hits with his band, Private Sector and has worked with a host of UK punk luminaries. Mark also presents themed radio shows for Generating Steam Heat. He has just completed his first novel, The Bulletproof Truth, and is currently working on the sequel.