"I Can Say So Much More With My Guitar Than Lyrics": Miami Maestro Fernando Perdomo Explores the Art of Instrumentals
The fiery guitarist puts his versatility on display with the Carmine Appice collaborative album 'Energy Overload.'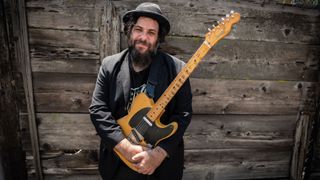 (Image credit: Marta Evry)
If your local deli is hosting a jam, you might consider going. In Fernando Perdomo's case, he'd just moved to L.A. from Miami and become a regular at the Kibbitz Room sessions at Canter's Deli. As he was channeling Neil Young one night during a spirited take on "Mr. Soul," Andrew Slater, director of the 2018 music documentary Echo in the Canyon, sat in the audience.
"He came up to me and asked me to play on the soundtrack," Perdomo says. "I'm on a track with Eric Clapton, two with Neil Young, and I got to be in the movie and play with Brian Wilson. Echo was a dream come true, and everybody in the backing band of that movie is actually a Kibbitz Room regular."
Perdomo is stylistically versatile, equally passionate about producing and playing, and a multi-instrumentalist and singer-songwriter. He counts Wings and Vanilla Fudge among his early influences, and recently got to co-produce Ram On: The 50th Anniversary Tribute to Paul & Linda McCartney's Ram with former Wings drummer Denny Seiwell.
Now he's joined forces with ex-Fudge drummer Carmine Appice on Energy Overload (Cleopatra Records), an instrumental album that shows off his fusion compositions, pop melody instincts and furious shredding on tracks like "Little Havana Big Havana," "Maybe I'm Amazed" and "Blown Speaker Boogie."
The two of you are on fire on the opening track, "Blown Speaker Boogie."
The opening riff was the first thing I played on a Cuvave Fuzz pedal I bought. It's also inspired by [Norman Greenbaum's 1969 hit] "Spirit in the Sky." Carmine got to do his famous shuffle rhythm, and it's a friggin' freight train. The main part of the song gets super modal and ascends in a cool Jeff Beck kind of way, while the ending is a fun jam that fades in and out.
"Rocket to the Sun" is equally intense. Is there a subtle reference to Ozzy Osbourne's "Shot in the Dark" in the intro?
I've always loved that riff, but my slide riff is a distant relative of it. When I got the drum track for "Rocket to the Sun," I loved its tribal nature. It made me play this modal groove with a pedal tone and the "Todd Rundgren chord," which is a bass substitution trick he does often.
That led to creating a track that gets more frantic as it goes along. I imagined a spaceship burning up. I've never taken a solo at a stadium with pyro going off behind me. I'm sure it feels something like jamming with Carmine. He's explosive.
What made you want to cover "Maybe I'm Amazed"?
It's my favorite song. Carmine, who has played it with Rod Stewart, loves it as well. I rate the solo as the greatest of all time, tied with Jason Falkner's "She Goes to Bed."
Who else is playing on the album?
Apart from Durga McBroom, who did gorgeous choir vocals on "Maybe I'm Amazed," and Derek Sherinian playing keys on the title track and "Pure Ecstasy," it's all me and Carmine.
How would you describe your guitar playing aesthetic?
I'm a vintage-minded guy who generally doesn't use the typical pentatonic scales to solo. I always go for melodic motifs and picking out "juice notes" in chord progressions. I also have very specific and off-the-wall guitar heroes that I truly thank for creating my vocabulary as a guitarist, like Todd Rundgren, Jason Falkner [Jellyfish, the Three O'Clock], Jon Brion, Peter Banks, Adam Zimmon [Ziggy Marley, Vida Blue], Peter Svensson [the Cardigans] and Steve Caton [Tori Amos].
You came up in Miami's Latin pop scene. What was that like?
Miami had a great '90s, which gave the world Marilyn Manson, the Mavericks and Matchbox 20. I barely missed that boom but cut my teeth in the same Miami clubs. However, I needed to make a living playing guitar, so I did Latin pop sessions, which led to working with Jennifer Lopez, [Mexican pop singer] Cristian Castro, [Mexican vocalist] Paulina Rubio and [Puerto Rican hip-hop artist] Tego Calderón. I played on three Platinum-selling records, and toured the world by 23. It was invaluable as experience and to build my resume, but that was all that I could achieve in Miami.
How do you use your knowledge of production in your guitar playing?
Records were my greatest teacher. I listened to learn how players craft their parts, and how the parts make the song better. As a result, I listen to what everyone is doing, and fashion my parts to complement them. I believe in making yourself shine by complementing, not by showing off.
What's your main rig?
My 1974 Fender Mustang, 1982 Fender Telecaster '52 Blackguard, Shabat Lion Telecaster, Sparxx Peter Banks Replica guitar, Yamaha SG500 and Guild S100 and Starfire.
My pedalboard has always included a Boss tuner, a wah – these days a Hotone Wah Volume – a Visual Sound Jekyll & Hyde or Mosky Golden Horse for dirt, a Boss TR-2 Tremolo, MXR Phase 90 and – my secret sauce delay – the Visual Sound Axle Grease Delay into a Boss Fender Spring Reverb.
I'm endorsed by Magnatone, and I use my Twilighter pretty much exclusively in the studio. It's so versatile for guitar and bass. But my real secret is my guitar cabinet, which is a Billy Gibbons-approved Legend Combo with a birch cabinet and 1x12 E-V speaker in my closet, and it's miked with a Cascade Fathead ribbon mic.
The combo of the Twilighter feeding that cabinet with the ribbon mic, and my Soundcraft 22 MTK console, is a winning tone that really comes alive on all the records I make. I also love Music Man amps, and I still have my first amp – a 1965 Ampeg Reverberocket that my dad bought me for $50 at a flea market. I use D'Addario strings and Pickworld heavy picks.
Where can people hear you as a singer-songwriter, band leader or band member?
I made a slew of singer-songwriter records, culminating in Zebra Crossing [2018]. Then I started making instrumental records with Out to Sea [2018]. That's where my composition world is right now, and I've just completed Out to Sea 4.
I can say so much more with my guitar than lyrics these days. I'm also in a new band called Nine Mile Station with violinist Scarlet Rivera [from Bob Dylan's Rolling Thunder Revue], and that has filled my singer-songwriter void. I write with Will Hawkins, the band's primary songwriter, and we have an EP coming out later this year. It was the final project mixed by [famed producer/engineer] Al Schmitt before he passed away.
I also play with an L.A. band called the Dirty Diamond that has been going strong for over a decade.
What inspired you to play music?
My high school music teacher, Doug Burris, who taught guitar and rock ensemble while quadriplegic with MS. He made me realize my potential, introduced me to so much music, and showed me the thrill of performing and recording. I would not be doing what I do if it wasn't for Doug and music in public schools.
Buy Energy Overload by the Carmine Appice & Fernando Perdomo Project here.
All the latest guitar news, interviews, lessons, reviews, deals and more, direct to your inbox!