The Ampeg Reverberocket is a Reverb-o-File's Dream
This classic amp was a new weapon in the war between jazz and rock.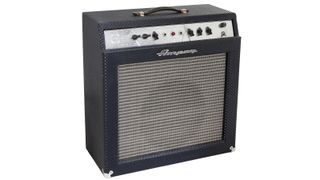 (Image credit: Heritage Auctions)
Too easily forgotten amid the ranks of classic electric guitar amps, Ampeg has a long and storied history, as well as a reputation for original design and quality construction. While many players point to Fender's amps of the mid '60s as displaying the epitome of the tube-driven spring reverb sound, any discussion of that tone will inevitably encounter the dissenter who declares, "Well, have you played an Ampeg Reverberocket?" If the answer is "no," you've missed out on what many reverb-o-files consider the lushest, most elegant sproing of them all.
In addition to the overall veracity of Ampeg's onboard reverb, the Reverberocket is also widely acknowledged as the first production amplifier from a major company to feature the effect. Ampeg debuted the Reverberocket at the summer NAMM show in July 1961, but had prototyped the circuit as an add-on to the existing Jet model the previous April.
The earliest schematics for the proper Reverberocket model date to May 1961, a full year and a half before Fender's first reverb-laden combo, the Vibroverb, hit the scene in early 1963. Fender quickly standardized both its reverb circuit and its core amp circuits (despite the several changes from tweed to brown-panel to black-panel amps).
Ampeg's designs, however, continued to evolve, sometimes dramatically, often resulting in amps that were radically different in sound and feel from their same-model predecessors of just a few months before.
To that point, consider the Reverberocket. The late-'61 and early '62 models featured an output stage common to most sub-20-watt amps of the era, generating around 15 watts from a pair of 6V6GTs with a 5Y3 rectifier, the same complement you'd see in the late-'50s tweed Fender Deluxe or early '60s Princeton.
The front end used a set of octal-based tubes of the types seen in even earlier tube amp designs from other makers, including a pair each of 6SL7s and 6SN7s.
In late '62 or early '63, however, Ampeg changed up the model entirely, issuing the Reverberocket 2 with 12AX7, 6U10 and 7199 preamp tubes, 7591 output tubes and solid-state rectification, along with a circuit that now included independent bass and treble controls, tremolo speed and intensity, and a single control for reverb depth, still labeled echo.
Why the dramatic revamp, and why so soon? It all comes down to a battle between the archetypal tones of jazz guitar and rock and roll.
The Ampeg Bassamp Company was founded in 1949 by jazz pianist and bassist Everette Hull, largely on the back of an effort to amplify bass guitars. To that end, Hull's original design was a pickup fitted to the peg on which a double-bass stands, an invention dubbed the Amplified Peg, which was then shortened to Ampeg.
As with any pickup, the Ampeg required an amplifier. As Hull's efforts proliferated among the jazz crowd through the '50s, his creations also caught the attention of many guitarists, and he hired engineer and designer Jess Oliver in 1956 to better fill growing demand.
Hull and Oliver released the early Reverberocket with the more common output stage, which allowed bitey, crunchy rock-and-roll breakup. As a result, the revolutionary reverb-equipped combo failed to fly with some jazz guitar cats.
The late Ken Fischer, builder of the famed and highly prized Trainwreck amps, was an engineer at Ampeg in the '60s, providing him with an informed perspective on the scene. "That R12-R Reverberocket that used 6V6 output tubes and all octals in the preamp, that was Everette Hull's one effort to make an amp that was a little more Fendery," Fischer told me during our chats for my book The Guitar Amp Handbook.
"You've got to keep in mind that Everett Hull hated rock and roll. He hated distortion, even when the blues guitar guys would play with distortion. Amps were not to be distorted. So those R12-Rs had blue Jensens in them, 6SN7 and 6SL7 octals, which are always nice, fat-sounding tubes. That amp would be a great indie-rock machine.
"Ampeg made it for a short while, and all the jazz guys were complaining: 'What's wrong with the new Reverberockets? They break up too early.' So Everette Hull converted them to 7591 [output tubes]. But if they had marketed them as a rock-and-roll amp, they probably would have been very successful."
Fischer's take on the short-lived 6V6-based Reverberocket has made this relatively rare beast a favorite of rock and indie guitarists who seek an alternative flavor in the 15-watt, 1x12 combo arena. That said, the Reverberocket 2 that followed, as featured here, is also a great-sounding amp when kept in good condition.
Its 7591s develop a little more power – likely something in the 20-watt range – and its diode rectification makes it slightly tighter and firmer, too, all of which helps to lend a slightly bolder, fuller voice to the famed Reverberocket.
Either rendition is a classic in its own right, and your choice between the two really depends which flavor of Ampeg-driven goodness you're after.
Essential Ingredients
20 watts from two 7591 output tubes
12AX7, 6U10 and 7199 preamp tubes
Controls for volume, bass, treble, speed, intensity, echo (reverb depth)
Navy check covering
Single 12-inch CTS speaker
All the latest guitar news, interviews, lessons, reviews, deals and more, direct to your inbox!
Dave Hunter is a writer and consulting editor for Guitar Player magazine. His prolific output as author includes Fender 75 Years, The Guitar Amp Handbook, The British Amp Invasion, Ultimate Star Guitars, Guitar Effects Pedals, The Guitar Pickup Handbook, The Fender Telecaster and several other titles. Hunter is a former editor of The Guitar Magazine (UK), and a contributor to Vintage Guitar, Premier Guitar, The Connoisseur and other publications. A contributing essayist to the United States Library of Congress National Recording Preservation Board's Permanent Archive, he lives in Kittery, ME, with his wife and their two children and fronts the bands A Different Engine and The Stereo Field.