Here's Why Buffalo Springfield's 'Again' Remains an Essential Listen
Jim Campilongo takes a trip down memory lane with this 1967 classic.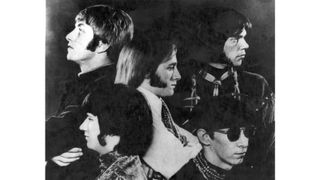 (Image credit: RB/Redferns)
Growing up, I was exposed to many great artists through the wall separating my bedroom from that of my two older sisters. Lucky for me, my siblings had great taste. "We" listened to Hendrix, the Incredible String Band, the Easy Rider soundtrack and the Beatles, to name a few. It was in this manner that I discovered Buffalo Springfield's Again.
Released in 1967 on Atco Records, it was the second of three Buffalo Springfield releases and, in my opinion, it's their finest record. Years later when, as an adult, I put Buffalo Springfield Again on my turntable, my appreciation was more mature, but the result was the same. Then and now, I love this LP.
With a lineup that featured Stephen Stills, Neil Young and Richie Furay on guitars and vocals, Bruce Palmer on bass and Dewey Martin on drums and vocals, Buffalo Springfield comprised a stylistically eclectic range of influences, yet their sound held together seamlessly while their vocals reigned supreme.
Buffalo Springfield Again almost reminds me of a Beatles record with its range of folk, country and psychedelia, all of which somehow coalesce under the banner of country rock, a genre the group helped to define in the late 1960s with albums like this one. In addition to the group's five members, Buffalo Springfield Again features a talented cast that includes James Burton on Dobro, co-producer Jack Nitzsche on piano and members of the Wrecking Crew. It's a tasty stew of talent.
The record kicks off with Young's "Mr. Soul." Young is the rare artist who can successfully cover a lot of ground, from extreme raw angst to an almost feminine melancholy. "Mr. Soul" is from his "Cinnamon Girl" songwriting template, a catchy rocker with great guitar hooks and an infectious melody.
It's followed by Furay's "A Child's Claim to Fame," which encompasses and predates the definitive California country sound we've come to know, with Burton's Dobro contributing playfully to the party.
"Everydays" is a Stills tune that finds the group playing its mutated version of jazz, but it's never naïve or overreaching. Stills has a knack for a great melody, and the drone notes, distorted electric guitar and harmonies make this track Buffalo Springfield's unique take on the genre.
"Expecting to Fly" is another Young composition, and it brings to my mind the Moody Blues' "Knights in White Satin," which was released a scant week before this album. "Bluebird" is another Stills tune with more absolutely great guitar tones, and one that sounds like it could have been on Crosby, Stills, Nash & Young's Déjà Vu.
My favorite track is "Hung Upside Down," and it's the song I usually play for the uninitiated. Harmony "woman tone" guitars invite us in, and the song takes hold, never letting you go. The melody is haunting, and the Young-and-Stills tandem kill it. The louder I play this song, the better it sounds.
"Sad Memory" is a Richie Furay original that could have been played in a lonely folk coffee shop. "Good Time Boy" is an Otis Redding-style track that shows Furay's versatility with a catchy R&B groove, while Young's "Broken Arrow" closes the record. As for this last cut, the band's ambition might have exceeded the end result. My personal grading for this erratic track might hover around a C-plus. That said, it's still a great record.
The story goes that when Stills suggested Young join CS&N, Graham Nash was against it. After Young himself suggested Nash listen to the Young-and-Stills guitar tandem, he had a change of heart. What I find interesting about this duo is that they don't play the traditional roles of any classic guitar team but instead seem to slip in and out of a deep conversation and often speak at the same time.
To me, Stills and Young are underrated for some things and possibly overrated for other things, but their rock-guitar duo thing is vastly underappreciated (see Déjà Vu's "Woodstock" below). They play together as totally generous narcissists who know each other completely.
I always mention Buffalo Springfield Again when discussing noteworthy pop with my pals. Many folks aren't aware of the record, or perhaps they simply forgot about it. Either way, I suggest spending some time with it, preferably in the same room as your speakers.
Get your copy of Again by Buffalo Springfield here.
Jim Campilongo has 14 critically acclaimed instrumental records available on vinyl, CD and digital download here.
All the latest guitar news, interviews, lessons, reviews, deals and more, direct to your inbox!
Jim Campilongo has 14 critically acclaimed instrumental records available on vinyl, CD and digital download here.