Five Reasons Why Ric Ocasek is a Guitar Legend
Here's why the Rock and Roll Hall of Famer will always be remembered.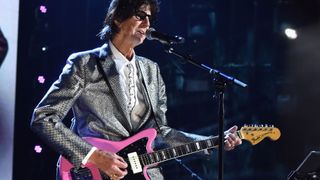 (Image credit: Kevin Mazur/Getty Images For The Rock and Roll Hall of Fame)
Ric Ocasek was the de facto leader of new wave pioneers The Cars and a prolific solo artist, while his work as a producer saw him teaming up with the likes of Weezer and No Doubt. Here are five reasons he will never be forgotten…
1. Eternal Cool
As the primary songwriter and singer for The Cars, electric guitar player Ric Ocasek defined the early years of new wave with his music, vocals and style of dress. Tall, gaunt, sporting a shock of jet-black hair, and often wearing black jackets and sunglasses, Ocasek recalled Roy Orbison for a less-romantic, technological age. His voice, pitched high like Orbison's, was tense and lined with apprehension, but there was lightness and even joy in his songs, all of it presented with a demeanor of eternal cool.
According to the official record, he was born Richard Theodore Ocasek on March 23, 1944, in Baltimore. Other reports put his birth year at 1949, which is supported by Ocasek's own recollection of falling in love with Buddy Holly and the Crickets' 1958 hit "That'll Be the Day" when he was 10. Whatever the case, his grandmother noted his affection for the song and bought him a guitar. When he was 16, his family moved to Cleveland, Ohio, and Ocasek began performing in his first bands.
2. Connection
A self-described "outcast" for much of his early life, Ocasek found he could connect to people through music. "It's a way to communicate without alienating people, a way to get beyond loneliness," he told Rolling Stone in 1980. "Just turn on a radio and there it is: a sense of belonging. Without having to surrender to anybody else's needs."
While in Cleveland, he met fellow guitarist Benjamin Orr. The two teamed up and eventually relocated to Boston, where they began performing with guitarist Elliot Easton and keyboardist Greg Hawkes. With former Modern Lovers drummer David Robinson onboard in late 1976, The Cars were born.
3. Songwriting
As The Cars' main songwriter, Ocasek was responsible for hits like "My Best Friend's Girl," "Just What I Needed" and "Good Times Roll," which appeared on the band's self-titled debut, produced by Roy Thomas Baker. The album reached number 12 on the Billboard 200 and remained on the chart for a stunning 139 weeks.
Ocasek's minimalist songwriting, classic rock and roll stylistic leanings and tension-filled vocals gave The Cars' music a distinctive edge and made him a leading figure of the new wave era. The band solidified its standing with its sophomore album, Candy-O, but it was Ocasek's songwriting for 1984's Heartbeat City – in particular the hits "You Might Think" and "Drive" – that made the group superstars in the new era of MTV.
4. Solo Artist & Producer
Following The Cars' breakup in 1988, Ocasek enjoyed a prolific, seven-album solo career. He also developed a reputation as a producer, overseeing Weezer's multi-Platinum Blue Album and Green Album releases and the group's 2014 long-player, Everything Will Be Alright in the End. His credits also included albums for No Doubt, Nada Surf, Bad Religion and Jonathan Richman.
5. Rock and Roll Hall of Fame
Following Orr's death from pancreatic cancer in 2000, The Cars reunited in 2010 for the Billboard number-two album Move Like This. In 2018, Ocasek and the band were inducted into the Rock and Roll Hall of Fame and performed four songs at the ceremony. It would be their last time together onstage. Ocasek suffered from cardiovascular disease and emphysema and was recovering from an unspecified surgery when he died on September 15, 2019, in his Manhattan home. His wife, former model Paulina Porizkova, said he passed away peacefully in his sleep.
All the latest guitar news, interviews, lessons, reviews, deals and more, direct to your inbox!
Guitar Player is the world's most comprehensive, trusted and insightful guitar publication for passionate guitarists and active musicians of all ages. Guitar Player magazine is published 13 times a year in print and digital formats. The magazine was established in 1967 and is the world's oldest guitar magazine.
When "Guitar Player Staff" is credited as the author, it's usually because more than one author on the team has created the story.