Learn 10 Easy Acoustic Guitar Classic Rock Songs Right Now
Have a go at these simple classic tunes.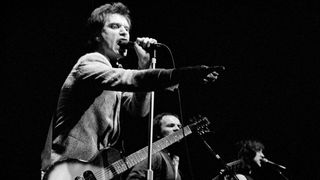 (Image credit: Getty/Jorgen Angel )
Although all of these classic songs may not have been originally recorded on acoustic guitar, they all are perfect for an acoustic jam.
These aren't ranked in any order; they're just 10 great songs that are super easy to play.
Even if you can't master the iconic riffs that are part of most of these tunes, they're all great to add to your strumming repertoire.
In some cases, the chord progressions might be simplified, but they'll still sound great, I promise.
So grab your guitar and check 'em out. And then check out our other 10 easy acoustic guitar song lists, too.
"The Joker" – Steve Miller Band
Are you a picker and grinner? I know I am!
That's why this laid back song is so relatable. And fun!
"The Joker" was released by the Steve Miller Band on their 1973 album, The Joker.
The song topped the U.S. Billboard Hot 100 in early 1974. And then topped the U.K. charts much later in September 1990 when it was featured in a Levi's commercial (gotta love those jeans!)
It's really just three chords. Easy, easy!!
Chords in this song: G...C...D
"Have You Ever Seen The Rain" – Creedence Clearwater Revival
CCR have a lot of great easy to play songs. Here's one of them.
It was written by John Fogerty and released by CCR as a single in 1971 from the album Pendulum, which came out in 1970.
It peaked at number 8 on the Billboard charts in 1971.
Check out these chords and then play it to your own groove. It'll stand up, I promise!
Chords in this song: C....G....Em....Am....F
"Take it Easy" – The Eagles
Seven women? Really? No wonder he needs to take it easy!
"Take It Easy" was written by Jackson Browne and Glenn Frey and most famously recorded by the Eagles, with Frey singing lead vocals.
It was the band's first single, released May 1, 1972. Can you believe it never made it to number 1? It peaked at number 12 on the July 22, 1972, Billboard Hot 100 chart.
The opening track on the band's debut album, Eagles, "Take It Easy" has become one of the Eagles' signature songs, and a theme song of that decade.
I still dig it. And yes, I DO need to take it easy…!
Chords in this song: G....D...C...Em...Am
"I Won't Back Down" – Tom Petty
Here's another first of the first! "I Won't Back Down" was the first single from Tom Petty's debut solo album, Full Moon Fever.
Released in 1989, the song was written by Petty and Jeff Lynne, his writing partner for the album.
It reached number 12 on the Billboard Hot 100 and topped the Album Rock Tracks chart for five weeks, starting the album's road to multi-Platinum status.
Gotta love the theme of this song. I'm gonna stand my ground. So go grab your guitar and try it!
Chords in this song: Em...D...G....C
"You Might Think" – The Cars
"You Might Think" is a single by the Cars from their fifth studio album, Heartbeat City, which came out in 1984.
The track was written by Ric Ocasek and produced by Mutt Lange and the Cars. Ocasek sang lead vocals.
It also hit number 1 on the Mainstream Rock Tracks chart in the U.S.
The song had a super-cool computer-generated video, and "You Might Think" won the first MTV Video Music Award for Video of the Year and was nominated for five more awards (best special effects, best art direction, viewer's choice, best concept video, and most experimental video) at the 1984 MTV Video Music Awards.
Check out the video below and give it a try for yourself.
Chords in this song: A...D...E...A...F#m...E
"House of the Rising Sun" - The Animals
This song is actually a traditional folk song.
It's best-known form is the 1964 recording by the English rock group the Animals, which was a Number One hit in the U.K., the U.S., Sweden, Finland and Canada.
However, it also was recorded by Bob Dylan, Pete Seeger, Joan Baez, Nina Simone and many more.
"House of the Rising Sun" was recorded in one take on May 18, 1964. One take!! That's how to do it.
Check out this easy repeating pattern.
Chords in this song: Am...C...D...F...E7
"Light My Fire" - The Doors
I admit it. I thought Jim Morrison was pretty darn hot back in the day. And this song sealed the deal.
The Doors recorded it in August 1966 and released it the first week of January 1967 on their debut album.
Released as an edited single June 1, 1967, it spent three weeks at number 1 on the Billboard Hot 100 chart in late July and one week on the Cash Box Top 100, nearly a year after its recording.
"Light My Fire" was performed live by the Doors on The Ed Sullivan Show broadcast September 17, 1967. The Doors were asked by producer Bob Precht, Sullivan's son-in-law, to change the line "girl, we couldn't get much higher," as the sponsors were uncomfortable with the possible reference to drug-taking. The band agreed to do so and did a rehearsal using the amended lyrics, "girl, we couldn't get much better." However, during the live performance, the band's lead singer Jim Morrison sang the original lyric. That's stickin' it to the man in true Morrison style.
Super easy. Now go!
Chords in this song: Am9...F#mG...A...D...E
"Wish You Were Here" - Pink Floyd
True story. At one point in my life I was in a Pink Floyd tribute band. So this list couldn't be complete without a selection by this band.
"Wish You Were Here" is the title track on Pink Floyd's 1975 album Wish You Were Here.. Its lyrics encompass Roger Waters' feelings of alienation from other people.
Like most of the album, it refers to former Pink Floyd member Syd Barrett and his breakdown. David Gilmour and Waters collaborated to write the music.
On June 14, 2013, the song was released as an unofficial promotional single on Spotify and when the fans streamed it one million times, the rest of the band's catalog was released, which happened after only four days.
The chord pattern repeats throughout the entire song.
Chords in this song: C...D...Am...G...D
"Lonely People" - America
America is one of my favorite classic bands of all time. I couldn't stop singing their songs in my younger days.
"Lonely People" is a song written by the husband-and-wife team of Dan and Catherine Peek and performed by America. The track was the second release from America's 1974 album, Holiday.
"Lonely People" reached number 5 on the Billboard Hot 100, Dan Peek's only credited song to reach that chart's top 10, and was America's second number one on the Easy Listening chart, where it stayed for one week in February 1975.
"Lonely People" was written as an optimistic response to the Beatles' "Eleanor Rigby."
So don't give up! Give it a try...
Chords in this song: G...Em...Bm...D....Am
"Lola" – The Kinks
When I was a kid, one of the neighbors called me "Lola," so this song has a special place in my heart.
"Lola" was written by Ray Davies and performed by the Kinks.
Released June 12, 1970, in the U.K. on the 28th in the U.S., the single was on the album Lola Versus Powerman and the Moneygoround, Part One. It reached number 2 on the U.K. charts and number 9 in the U.S.
Does pink champagne really taste like cherry cola? Who cares! Check out the easy chords for this classic:
Chords in this song: E...A...D
B7...F#7...A
All the latest guitar news, interviews, lessons, reviews, deals and more, direct to your inbox!