Five Reasons Jeff Healey Is a Guitar Legend
His superlative technique and lifelong commitment to music remains an inspiration.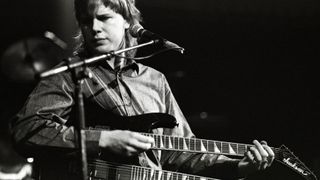 (Image credit: Rob Verhorst/Redfern)
A blues-rock guitar player of astonishing prowess, Jeff Healey impressed everyone who heard him ply elastic licks, fluid bends and emotive vibrato from his Squier Strat.
Here are five reasons he remains a guitar legend…
1. Matchless Technique
Born in Ontario, Canada, on March 25, 1966, Healey developed eye cancer before the age of one, requiring the removal of both eyes, which were replaced with ocular prostheses. At age three, he was given a guitar and shown how to place his hands on it, but Jeff preferred to play it in his lap, with both hands over the fretboard. He quickly developed on the instrument and by his early teens had formed his own rock quartet, Blue Direction.
2. Music Fanatic
Jeff's early musical passions included old-time jazz, and he became proficient on trumpet and clarinet. While still in his teens, he began hosting his own music show on CIUT-FM, where he spun discs from his ever-growing collection of 78 rpm jazz records.
Later, after achieving fame, he would host a similar program titled My Kinda Jazz on Jazz.FM91 in Toronto, and eventually amassed some 30,000 jazz records, including many rare sides.
3. Platinum Success
By age 17, he had formed the Jeff Healey Band and begun playing at Toronto clubs, where he was spotted by Stevie Ray Vaughan and Albert Collins. In 1988, Healey and his band signed to Arista Records and released their debut record, See the Light, which contained his number-five Billboard Hot 100 hit, "Angel Eyes." The disc went Platinum in the U.S. and made Healey a star.
4. Road House
During the making of See the Light, Healey and his band were cast in the Patrick Swayze movie Road House. The role gave Healey several scenes with Swayze and helped raise his profile further. He continued to fuel his success with albums like 1990's Hell to Pay, which included performances from Mark Knopfler, Jeff Lynne and George Harrison, whose song "While My Guitar Gently Weeps" was featured on the record.
5. Multi-Instrumentalist
Healey's later work became more jazz focused, and he went on to release three albums of traditional jazz music featuring himself on trumpet with his band Jeff Healey's Jazz Wizards. He opened the club Healey's in Toronto, where he performed with his blues band on Tuesday nights and his jazz group on Saturday afternoons.
Sadly, in 2005, he developed cancerous sarcomas in his legs, and in January 2007 underwent surgery to remove cancerous tissue from his lungs. Jeff Healey died on March 2, 2008, in Toronto at age 41, just nine days before the release of his final album, Mess of Blues.
Explore Jeff Healey's catalog here.
All the latest guitar news, interviews, lessons, reviews, deals and more, direct to your inbox!
Guitar Player is the world's most comprehensive, trusted and insightful guitar publication for passionate guitarists and active musicians of all ages. Guitar Player magazine is published 13 times a year in print and digital formats. The magazine was established in 1967 and is the world's oldest guitar magazine.
When "Guitar Player Staff" is credited as the author, it's usually because more than one author on the team has created the story.