High-Flying Mike Rutherford Loves Rock-Bottom Squier Bullet Stratocasters
Guitar Tech Steve Prior reveals why the Genesis and Mike and the Mechanics founder can't get enough of Fender's entry-level Strat.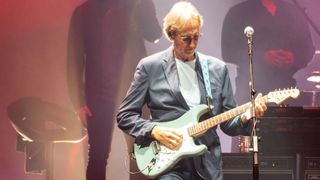 (Image credit: Roberto Ricciuti/Redferns)
Mike Rutherford – guitarist and founder of prog rock titans Genesis – loves a Squier Bullet Stratocaster it can be revealed. Favoring Fender's super-budget electric guitar over instruments multiple times the price the prog legend has recently taken to playing these bargain basement models live in front of thousands of fans.
So how has this entry-level Strat managed to convert a seasoned pro like Rutherford? After all, he could play virtually any Stratocaster he wanted.
GP spoke to his Guitar Tech Steve Prior in order to find out.
"The Squier Bullet Stratocaster is his favorite at the moment, it really is," says Prior who currently happens to be out on the road with Queen's Roger Taylor following the postponement of Genesis The Last Domino? tour dates due to Covid-19. "And I've just bought him a couple of others which I've found rather cheaply in the clearance section at Guitar Guitar in Newcastle [England]. They were only about 100 quid each! I mean they're unbelievably good guitars for the money."
"His favorite one is an unusual color; it's a limited-edition finish called Sonic Grey," Prior tells us. "Squier Bullet Strats in this finish were imported into South Africa from Indonesia. Mike bought the guitar in a shop in Cape Town because he forgot to take his black Clapton Strat with him on a visit. He actually bought two (the other Bullet Strat is Arctic White.)
"Sitting at home in Cape Town plugged into his Blackstar 3-watt amp, Mike just fell in love with it playing along to his laptop and relearning all the Genesis songs. That was him for almost all of the first lockdown because he wasn't allowed out of Cape Town. He was stuck there. But he came back saying how much he loved this guitar."
The Sonic Grey Squier Bullet Stratocaster features a polyurethane-finished poplar body and 25.5 inch scale 'C'-profile maple neck with a 9.5 inch radius, 21-fret Laurel fingerboard. Three Standard Single-Coil Strat pickups along with a 6-Saddle Vintage-Style Synchronized Tremolo means the guitar stays close to Fender's original 1954 design.
"It's super lightweight; it feels like balsawood," highlights Prior. "But I have changed the bridge/saddles and put Gotoh tuners on just to make it more reliable for the tour. Mike loves the sound of the pickups, although on a couple of these guitars I have put Fender Noiseless bridge pickups in, just in case we get any interaction with the stage's enormous 70 feet LCD screen."
While Fender's Squier Bullet Stratocasters are cheerfully functional instruments, pro players may want to upgrade and mod the guitars to bring them up to spec. Indeed, they serve as ideal testbeds for tinkering.
"If you want to put Gotoh tuners on you've got to enlarge the peghead holes," advises Prior. "I also recut the nut and dressed the frets. I would maybe recommend upgrading the electronics to Switchcraft and CTS too. It's about fine-tuning the guitar really.
"Mike has got so many other wonderful Strats, but he also loves using these Indonesian-made Squier Bullet Stratocasters. He can't put the Sonic Grey one down. It's the first guitar he wants to play every day and he uses it for some big songs in the Genesis set including "No Son of Mine" and "Mama."
"I asked him if he'd like me to take the Squier decal off the headstock but he said he wanted it stay. Fender are probably over the moon about that!"
Stay in touch with current goings on in the Genesis camp here.
All the latest guitar news, interviews, lessons, reviews, deals and more, direct to your inbox!
Rod Brakes is a music journalist with an expertise in guitars. Having spent many years at the coalface as a guitar dealer and tech, Rod's more recent work as a writer covering artists, industry pros and gear includes contributions for leading publications and websites such as Guitarist, Total Guitar, Guitar World, Guitar Player and MusicRadar in addition to specialist music books, blogs and social media. He is also a lifelong musician.