Five Cutting-Edge Guitarists You Need to Know About
Here's how Sarah Lipstate, Lari Basilio, Jakub Zytecki, Jason Richardson and Plini are taking the instrument forward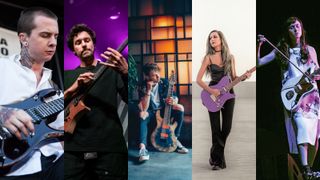 (Image credit: CHELSEA LAUREN/WIREIMAGE/GETTY IMAGES (Richardson); MIIKKA SKAFFARI/FILMMAGIC/GETTY IMAGES (Plini); KAJA SOSNOWSKA (Zytecki); EDUARDO ORELHA (Basilio); JIM DYSON/GETTY IMAGES (Lipstate))
The guitar scene has always been moving forward. But in the age of the internet, today's pioneering players are more visible than ever.
Retaining elements of the past and building upon the legacies of yesteryear's guitar greats, these musicians are combining technology, skill and imagination to produce a wealth of jaw-dropping music.
And while the mainsteam music world doesn't always pick up on the best of them, we would like to highlight some of the greatest on our radar right now.
These five players are experimenting across multiple genres to create new styles and sounds, from Lynchian dream worlds and spaced-out electronica to face-melting prog metal and beyond…
1. Sarah Lipstate
This Los Angeles-based guitarist and filmmaker trades under the name Noveller. It's a solo project that casts Lipstate as a world builder, as she leans into the creative potential of a well-stocked pedalboard to create atmospheres so vivid and real, you can envision alien flora and fauna populating the landscape.
It was no surprise but still a great delight to see her performing tracks from Angelo Badalamenti's Twin Peaks score for solo guitar. Her sound is complementary to Lynchian dream worlds.
That this dreamweaver of six-string atmospheres has collaborated with all-action artists such as Iggy Pop and defunct Brooklyn noise-rock act Parts & Labor makes her all the more of an enigma.
Lipstate's guitar choices include Fender offsets, an Ed O'Brien Stratocaster, a late-'70s Gibson Marauder, Les Pauls, and of course her signature BilT with onboard fuzz that she used when playing with Pop.
2. Lari Basilio
Look online and you'll find no shortage of adept electric guitar players, but few possess an emotional feel with the instrument quite like Lari Basilio. While her music is mostly instrumental – which often presents an arrangement challenge to many guitarists – Basilio uses an absence of vocals to allow her Ibanez LB1-VL to really sing.
Highlights of the guitarist's recent catalog include a breathtaking rendition of Derek and the Dominos' "Layla," with fellow guitarist Martin Miller, on which she painstakingly re-creates the blues classic's iconic pentatonic lead lines with killer precision, showcasing her soulful lead playing.
Recently, Basilio made a foray into the world of seven-string guitars, a move perhaps unexpected for her playing style. On "Alive and Living," the second track from her latest full-length, Your Love, she leans on the lower registers offered by an Ibanez Prestige AZ24047, illustrating how her versatility with the instrumental is virtually boundless.
3. Jakub Zytecki
A Polish frontiersman of guitar technique and texture, Jakub Zytecki approaches electronic music with the virtuosic iconoclasm of a shredder who knows there's always something interesting over the horizon.
"I've been fascinated with music as long as I can remember," he writes on his website, jakubzytecki.co. "I started with recording 8-bit tunes from my old NES gaming console on a tape recorder. At the age of 12, I got my first electric guitar and I quickly forgot that anything in the world beside that instrument actually existed."
Check out something like his 2019 album, Nothing Lasts, Nothing's Lost, or his latest single, "Heart," and you are confronted with a player who makes the guitar sound familiar, yet alien. With clean tones gently manipulated by effects, he'll deliver something melodically and technically audacious over relaxed, spaced-out and blissed-out dream-pop beats.
Zytecki's sound is at once ambient and immediate, his strings freestyling in a hyper-composed world of electronica.
4. Jason Richardson
Face-melting shred guitar has been done in the world of metal for years, but All That Remains' Jason Richardson continues to thrust the long-established discipline in new directions, sometimes to the detriment of his health.
"Tendinitis," the lead track from II, Richardson's latest solo album, is so named as the guitarist has suffered the condition twice in both arms. That was partly due to "working out six days a week, playing video games, constantly using my phone," he told Guitar World in a recent interview.
But it was mostly in pursuit of advancing his already-out-of-this-world guitar chops. Other highlights from II include the epic eight-minute "p00mbachu," and "Polyrhythmic Pug," a proggy homage to Richardson's late pet pug, who liked to drink his water in odd time signatures.
5. Plini
Everyone Surely Knows by now what Plini Roessler-Holgate is all about, especially after Steve Vai declared him the future of guitar.
But if you're one of perhaps a few who are just catching up, behold a player who might just change how you think of guitar in terms of rhythm, phrasing and style – and the design of the instrument, too, for Plini's headless Strandberg Boden Prog NX 6 is the ur–21st century electric guitar.
Over two solo albums – 2016's Handmade Cities and 2022's Impulse Voices – and a scattering of extended-play releases, Plini has positioned himself as the quintessential modern progressive guitar player.
His sound is guitar music as fantasia, referencing the melodic audacity and musical grammar of videogame soundtracks as though to warn the audience that all reality is virtual, and you just have to surrender to that fact.
All the latest guitar news, interviews, lessons, reviews, deals and more, direct to your inbox!
Guitar Player is the world's most comprehensive, trusted and insightful guitar publication for passionate guitarists and active musicians of all ages. Guitar Player magazine is published 13 times a year in print and digital formats. The magazine was established in 1967 and is the world's oldest guitar magazine.
When "Guitar Player Staff" is credited as the author, it's usually because more than one author on the team has created the story.