A super-classy take on the future-forward electric, Jason Richardson's signature six-string Cutlass is a pro-quality option for those looking to apply a little luxury and refinement to their shred game.
Pros
+

A great-playing and fabulous-looking guitar.

+

Wonderful vibrato unit.

+

Excellent tonal range.
Cons
-

Nut corners are a bit sharp.

-

Expensive.
You can trust Guitar Player. Our expert reviewers spend hours testing and comparing guitar products so you can choose the best for you. Find out more about how we test.
First introduced in the 1970s, the Cutlass has stood the test of time as one of Music Man's preeminent rock guitars. This latest Cutlass is designed in collaboration with Jason Richardson (Chelsea Grin, All That Remains) and is a six-string version of the Cutlass HH seven-string we reviewed in our October 2019 issue.
The super-sleek guitar on deck here features an alder body with a buckeye-burl top and a roasted-maple neck wearing a hand-rubbed oil-and-wax finish and topped with a 25.5-inch-scale ebony fingerboard.
The neck's ultra-slim profile and flat 15-inch radius make for a playing surface that's as fast as an F-16, and the 24 stainless-steel frets – with their perfectly shaped crowns, mirror polish, and rounded tips – add to the supersonic feel.
There's simply nothing to impede your hand here (although the corners of the nut are a little sharp), and ripping to the fretboard's upper reaches is facilitated by the deep cutaway and rounded heel. The neck attaches very solidly with five bolts, and the truss-rod adjustment wheel is right at the end of the neck, making it easy to tweak the neck relief as needed.
The Cutlass's double-cutaway body is a work of art with its awesome Rorschach Red sunburst finish (also available in Natural Buckeye Burl) that fades to black around the edges and meets a binding strip of figured maple as it curves over to the red-finished contoured back.
Gold hardware further dresses things up and includes tuners, control knobs, strap buttons, and the recessed Music Man Custom Tremolo floating bridge.
This well-crafted piece of machinery rides on two fulcrum points and features bent-steel saddles and a push-in bar. The strings top load through the back of the curved housing (itself a comfy place to lay your hand), and with three springs attached to the inertia block, the trem feels glass smooth and stays reliably in tune.
Kudos to the locking Schaller tuners, straight string pull, and slippery Melamine nut, all of which contribute to the stability of the system.
Our review Cutlass played beautifully, and its factory setup provided low action and tuneful intonation in all positions.
The moisture-free woods and solid hardware give the Cutlass a lively and sustaining acoustic tone, and when amped up it delivered impressive sounds, whether played relatively clean through a Fender Deluxe Reverb or with heavy overdrive via a Mesa/Boogie Rectifier Badlander head through its onboard speaker IRs and a Celestion-loaded cabinet, as well as with a selection of overdrive pedals.
The direct-mounted Music Man humbuckers feed a master-volume control with a push-push 20dB volume boost, a master tone with push-push coil split, and a three-way toggle switch. There's very little free wiring inside the control cavity, since most of the components are arranged on a PCB.
One internal trim pot adjusts the boost gain, and another adjusts the Silent Circuit gain for maximum effectiveness. Music Man doesn't recommend altering it from the stock setting, nor was it necessary, as the Silent Circuit nukes noise very effectively.
Image 1 of 3
The pickups sound crisp and well-defined, and their balance of bite, midrange complexity, and bottom-end girth is perfect. The neck pickup transitions smoothly from rhythm to lead as gain is increased (either from an amp or pedal), and it doesn't get mushy or lose its touch responsiveness when the tone control is rolled down.
The bridge 'bucker is bright and ballsy, and it stayed well focused when using high levels of grind. The unboosted output is on par with a PAF, so you can drive an amp fairly hard and go right back to a clean sound by rolling down the volume. These pickups also have a twangier sound when they're on together, which is useful when something besides a crushing rock or metal tone is needed.
In split-coil mode, the Cutlass does a good Strat impersonation, especially on the chimey middle setting, which sounds great for blues, R&B, and funk. The neck and bridge settings also benefit from the onboard boost when you want to hit the amp with a hotter signal to grind up a rhythm part or push a solo above the mix.
It all underscores the versatility of the Jason Richardson Signature Cutlass HH, which has a lot to offer those who want a slick-playing guitar with a ton of personality and tonal power. It's expensive for sure, but you've got to hand it to Music Man for pulling out the stops to make the Cutlass HH a top gun in its class.
Specifications
PRICE: $3,499 street, hardshell case included
NUT WIDTH: 1.692", black Melamine
NECK: Roasted figured maple with 5-screw bolt-on joint
FRETBOARD: Ebony, 25.5" scale, 15" radius. White dot position markers
FRETS: 24 stainless-steel
TUNERS: Schaller M6-IND locking
BODY: Alder with buckeye-burl top
BRIDGE: Music Man Custom Floating Tremolo
PICKUPS: Two Music Man Custom Humbuckers
CONTROLS: Master volume with push/push gain boost, master tone with push/push coil-tap, 3-way toggle switch
EXTRAS: Active boost circuit with 20dB gain. Silent Circuit eliminates hum. 500 hours of 9-volt battery life
FACTORY STRINGS: Ernie Ball Slinky, .010–.046
WEIGHT: 7.3 lbs (as tested)
BUILT: USA
CONTACT: Ernie Ball Music Man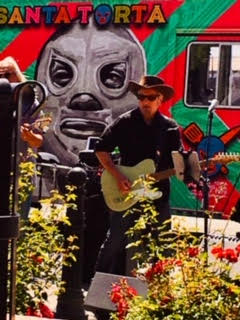 Art Thompson is Senior Editor of Guitar Player magazine. He has authored stories with numerous guitar greats including B.B. King, Prince and Scotty Moore and interviewed gear innovators such as Paul Reed Smith, Randall Smith and Gary Kramer. He also wrote the first book on vintage effects pedals, Stompbox. Art's busy performance schedule with three stylistically diverse groups provides ample opportunity to test-drive new guitars, amps and effects, many of which are featured in the pages of GP.