The Badlander updates the Rectifier series into the 21st century with CabClone IR tech and a huge array of incredible tones. Yes, it'll breathe fire, but there is gold to be found in the cleans and through break-up into overdrive.
Pros
+

Awesome tonal range and dynamic sensitivity.

+

Well-conceived features.

+

Built-in CabClone IR with Mesa speaker cab sims.
You can trust Guitar Player. Our expert reviewers spend hours testing and comparing guitar products so you can choose the best for you. Find out more about how we test.
Born from a long line of high-gain Rectifier amplifiers that dropped on the heavy-rock scene in the '90s – and rapidly evolved from the Dual and Triple Rectifiers to the Road King, Roadster, Mini-Rectifier, and Recto-Verb 25 – Mesa/Boogie's new Badlander is its most sophisticated Rectifier yet.
It boasts all-new preamp and power sections that have been designed to do several things: Stay tight on the bottom end and sweet and singing on top, deliver exceptional dynamic and touch sensitivity, and allow the character of the guitar and the player to come through, no matter how the gain is set.
The 100-watt Badlander on review here starts out with five 12AX7s and a quartet of EL34s (or a pair in the 50-watt model), and can be quickly rebiased for 6L6s via a switch on the back. Channels 1 and 2 are selectable with a front-panel switch or the included single-button foot switch.
Both channels have what Mesa calls 3 Mode Channel Cloning, which provides independent switching of the Clean, Crunch, and Crush modes – which each provide different gain/voicing options – along with independent gain, treble, mid, bass, presence, and master controls.
A front-panel switch selects 100-watt, 50-watt, or 20-watt operation (all operate in class A/B, with the 20-watt position rewired to Triode operation), and there's a tube-buffered series effects loop as well as a trio of speaker jacks: two four-ohm and one eight-ohm.
The Badlander has a cool and stealthy look, with black diamond plate and silver piping on the upper front panel, black Taurus vinyl covering, and leather corner protectors. The head weighs 36 pounds and is easy to carry with its thick stitched-leather handle. If a more traditional look is desired, optional covering and grille treatments are available, several at no additional cost.
Beyond its circuit tweaks, the Badlander is also the first Mesa to offer the CabClone IR, a built-in cabinet simulator and reactive load that comes packed with eight Mesa "live" (i.e. dynamic- and ribbon-miked) cabinet IRs. The CabClone IR itself has a level control, a balanced XLR direct out, and a 1/4-inch headphone out (both adjustable for volume with the IR level control) and a ground-lift switch.
There are also two eight-position rotary switches (one for each channel) that independently select the following IRs:
Preset 1 4x12 Rectifier Standard (closed back)
Preset 2 4x12 Rectifier Traditional (closed back)
Preset 3 2x12 Rectifier Horizontal (closed back)
Preset 4 1x12 Rectifier (closed back)
Preset 5 1x12 Thiele (closed back, front ported)
Preset 6 2x12 Lone Star (open back)
Preset 7 2x12 Lone Star 23 (open back)
Preset 8 1x12 California Tweed 23 (open back)
I started by auditioning these presets using a Gibson Historic '59 Les Paul, a '63 Les Paul Junior with a single P-90, and a Fender 70th Anniversary Esquire, and listening through studio monitors, headphones, and a small P.A. system.
These Mesa cabinets provide a range of tones: from the thumping and very upfront, focused tones of the Recto closed-back 4x12, 2x12, and 1x12 IRs to the more open, reflective sounds of the open-back Lone Star and California Tweed selections.
Different cabs can be dialed up for each channel, and it's interesting to try out various IR combinations to see how they affect the textures of the clean and dirty sounds. And since the Badlander's speaker outputs remain active, you can also combine real cabinets with the IRs to get that cool layering effect of playing though different types of speakers and cabs.
In general, the open-back California Tweed and Lone Star IR selections were very cool for clean playing, with plenty of latitude depending on your definition of "clean," since that can also mean "very gritty" if you're the type who likes to navigate the guitar's volume control for rhythm and lead.
The denser 1x12 and 2x12 Rectifier selections sounded great, too, especially when running Channel 1 moderately distorted and Channel 2 a few notches higher in gain.
And with three preamp modes per channel – each one capable of adding more grind as you travel from Clean to Crunch to Crush – the possibilities for foot switching between exactly the right rhythm and lead tones for the style of music you're playing are practically endless.
The Standard and Traditional 4x12 Rectifier IRs are the bomb for heavy and smoking lead tones in general, as they combine that low-end kick, with splintering midrange presence and high-end bite to spare.
Mesa miked the cabs for a live response and feel, and they sound natural and very alive, like you're actually experiencing them in the room. The front-ported Thiele 1x12 setting even has a hi-fi response that could work for acoustic guitars.
Nothing is out of the question in the IR world, and since the CabClone IR is an open system that provides third-party compatibility via the USB connection, you can use any IRs of your choice (space is provided for storing IRs beyond the eight factory-loaded presets). Just note that managing the IR file directory requires a USB-to-computer connection and a USB 2.0 A-to-B cable, which is not included.
Digital gymnastics aside, the Badlander is a tube amplifier that's pure old-school and designed to be used with Mesa's matching 2x12 and 4x12 cabinets or anything else you choose.
Since our high-power review model can be dialed down to 50 or 20 watts, I was able to safely use a variety of cabinets loaded with Celestion G12M Greenback, Vintage 30, and Heritage G12-65 speakers.
As Mesa notes, "The Variac position on the power switch provides even more ways to sag and showcase harmonically with its reduced voltage response that affects the entire character of the amp. It really shines in the clean to classic-rock gain ranges, although players into heavier sounds will likely want to stick with the normal setting for the tightest tracking low-end and aggressive attack."
The Badlander's flexibility is outstanding, and the range of tones it can deliver at all levels of gain is amazing. But this amp really stands out in the clarity and definition of the sound.
It's as if a clean signal is always being blended in, so that nothing ever sounds obscured or masked, and the personalities of my test guitars came though beautifully even when running massive amounts of gain generated by the Crunch and Crush modes on Channels 1 or 2.
The Badlander makes it so easy to get just the right amount of distortion and sustain needed for soloing, while also maintaining a springy dynamic feel that is super reactive to picking dynamics and doesn't feel compressed or spongy.
Switched to the Clean mode on either channel, the Badlander delivers very crisp and detailed sounds with crystalline clarity at any volume level – and yet this wide-ranging mode can still crank out a surprising amount of distortion when you turn it up.
Depending on the mode you select and how the gain and EQ knobs are set, the Badlander can cover everything from sparkling-clear rhythm tones to fiery blues, and from modern country-rock to muscular hard-rock and metal.
Between its master-volume controls and power-reduction features, the Badlander is as suitable for the big stage as it is for a gig at the local brewery. Turn it up to where the EL34s are flexing their muscles and you'll be where this amp lives in all its furiously loud glory.
Yet, the Badlander also retains its rich harmonic complexity, ferocious attack, and great dynamic feel and touch sensitivity even when the volume is dialed way back.
With its awesome tonal range and the convenience of the CabClone IR's cabinet selections, the Badlander is an amp for the times. It's well equipped for recording and for live performance, whenever and however that manifests. An easy winner of an Editors' Pick Award, the Badlander is, in a word, badass.
Specifications
PRICES: $2,299 street, 100-watt head or rackmount head. $1,999 street, 50-watt head or rackmount head. $2,199 street, 50-watt 1x12 combo
CHANNELS: 2
CONTROLS: Both channels: Gain, treble, mid, bass, presence, master. Clean/Crunch/Crush switch. Channel-select switch (middle position for foot switch). 100w/50w/20w switch. Power switch (Bold/Variac), standby switch. Input and foot switch jacks. Rear panel: Cab select rotary switches (channels 1 and 2), USB, IR level (also controls headphone volume), headphone jack (1/4"), XLR direct out, ground/lift switch
POWER: 100 watts, 50 watts, 20 watts
TUBES: Five 12AX7 preamp tubes, four EL34 output tubes
EXTRAS: CabClone IR with selectable cabs. Bias switch (EL34/6L6), buffered tube-driven FX loop, 4Ω (x2) and 8Ω speaker jacks. Single-button foot switch included Aluminum chassis
WEIGHT: 36 lbs
BUILT: USA
CONTACT: Mesa/Boogie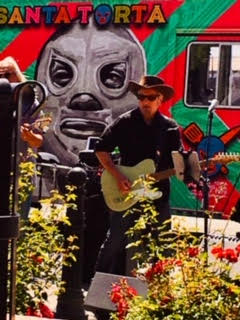 Art Thompson is Senior Editor of Guitar Player magazine. He has authored stories with numerous guitar greats including B.B. King, Prince and Scotty Moore and interviewed gear innovators such as Paul Reed Smith, Randall Smith and Gary Kramer. He also wrote the first book on vintage effects pedals, Stompbox. Art's busy performance schedule with three stylistically diverse groups provides ample opportunity to test-drive new guitars, amps and effects, many of which are featured in the pages of GP.