Guitar Virtuoso Lari Basilio Talks Technique, Passion, and Guest-Star Appearances
The versatile Brazilian instrumentalist discusses her most recent album 'Far More' featuring Joe Satriani and Vinnie Colaiuta.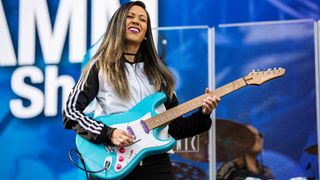 (Image credit: Daniel Knighton/Getty Image)
Brazilian instrumentalist Lari Basilio is everywhere lately. If you haven't caught one of her scorching live performances, just search YouTube and you'll find clips of her jamming with Steve Vai or Kiko Loureiro, and playing blues festivals with Keb' Mo', to name just a few of her latest appearances. A big part of the buzz is her signature style. Basilio is one of those special players who combines outstanding technical ability with a whole lot of feel.
Originally from São Paulo and now based in Los Angeles, Basilio made a name for herself with two well-received instrumental recordings, live shows and instructional videos/clinics, including opening spots on clinics by Paul Gilbert and Andy Timmons. In 2019, she reached the summit of all guitar camps as an instructor at the G4 Experience.
For her latest album, 2019's Far More, Basilio gathered an A-list band that includes drummer Vinnie Colaiuta, bassist Nathan East and keyboardist Greg Phillinganes. Even her G4 pal Joe Satriani shows up on a guest track. The album is entirely instrumental except for a guitar-rich cover of Michael Jackson's "Man in the Mirror" that features vocals by the song's co-writer, Siedah Garrett.
Basilio's musical versatility shows in her studio guitars, which include her go-to Suhrs as well as Gibson Les Pauls, Fender Strats and Telecasters, and a 12-string Danelectro, among others. "The guitar I choose all depends on the style of the song and the tone I want," Basilio says. "I play whatever best serves the song."
Did you first gravitate toward electric or acoustic guitar?
The acoustic guitar. When I was about eight years old, my dad taught me a few chords on an acoustic. The electric guitar aroused my interest, but it wasn't until years later that I had my first contact with it, and I absolutely fell in love with it.
Who are your main guitar influences?
I have so many, and they play in many different styles, but Andy Timmons is probably the guitar player that I have listened to the most in my life. I just love everything about his playing, and it's very inspiring. He is a huge influence, and I've had the opportunity to tell him that.
How did you end up focusing on instrumental music?
I wanted to be able to speak for myself with my instrument, and instrumental music was the key. At the same time, I discovered my passion for writing. From the very beginning, I found that I'd rather write my own little piece of music than learn to play other people's songs. Once I started, I never stopped.
As an instrumentalist, what's your mindset when composing?
When I'm writing, I don't only write the guitar parts; I think about the song as a whole, and every instrument plays a very important role in the song. Although I play the guitar, my music is not only about the guitar, and I hope people can understand and absorb that idea while listening to my new songs.
Far More shows your versatility as a guitarist and composer. What did you bring to the table this time?
People can expect the same versatility in styles but with a different level of maturity. This is my third instrumental record. The first [the EP Lari Basilio] was released in 2012, and the other [the CD/DVD The Sound of My Room] was released in 2015. I feel this new album expresses my evolution over the past years. There are two rock songs on the album. The others are varied and include pop, groove, ballads and acoustic stuff. And for the first time l included a track with vocals.
Right, Michael Jackson's "Man in the Mirror." What led you to cover it?
First of all, I'm a Michael Jackson fan, and I believe we all first heard this beautiful song through him. Secondly, in my opinion, the lyrics of the song are some of the most beautiful ever written. Siedah Garrett originally wrote it with Glen Ballard. In my version, the structure is basically the same, but the arrangement I created is totally different. I wanted to bring a bit of my musical character and taste to it. I wrote a guitar riff for the intro, changed chords, added some guitar solos, but I still tried to make everything sound like pop. This song is a classic, and a great responsibility comes with remaking something like that, but I liked the challenge.
Your guitar tone on "Violet" helps give it an edgier vibe than the other songs. What pedal are you using on that one?
It's a very rock and roll song. On "Violet" there's a pre-chorus where I used the MXR Phase 95, along with a high-gain tone from the amp, and I just love that combination. That effect brought a very special dynamic to the song.
And then you close with "Sempre Comigo," which is an acoustic track.
"Sempre Comigo" is Portuguese. It means "always with me." For that one I used a Maton MicFix [Michael Fix signature model] guitar.
You've enlisted a great lineup for this album. Did you rehearse the band, and did you chart out the songs?
I wrote all of the songs and arrangements. We didn't rehearse, but I did create demos and charts for each song. We went into Capitol Studios in L.A. on a beautiful sunny Sunday in October [2018] and recorded. Although I created the main idea for each song, I made sure the musicians felt free to include any new ideas, as well as their interpretations. They read the charts and listened to the demo right before we started tracking. And they nailed it! They are living legends, and their talent made everything happen in a very special way, taking my music to the next level.
Joe Satriani plays on "Glimpse of Light." Did you two trade off solos?
We divided them up, but there are a few parts on the song that we played together. I just love how he brought his identity to the song. His approach is so unique and distinct.
You have a distinctive guitar tone as well. What's your approach to tone?
Thank you. I was able to achieve my tone by using only amps for some of the songs, and for others I added pedals to give a different texture. In general, I keep the signal chain for my tone very simple.
Can you offer any insights to your versatile picking technique?
I gravitate a lot between picking and fingerpicking. For some songs I just use one of them, but on other songs I play both, and I like to switch a lot between the two techniques within the same song. All of the songs on my new album have this mix of picking styles, and I love how it brought different textures and dynamics to each song.
Instrumental albums seem to be reaching a more mainstream audience. I'm thinking of recent solo works by Donna Grantis and Nita Strauss. What's your feeling about that?
Compared to my home country, Brazil, the U.S. already has a much bigger instrumental scene, but I also feel that it keeps growing, and it's great to see a lot of people listening to this type of music more and more.
What do you love about creating music?
I love to have something to say to people in the form of music. Even without words, I feel that I have a lot to say through my guitar, and there is something bigger than me that moves me to do so. I believe that music is a gift from God, and I'm grateful that he put this passion inside of me so I can reach out to people through music.
Visit Lari Basilio's website to order Far More.
All the latest guitar news, interviews, lessons, reviews, deals and more, direct to your inbox!