Watch Eric Clapton's Epic "Layla" Live Aid Performance
Slowhand gives his "Blackie" Fender Stratocaster one of its final outings in this landmark rendition of the Derek and the Dominos classic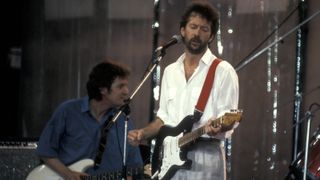 (Image credit: Ron Galella, Ltd./Ron Galella Collection via Getty Images)
In the world of rock music, 1970 was a year of disasters. From the Beatles' breakup to the deaths of Jimi Hendrix and Janis Joplin, it felt that year as if the very pillars of rock music were being torn down.
Their absence created opportunities for artists new and old to fill the void.
Yet in the midst of such profound change, Eric Clapton, then considered one of rock's most important guitarists, chose to do the unthinkable by retreating from fame.
Late that summer, he released his self-titled debut solo album, a modest and generally laidback recording on which he largely kept his searing guitar playing in check while putting the focus on his songs and rookie vocal talents.
For fans of his innovative work in Cream and Blind Faith, the album was thin stuff indeed. So it was all the more disappointing when, just a few months later, Clapton disappeared completely into the pseudonymous Derek and the Dominos.
The group's debut album, Layla and Other Assorted Love Songs, was issued that November without fanfare or any mention of its star guitarist. With its rough vocals and loose extended jams, the record was miles away from the tightly focused, innovative rock of Cream or Clapton's subsequent band, Blind Faith.
Critics blew the album off. U.S. record buyers were more favorable toward it, but the disc failed to make a dent in Britain.
Clapton retreated into heroin addiction and largely sat out the next few years, while rock and roll became dominated by powerhouse acts like Led Zeppelin, the Who and Deep Purple.
When he finally emerged in 1974 with the breezy 461 Ocean Boulevard, it was clear Clapton had once again found his footing. But it was also evident that he had left the brand of rock with which he had thrilled and inspired countless other guitarists far behind.
Over half a century on, history has been kinder both to Layla and Clapton. Once considered a failure, the album is now hailed as a rock and roll landmark.
As for Clapton, he's rightly celebrated for his accomplishments as a blues stylist as well as for the years he thrilled us as rock's premier guitarist.
But why did Clapton take a detour into anonymity and isolation, just as his solo career was beginning, and at a time when rock and roll needed a hero more than ever?
"He didn't know what his next step was going to be, but he wasn't ready to be a solo artist and front his own group," said Bobby Whitlock, Clapton's co-singer, co-songwriter and keyboard-playing partner in Derek and the Dominos. "The Dominos was really just a stepping stone to his solo career, of his being able to go out there on his own and be the Eric Clapton that he became."
In this historic clip from the 1985 Live Aid concert (thought to have been watched by roughly 40 percent of the world's population!) Clapton performs an epic version of the Derek and the Dominos classic "Layla" using his famous "Blackie" Fender Stratocaster.
Making its live debut 50 years ago, this iconic Strat was put together by Nashville luthier Ted Newman Jones using a 1956 alder body and a 1957 V-profile maple neck.
"It is such a personal thing – I almost made this guitar myself – from different components, and I've never done that before or since," Clapton told Christie's, who auctioned the guitar off for a record-breaking $959,500 in 2004.
"I feel that that guitar has become part of me," he told Guitar Player in 1985. "I get offered guitars and endorsements come along every now and then. [A guitar maker] tried to get me interested in a fairly revolutionary guitar. I tried it, and liked it, and played it on stage – liked it a lot. But while I was doing that, I was thinking Well, Blackie is back there. If I get into this guitar too deeply, it's tricky, because then I won't be able to go back to Blackie. And what will happen to that?'
"This all happens in my head while I'm actually playing [laughs]. I can be miles away thinking about this stuff, and suddenly I shut down and say, 'This is enough. No more. Nice new guitar. Sorry. You're very nice, but...'
"That's when I drag the old one back on, and suddenly it's just like jumping into a warm pool of water."
All the latest guitar news, interviews, lessons, reviews, deals and more, direct to your inbox!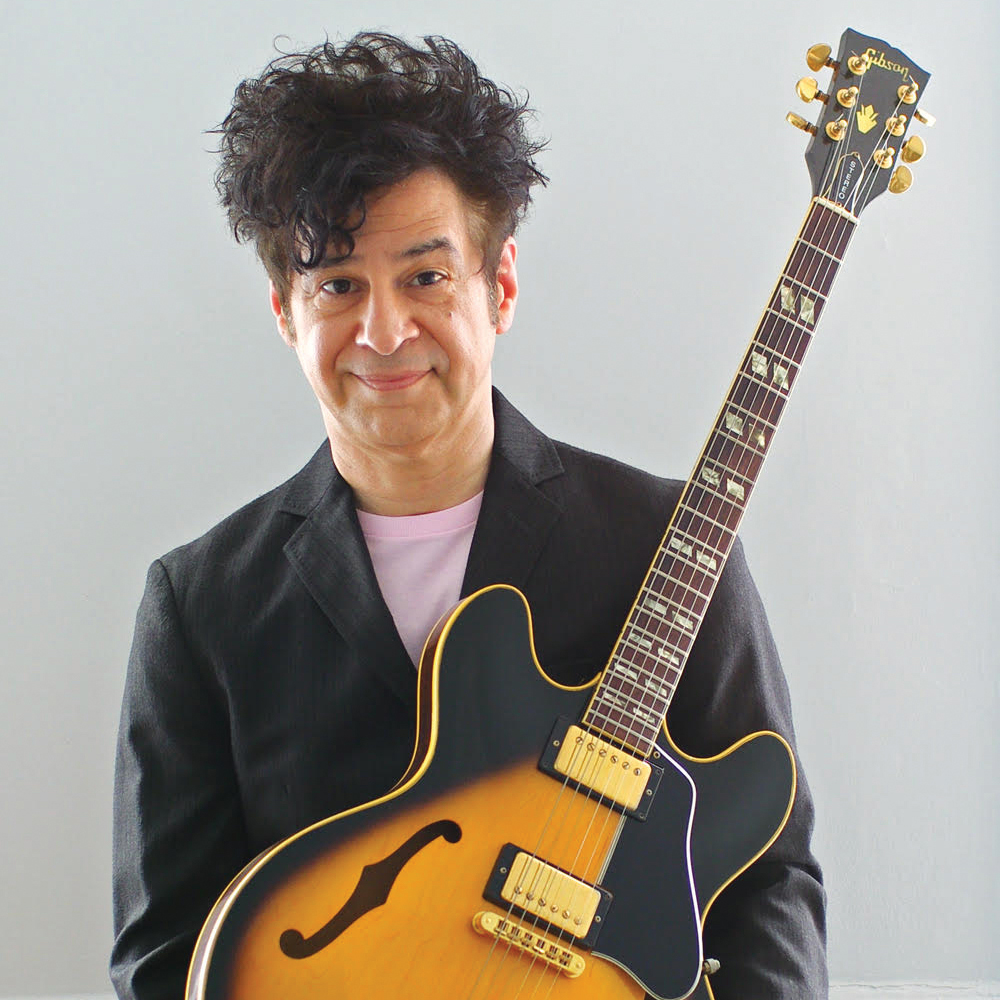 Guitar Player editor-in-chief
Christopher Scapelliti is editor-in-chief of Guitar Player magazine, the world's longest-running guitar magazine, founded in 1967. In his extensive career, he has authored in-depth interviews with such guitarists as Pete Townshend, Slash, Billy Corgan, Jack White, Elvis Costello and Todd Rundgren, and audio professionals including Beatles engineers Geoff Emerick and Ken Scott. He is the co-author of Guitar Aficionado: The Collections: The Most Famous, Rare, and Valuable Guitars in the World, a founding editor of Guitar Aficionado magazine, and a former editor with Guitar World, Guitar for the Practicing Musician and Maximum Guitar. Apart from guitars, he maintains a collection of more than 30 vintage analog synthesizers.