The Guitar Gear Behind Derek & the Dominos' 'Layla'
Examine the guitars and amps that powered a rock and roll milestone.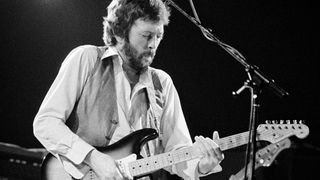 (Image credit: Jorgen Angel/Redferns/Getty Images)
To celebrate the 50th anniversary of Derek and the Dominos' Layla and Other Assorted Love Songs, Guitar Player took a deep dive into the making of the album – an epic story of clandestine passions, endless jams and guitar players operating at the frontiers of their abilities.
Now we take a look at some of the most significant gear that went into the recording of the record, starting with a very special Goldtop that fetched $1.25 million at auction last August.
1957 Gibson Les Paul
The introduction of the 1957 Les Paul broadened the sonic palette for future generations of guitarists, including Duane Allman.
If one feature set the 1957 Gibson Les Paul apart and heralded a profound shift across the industry, it was the Seth Lover–designed humbucking pickups, which replaced the single-coil P-90 pickups used previously on the model.
Designed in 1955 (U.S. patent 2,896,491), the Patent Applied For humbuckers of 1957 became the flagship pickup most associated with Gibson, and one that helped elevate the Les Paul to the status of all-time icon.
By connecting two pickup coils in series and out of phase, Lover and Gibson set out to remedy the 60-cycle hum common to single-coil pickups.
This innovation also produced a beefier tone that would be embraced by legions of blues and rock players for decades to come. Other guitar companies soon followed suit, outfitting their electrics with versions of the humbucking pickup.
Noted '57 goldtop players include Duane Allman, who played a stunning 1957 Les Paul goldtop for the first 18 months of his two-and-a-half years in the Allman Brothers Band and on numerous sessions with other artists, including Layla and Other Assorted Love Songs.
Allman acquired his goldtop, serial number 7 3312, in late 1968 or early '69, most likely from Lipham Music in Gainesville, Florida, the source of many instruments purchased by Allman and bandmates Dickey Betts and Berry Oakley.
On September 16, 1970, shortly after completing the sessions for Layla, Duane traded the guitar, $200 cash and a 50-watt Marshall head for a 1959 Gibson Les Paul 'burst owned by Rick Stine, guitarist for Stone Balloon, which was opening for the Allman Brothers at a show that evening.
Being fond of the pickups in his goldtop, Duane had them swapped for the units in the 'burst. In the years following the exchange, the goldtop traded hands and was stripped and refinished along the way.
Despite these changes, it was possible to authenticate the guitar via the distinctive pattern in the pearl inlay at the 15th fret. In August 2019, the Layla guitar, as it's become known, sold at auction for $1.25 million.
Fender Tweed Champ
The tiny amp Clapton reportedly used on Layla predates even the Tele and Strat.
From the late 1930s, Leo Fender had a radio repair shop in Fullerton, California, that also sold records and musical instruments, so it was a natural progression to start building his own amps. Fender initially teamed up with Clayton "Doc" Kauffman, a lap-steel enthusiast and inventor who had previously worked for Rickenbacker.
The duo patented a guitar pickup design in 1944 and began producing lap-steel guitars and amps under the K&F brand in 1945. Kauffman left the company to pursue other interests in 1946, leaving Fender as the sole owner.
It was in this year that Fender Electric Instruments was established and the very first so-called Woodie amps were made, including the legendary Model 26, which would become the Deluxe. Just a couple of years later, Fender started covering its amps in the varnished yellow-and-black cotton twill we've all come to know as tweed.
The cabinet and circuit designs went through changes, starting with the TV front and wide-panel versions in 1948 and 1953, before settling on the legendary narrow-panel shape, which was introduced in 1955.
In the same year, the film Blackboard Jungle was released, featuring the song "Rock Around the Clock" over the opening credits. This cultural watershed set off a global revolution in pop music that brought the electric guitar to center stage, and with it, Fender's tweed amps.
The tweed era lasted until roughly 1959, although the Champ, which debuted in 1948, hung on for slightly longer, bowing out around 1964. This is the amp Eric Clapton reputedly used on Layla.
It was also employed by Billy Gibbons on Tres Hombres, Joe Walsh for the slide part on "Rocky Mountain Way" and Jeff Beck on Blow by Blow, to name just a few massively influential recordings.
With its warm, compressed single-ended Class A power stage, and a small speaker whose truncated frequency response requires little to no EQ to fit nicely in a mix, the Champ is just perfect for recording.
The influence of this small tweed amp - and the bigger, punchier Deluxe, with its cathode-biased push-pull output stage and 12-inch speaker - has never diminished, and there's never been any letup in demand for early tweed examples of either.
Six decades on, Fender's tweed amps remain unique, imperfect and capable of inspiring some of the greatest guitar music ever played.
1956 Fender Stratocaster
Eric Clapton forged his sound and style with an example of the guitar he dubbed Brownie.
Clapton is known today as a Stratocaster player, but he was well into his career before he ever owned any version of the model. Clapton bought his first Strat secondhand at Sound City in London on May 7, 1967, a few days before his band Cream flew to New York to record their second album, Disraeli Gears.
It was a 1956 model, serial number 12073, with a two-color sunburst finish on an alder body and a well-worn maple neck and fingerboard. Clapton loved the guitar and dubbed it Brownie, but it wasn't suited to Cream, nor to his next band, Blind Faith.
He finally found a fit for it in early 1970 when he joined Delaney & Bonnie and Friends on the road. "With Delaney and Bonnie, I used an old Stratocaster I'd acquired," he told Guitar Player in 1970. "It's really, really good - a great sound. It's just right for the kind of bag I was playing with them."
Clapton continued to use Brownie when he recorded his solo debut, Eric Clapton, in 1970, and it makes an appearance with him on the album's cover.
"I think Brownie dictated the way I played to a certain extent," he said in 2013. "The Strat has less sustain - it's harder to bend on, and harder to hold the bends and apply vibrato - so I play more notes. I didn't look at the change from Gibson to Fender as 'I'm done with that.' It was more a case of wanting to try something else."
By the time Clapton recorded Layla later in 1970, Brownie had become his main axe. The guitar subsequently made an appearance at George Harrison's Concert for Bangladesh, when Clapton performed with it at the second, 8 p.m. concert. (He'd used his Gibson Byrdland for the first show, which began at 3:30 p.m.)
By the time of his 1975 comeback tour, Brownie had taken a backseat to Blackie, Clapton's main Strat, which he'd pieced together from three separate guitars.
Brownie appeared occasionally at his shows until late 1985, when Clapton retired both Strats. Brownie was sold at auction for $450,000 (not including buyer's premium) on June 24, 1999, to raise funds for Clapton's Crossroads alcohol and drug treatment center. The sale price was a record at the time.
All the latest guitar news, interviews, lessons, reviews, deals and more, direct to your inbox!
Guitar Player editor-in-chief
Christopher Scapelliti is editor-in-chief of Guitar Player magazine, the world's longest-running guitar magazine, founded in 1967. In his extensive career, he has authored in-depth interviews with such guitarists as Pete Townshend, Slash, Billy Corgan, Jack White, Elvis Costello and Todd Rundgren, and audio professionals including Beatles engineers Geoff Emerick and Ken Scott. He is the co-author of Guitar Aficionado: The Collections: The Most Famous, Rare, and Valuable Guitars in the World, a founding editor of Guitar Aficionado magazine, and a former editor with Guitar World, Guitar for the Practicing Musician and Maximum Guitar. Apart from guitars, he maintains a collection of more than 30 vintage analog synthesizers.