"Collaboration is Key to Evolution": Star Producer Andrew Watt Reveals His Top Five Career-Defining Records
The master collaborator picks the tracks that have defined his role as guitarist and producer to stars old and new.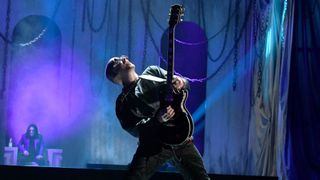 (Image credit: Kevin Winter/AMA2019/Getty Images for dcp)
Rock fans may have first heard the name Andrew Watt when he was announced as the guitarist, songwriter and producer behind Ozzy Osbourne's most recent studio album, 2020's Ordinary Man. But the 31-year-old phenom has been a major player in the music world for years before he connected with Ozz.
Although he cut his teeth as a rock guitarist, both as a solo artist and playing alongside Glenn Hughes and Jason Bonham in the short-lived supergroup California Breed, Watt has also been responsible for some of pop's biggest smashes from the likes of Post Malone, Shawn Mendes, Camila Cabello, Justin Bieber, 5 Seconds of Summer and others.
For Ordinary Man, he assembled a supergroup that included Guns N' Roses bassist Duff McKagan and Red Hot Chili Peppers drummer Chad Smith.
But no matter what artist he's working alongside, Watt says the creative process always begins the same way for him.
"I write every song sitting on a couch with a guitar or jamming with other musicians," he explains.
"From there you can add all the current-sounding drums and synths you want, or you can play with Duff and Chad and make it an absolute rock-metal heater. It's all in the production. I haven't changed my process in how my art and my music comes to me. I do it the same way I did it when I was 11 years old."
What has changed, he continues, are his collaborators.
"I'm constantly finding new people to work with who take how I play guitar and other instruments and put it all together in a new way and add a different kind of flair," Watt says. "For me, collaboration is key to evolution. And if you don't evolve, you're stuck."
Here, Watt takes us through five of his greatest collaborations…
1) Post Malone | "Stay" from 'Beerbongs & Bentleys' (2018)
"Post and I had just started our friendship and we wanted to make music together. This was 2015 or 2016. I was working at Henson Studios [in L.A.] at the time, so I told him, 'Come through whenever you want to come through.'
"He came through one night, and I remember he got really uncomfortable. I went outside with him. We were smoking cigarettes and he says, 'Man, this studio is too nice for me.' So we brought in couches, got a cooler with a hundred Bud Lights, lit up some cigarettes and gave it a vibe. This is the room where they recorded 'We Are the World.' But I figured I'd worry about the bill later.
"We started getting on a roll, and one of the songs we made was 'Stay.' One day we're sitting on the couch in that room. Post had an old Gibson Country Western and I had an old Martin 0-18. We were talking about how much we love George Harrison and started playing these Beatles-type chords – major sevens and things.
"Then Post went and laid down a bunch of scratch melodies in the vocal booth, we got a basic melody structure down, and he left. I was so inspired that I stayed overnight – as I was doing back then, because studio time was limited for me – and I tracked everything on the song.
"I put a bunch of electric guitars on, and for the bass, I was listening to [David Bowie's] 'Space Oddity' and trying to do something sparse and melodic and cool. And since we had been talking so much about George Harrison, I played a slide solo on a 1957 Gibson Ultratone lap steel through a Supro amp.
"Then Post came in the next day and he said, 'I got the lyrics.' And they were perfect. He laid it down, we collaborated on the background vocals, and that was the song. It's one of my favorite things I've ever done because it's one of the first records where an artist was just like, 'Go paint the canvas,' and let me do that. It's really special to me."
2) Ozzy Osbourne | "All My Life" from 'Ordinary Man' (2020)
"Chad, Duff and I did the main sessions for the Ozzy album in four days. This one probably came on day two. By that time we were pumping. We knew how to speak together, and we were working stuff out. And we were referencing the things we love about Ozzy.
"I was going through songs of his that I love and that the fans love, and 'Mama, I'm Coming Home' is one of those. I love the beautiful 12-string acoustic guitar and the way his voice sounds over that. And I love 'No More Tears,' how it's a heavy riff and a really simple one-liner. So I was thinking of those two songs as we were making this music.
"I start playing the opening melody, and Duff, being the beast that he is, comes in with this melodic bass line that's so Guns N' Roses. Then we get to the chorus and we needed a riff, so we collaborated on this riff until it felt really great.
"For the vocal, me and Ozzy and Ali Tamposi, who I write pretty much all my songs with, got together and came up with some melodies that felt really cool. Ali and Ozzy are both sober and they really bonded over that, and you can hear it in the lyrics. And recording Ozzy's vocal is the most fun thing in the world. He doubles his voice and nails it – puts all the emotion in.
"After we did all of that, I was listening to the song and thinking about how to approach the solo. I knew I wanted it to be melodic, like how the 'No More Tears' solo is so melodic. And I came up with the melody that you hear in the song. That was my theme.
"I was playing my Ronson Les Paul [Watt owns an early 1970s Les Paul Standard that once belonged to guitarist Mick Ronson], and the first time you hear the melody it kind of moves slow. Then it comes back for the second time and all hell breaks loose. Duff and Chad are ripping through the end of the song, and it was just so much fun to play over that."
3) Shawn Mendes and Camila Cabello | "Señorita" (2019)
"This was a song I started with Ali Tamposi and Charlie XCX. I made the guitar riff first. I love covers of songs – I find inspiration in them all the time, because you can discover really cool things in those interpretations. And one of my favorite covers ever is José Feliciano's version of 'Light My Fire.' I just love the bossa nova feel and the way the guitar works in that version.
"I had recently made the song 'Havana' by Camila Cabello, and it was something a lot of people had really enjoyed, so I wanted to stay in that lane. I put some chords together and laid down a bass line on a Hofner. The song really lived with my Martin 0-18, a Hofner and a finger snap for a long time.
"We started writing the hook, and I played it for Shawn Mendes. He really loved it and became attached to it. We wrote more of the song together, and once Camila got involved, I got together with her and we wrote her verse.
"There are some songs where you capture lightning in a bottle, and then there are songs that are more of an evolution and a step process. This one was more of a step process. It was recorded all over the place – in London with Shawn, in L.A. with Camila. I worked on it in New York, in Miami. It was what had to happen to get it done.
"But it really stayed simple. Besides the addition of some drums and some 808s that are following that Hofner, it stayed in its original form, production-wise, which is great. What took it to the stratosphere was Shawn and Camila. It was a good song before that, but with the two of them together it became like a West Side Story kind of thing. They really made it their love story."
4) Shelley FKA DRAM | "The Lay Down with H.E.R. & WATT" from 'Shelley FKA DRAM' (2021)
"DRAM is an artist who sits in this unlabeled space. He's a full-blown tripper, an amazing character with an incredible voice. His biggest song is a hip-hop record called 'Broccoli,' but after meeting him it was so clear that's not all he is.
"He can do anything. He wanted to make music with me, so I said, 'Okay, let's do some experimental shit where it's like P-Funk and you're George Clinton and the world hasn't had music like that in a really long time. And your lyrical content and the way you deliver is going to be what's modern and fresh.'
"And then I said, 'Let's make it live.'
"I pulled together Chad Smith on drums and Pino Palladino, who needs no introduction, on bass. And we got Ivan Neville to play keys, and we started making music. I grabbed my Ronson Les Paul and this three-minute solo came out of me.
"The band followed me, and you feel it building, and what you hear on the record is all live and in one take. I overdubbed some slide guitars and other things, but aside from that it's all what we did right then and there.
"Then I played the track for DRAM, and he wrote one of the most beautiful songs ever over it. And then H.E.R. jumped on it and she sang along with my guitar solo at the end, which sounds so Pink Floyd to me.
"The whole thing is psychedelic and funky and cool. It sounds like you're at a concert when you listen to it. It's live, and it's pumping and breathing."
5) 5 Seconds of Summer | "Youngblood" from 'Youngblood' (2018)
"I'm really into shuffles. One of my favorite artists is Stevie Wonder, and if you listen to 'Higher Ground' [from Innvervisions], that shuffle he's doing with his foot – because he's playing the drums – is coming from the kick drum. I just love that stuff and that feel.
"I had started working with 5 Seconds of Summer, and a lot of people looked at them as a boy band, but they're not. They're all incredible musicians. They can all play every instrument. They love rock music. They can harmonize like skyrockets in flight. They just were making the wrong kind of music.
"So I started talking to them about different eras and different sounds of rock music. I told them, 'I want to make something with a shuffle.' We were messing around with these chords and the idea of this atmosphere building over electric guitar that eventually just explodes. That sounds like stadium rock to me. Ali and I got together with the boys, and I put down some chords with the kick drum doing that kind of shuffle pattern, and that became 'Youngblood.'
"I tried different guitar parts to link everything together, and I ended up with this kind of muted part that has an Andy Summers or a Tears for Fears vibe. It really clicked. Then I got together with [producer] Louis Bell, who helped me tighten everything up and bring it to a whole other level.
"It became the band's first number-one song. And then it was the most played song on the NFL that season! It's like the song 'Rock and Roll (Part 2).' Something about going boom ba-boom ba-boom ba-boom makes you want to throw a football, you know?"
All the latest guitar news, interviews, lessons, reviews, deals and more, direct to your inbox!
Rich is the co-author of the best-selling Nöthin' But a Good Time: The Uncensored History of the '80s Hard Rock Explosion. He is also a recording and performing musician, and a former editor of Guitar World magazine and executive editor of Guitar Aficionado magazine. He has authored several additional books, among them Kurt Cobain: Montage of Heck, the companion to the documentary of the same name.